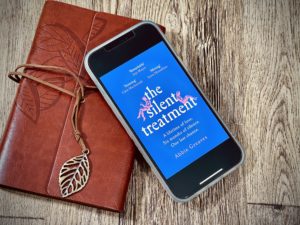 My thoughts…
This book is narrated from a dual point of view in two different sections. It works well and the Author does a fantastic job of keeping the storyline threading through both Frank and Maggie's narratives.
I feel like there is more to know and more to learn about Frank and Maggie. I don't quite feel that there was enough coverage of those 'six months of silence.' However the book is emotional, moving and at times, heart-breaking. There are some definite triggers (overdose, drug use, family breakdown e.t.c) which may be upsetting to some. A beautiful and tender love story.
About the Book…
A lifetime together.
Six months of silence.
One last chance.
By all appearances, Frank and Maggie share a happy, loving marriage. But for the past six months, they have not spoken. Not a sentence, not a single word. Maggie isn't sure what, exactly, provoked Frank's silence, though she has a few ideas.
Day after day, they have eaten meals together and slept in the same bed in an increasingly uncomfortable silence that has become, for Maggie, deafening.
Then Frank finds Maggie collapsed in the kitchen, unconscious, an empty package of sleeping pills on the table. Rushed to the hospital, she is placed in a medically induced coma while the doctors assess the damage.
If she regains consciousness, Maggie may never be the same. Though he is overwhelmed at the thought of losing his wife, will Frank be able to find his voice once again—and explain his withdrawal—or is it too late?
Genre: Contemporary Fiction
Publication: April 2020

About the Author…
Abbie Greaves is the author of THE SILENT TREATMENT (2020) and THE ENDS OF THE EARTH (UK) / ANYWHERE FOR YOU (US) which is forthcoming in April 2021.
When she's not writing, she enjoys modern calligraphy, travelling for inspiration and reading – the greatest hobby of all. She lives in the UK.
Connect with the Author…
Are you looking for a Bookish environment to talk all things books? Then look no further than The Fiction Cafe – don't forget to answer the membership questions in order to join. We welcome Authors and Readers and there are lots of exciting happenings in the group! Our Book of the Month Read A Longs happen there too.