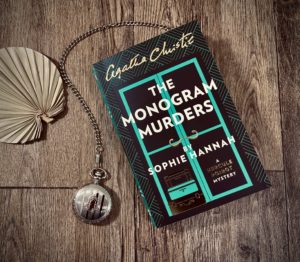 My thoughts…
If anyone can bring back Poirot in the modern day then it has to be the queen of mystery and crime thrillers…Sophie Hannah. I was sceptical but I should have known to trust my Author preferences with this one! I loved it.
I must add though, Sophie Hannah is not Agatha Christie… She's a style all of her own and she writes well. Do not expect Agatha Christie to be reborn in this series of book but do expect to meet an old friend again with Poirot.
The interpretation of language, the characterisation, the simplicity of good old fashioned detective work…it's all there and is thoroughly enjoyable!
About the Book…
I'm a dead woman, or I shall be soon…'
Hercule Poirot's quiet supper in a London coffeehouse is interrupted when a young woman confides to him that she is about to be murdered.  She is terrified – but begs Poirot not to find and punish her killer. Once she is dead, she insists, justice will have been done.
Later that night, Poirot learns that three guests at a fashionable London Hotel have been murdered, and a cufflink has been placed in each one's mouth. Could there be a connection with the frightened woman? While Poirot struggles to put together the bizarre pieces of the puzzle, the murderer prepares another hotel bedroom for a fourth victim…
Genre: Mystery
Publication: 2014

About the Author…
Sophie Hannah is an internationally bestselling writer of crime fiction who has sold millions of books worldwide and more than two million books in the UK alone. She is published in forty-nine languages and fifty-one territories, and her novels were adapted for TV as Case Sensitive (Hat Trick Productions for ITV1)
Connect with the Author…
Are you looking for a Bookish environment to talk all things books? Then look no further than The Fiction Cafe – don't forget to answer the membership questions in order to join. We welcome Authors and Readers and there are lots of exciting happenings in the group! Our Book of the Month Read A Longs happen there too.