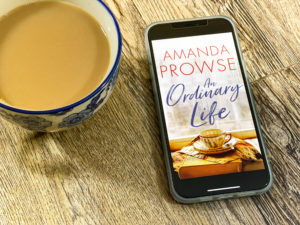 My thoughts…
| | |
| --- | --- |
| | An Amanda Prowse book will never let you down and this one is no exception. A perfect escape to another persons story and another lifetime – this book was beautifully written and gripping right up until the final pages. This is a brilliant combination of historical fiction and contemporary romance.  |
About the Book…
Christmas Eve, 2019. Ninety-four-year-old Molly lies in her hospital bed. A stroke and a fall may have broken her body—but her mind is alive with memories.
London, 1940s. Molly is a bright young woman, determined to help the war effort and keep her head up despite it all. Life becomes brighter when she meets and falls in love with a man who makes her forget everything with one dance. But then war forces her to make an unforgettable sacrifice, and when she's brought to her knees by a daring undercover mission with the French Resistance, only her sister knows the secret weighing heavily on Molly's heart.
Now, lying in her hospital bed, Molly can't escape the memories of what she lost all those years ago. But she is not as alone as she thinks.
Will she be able to find peace—and finally understand that what seemed to be an ordinary life was anything but?
Genre: Historical Fiction
Publication: February 2021

About the Author…
Amanda Prowse likens her own life story to those she writes about in her books. After self-publishing her debut novel, Poppy Day, in 2011, she has gone on to author twenty-five novels and six novellas. Her books have been translated into a dozen languages and she regularly tops bestseller charts all over the world. Remaining true to her ethos, Amanda writes stories of ordinary women and their families who find their strength, courage and love tested in ways they never imagined. The most prolific female contemporary fiction writer in the UK, with a legion of loyal readers, she goes from strength to strength. Being crowned 'queen of domestic drama' by the Daily Mail was one of her finest moments. Amanda is a regular contributor on TV and radio but her first love is, and will always be, writing.
Connect with the Author…
Facebook | Facebook Page | Twitter | Instagram | Website
Thanks to NetGalley and the publisher and Author for a copy of this book in exchange for my honest review. Check out my blog for more book related posts and to enquire about future reviews, blog tours and cover reveals.
Are you looking for a Bookish environment to talk all things books? Then look no further than The Fiction Cafe – don't forget to answer the membership questions in order to join. We welcome Authors and Readers and there are lots of exciting happenings in the group! Our Book of the Month Read A Longs happen there too.