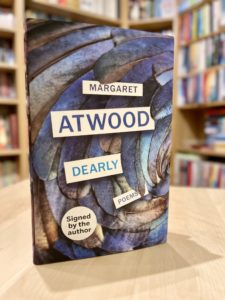 My thoughts…
Many like me might be familiar with Margaret Atwood's fiction – including her bestelling novels The Handmaid's Tale, The Testaments and the Oryx and the Crake…However since the beginning of her successful career she has been a significant contemporary poet. In fact, she is celebrated as being equally accomplished in both Fiction and Poetry, no easy undertaking!
Dearly is Margaret's first published collection of Poems for over a decade and is a stunning achievement that is celebrated by fans of both her novels and of Poetry. It's a unique collection, ranging from the complexities and beauty of nature to the fascinating constructs of zombies… many of the pieces included will be read without understanding, or will mean something to different people, and that's the beauty of well-written Poetry.
About the Book…
In Dearly, Margaret Atwood's first collection of poetry in over a decade, Atwood addresses themes such as love, loss, the passage of time, the nature of nature and – zombies. Her new poetry is introspective and personal in tone, but wide-ranging in topic. In poem after poem, she casts her unique imagination and unyielding, observant eye over the landscape of a life carefully and intuitively lived.
Genre: Poetry
Publication: November 10th 2020

About the Author…
Margaret Atwood was born in 1939 in Ottawa and grew up in northern Ontario, Quebec, and Toronto. She received her undergraduate degree from Victoria College at the University of Toronto and her master's degree from Radcliffe College.
Throughout her writing career, Margaret Atwood has received numerous awards and honourary degrees. She is the author of more than thirty-five volumes of poetry, children's literature, fiction, and non-fiction and is perhaps best known for her novels, which include The Edible Woman (1970), The Handmaid's Tale (1983), The Robber Bride (1994), Alias Grace (1996), and The Blind Assassin, which won the prestigious Booker Prize in 2000. Atwood's dystopic novel, Oryx and Crake, was published in 2003. The Tent (mini-fictions) and Moral Disorder (short stories) both appeared in 2006. Her most recent volume of poetry, The Door, was published in 2007. Her non-fiction book, Payback: Debt and the Shadow Side of Wealth ­ in the Massey series, appeared in 2008, and her most recent novel, The Year of the Flood, in the autumn of 2009. Ms. Atwood's work has been published in more than forty languages, including Farsi, Japanese, Turkish, Finnish, Korean, Icelandic and Estonian. In 2004 she co-invented the Long Pen TM.
Are you looking for a Bookish environment to talk all things books? Then look no further than The Fiction Cafe – don't forget to answer the membership questions in order to join. We welcome Authors and Readers and there are lots of exciting happenings in the group! Our Book of the Month Read A Longs happen there too.