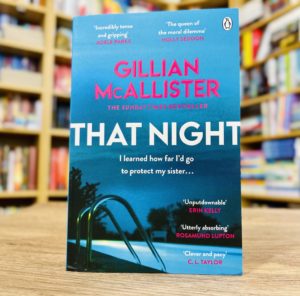 My Thoughts…
I read it in a day. I have come to understand that a clear schedule is the best situation to be in when starting a new Gillian McAllister book. After the publisher granted my wish for an advanced copy, I got up, put makeup on (if you can't dress up for a new Gillian McAllister book when can you…?) and I started.
I was nervous. Gillian's 2020 publication How To Disappear was absolutely incredible. The sort of book that you cannot imagine being bettered by another. So That Night already had a high bar set and my expectations had rocketed. I've been talking to other fans and I know that some of you feel the same as I did. All I can say is, be reassured. It's fine. It's more than fine. Gillian McAllister has done it again.
I was drawn to the family dynamics immediately. Frannie, Joe and Cathy. Linked together forever not just through blood but through tragedy. Their close relationship, at times, was annoying. But I got it. This book directly challenges you to think, 'What would I do? If I got that call, in the middle of the night, what would my response be?' It's the impossible dilemma, something of which Gillian is quickly becoming the master of writing about.
The other aspect of this book (apart from basically everything) that I loved the most was the emotion it invoked in me. That sense of dread and guilt that came out of the pages and travelled through my own mind as I tried to unpick the story. That feeling in the pit of your stomach…it's right there. And I've never killed anyone. So that's a true Writer for you – bringing it right out of the pages and into the room!
Gillian has an incredible talent for characterisation and emotion. Her books are full of facts as well as feelings. The research, time and effort that goes into her characters in That Night is matched by the immense amount of knowledge she has and knowledge she obtains to ensure that she writes about subjects accurately. And to do all of that in the midst of a global pandemic…when you can't travel to the heat of Verona, or closely capture the tension of Vets performing surgeries in their practices…is applaudable.
Many of us have had to continue our jobs during twelve months of the most unbelieveable, unfathomable, petrifying times of our lives. Gillian is one of those people, and yet her writing hasn't slipped, her style hasn't faltered, she has excelled herself and this book is a testament to her unflappable style and stunning prose.
About the Book…
What would you do to protect your family?
ANYTHING.
That night everything changed.
The night Frannie commited a murder, but she didn't mean to…
That night we helped her bury the body, what else could we do?
One hot summers night in Italy, Joe and Cathy Plant receive a phone call that will change their lives forever.
Their sister Frannie has killed a man, and she needs their help.
They were always close, some might say too close, siblings who worked together, lived next door to each other
And now they've buried a body together…
But when they return to England, Frannie, Joe and Cathy become tangled in lies in they've been telling, to the police, to their friends, to each other…
But if you can't trust your family, who can you trust?
Genre: Psychological Thriller/ Crime Fiction
Publication: June 10th 2021
About the Box…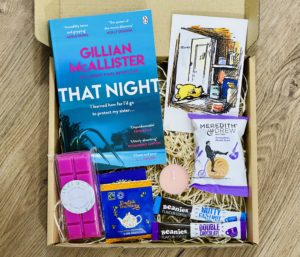 A brand new copy of That Night – Signed by Gillian McAllister.
Four delicious beverages – A mixture of tea and coffee.
A Tasty Treat – Meredith & Drew Biscuits (dietary requirements? Let us know at checkout).
A Bookish Postcard – perfect for framing or displaying in your home!
A scented wax bar from Spitchwick Candle Co.
A hand poured wax seal to finish it all off – great for keeping and putting in a journal or scrapbook as decoration!
About the Author…
Gillian McAllister has been writing for as long as she can remember. She graduated with an English degree before working as a lawyer. She lives in Birmingham, where she now writes full-time. She is the Sunday Times bestselling author of Everything But the Truth, Anything You Do Say, No Further Questions, The Evidence Against You and How To Disappear.
Connect with the Author…
Facebook
Twitter
Instagram
Website
Thanks to Gillian McAllister, Michael Joseph Publishing and NetGalley for a copy of this book. Check out my blog for more book related posts and to enquire about future reviews, blog tours and cover reveals.
Are you looking for a Bookish environment to talk all things books? Then look no further than The Fiction Cafe – don't forget to answer the membership questions in order to join. We welcome Authors and Readers and there are lots of exciting happenings in the group! Our Book of the Month Read A Longs happen there too.