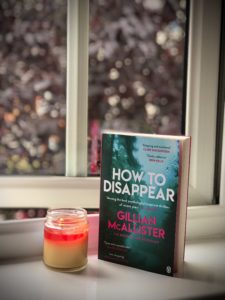 My thoughts…
Just when you think that Gillian McAllister cannot possibly get any better….she does. An author that will have you on the edge of your seat from start to finish, Gillian is a truly excellent writer. She combines family life, drama, mystery, police procedural and so much more into one book that makes her almost unique in her 'genre' style and the creator of something completely different.
This book. This book this book this book. THIS BOOK. I honestly, will never do this book justice in my review. Why? Because you have to read it. You have to read this book to understand how truly incredible it is. I can't even begin to describe it – not least because all of the excellent elements of this book will give away major plot spoilers if I wrote about them. I have never said this before in a review – but here it is – trust me – read this book – buy this book – pre-order this book – you will not regret it.
I fell in love with the main characters almost instantly – Aidan and Lauren are a typical down to earth couple. Gillian paints a very neutral, very workable, blended family throughout the story. It's so refreshing to read this – I was expecting and waiting for the step-parent elements to take the turn that they so typically do in novels – that negative twist – but they didn't. It was warming. Then came the impossible dilemma. The one that really had me questioning exactly what I would do in the same situation. It brought tears to my eyes. It was painful to read…a book that makes you feel the dilemma that the main characters are going through is extremely clever. The dilemma was so challenging – so real – that I actually relayed it to my partner over breakfast and asked 'What would you do? What would WE do? How would we decide?' Impossible dilemmas need to be realistic, they need to be down to earth, they also need to challenge our own thinking and decision making – Gillian McAllister has that spot on.
Gillian McAllister has written a stunning story – one that will have you laughing and frustrated in equal measures. The ending is explosive. Literally. I was so angry when I read it – a book that can make you feel such emotion is just incredibly powerful. This is THE book of 2020. The one that will be talked about again and again and again.
About the book…
What do you do when you can't run, and you can't hide?
Lauren's daughter Zara witnessed a terrible crime. But speaking up comes with a price, and when Zara's identity is revealed online, it puts a target on her back.
The only choice is to disappear.
To keep Zara safe Lauren will give up everything and everyone she loves, even her husband.
There will be no goodbyes. Their pasts will be rewritten. New names, new home, new lives.
The rules are strict for a reason. They are being hunted. One mistake – a text, an Instagram like – could bring their old lives crashing into the new.
They can never assume someone isn't watching, waiting.
As Lauren will learn, disappearing is easy. Staying hidden is harder…
Genre: Suspense
Publication: 9th July 2020
About the Author…
Gillian McAllister has been writing for as long as she can remember. She graduated with an English degree before working as a lawyer. She lives in Birmingham, where she now writes full-time. She is the Sunday Times bestselling author of Everything but the Truth, Anything You Do Say, No Further Questions and The Evidence Against You.
Connect with the Author…
Facebook
Twitter
Instagram
Website
Thanks to NetGalley and the publisher and author for a copy of this book in exchange for my honest review. Check out my blog for more book related posts and to enquire about future reviews, blog tours and cover reveals.