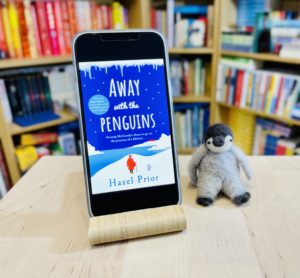 My thoughts…
I have decided that Penguins are my new favourite animal and in order to achieve this photo Mr Tea Leaves and Reads had to go into the loft in sub-zero temperatures and find my Penguin… it was worth it! So enough about the props and more about the book… here goes!
I have heard great things about this book. GREAT things! So I was frustrated when it started off slowly and I wasn't immediately hooked. People have been saying it's the 'Eleanor Oliphant is Completely Fine' equivalent. It's not. Both books are brilliant on their own merit, but they're worlds apart. If you make that comparison because both books focus on a woman who doesn't particularly like people then yes, but so do many many books!
So that's the starting point. Don't expect a Gail Honeyman type book – expect something unique and of its own merits. Then you won't be frustrated like me when I was launching myself into the first few pages hoping to meet Eleanor all over again.
Once the storyline started to unfold I was hooked. It didn't take long. As the pace picks up we are taken to the chilly depths of Antarctica with Veronica and back to England to her Grandson Patrick – with dips into Veronica's war-torn past through her diary pages. Everything is neatly brought together through these three narratives.
So if you're just starting out with this book, then keep going. It's heart-warming, charming, and if you only start reading it so you can say you're Away with the Penguins each evening like I did, then that's totally fine! You won't regret it.
About the Book…
Veronica McCreedy lives in a mansion by the sea. She loves a nice cup of Darjeeling tea whilst watching a good wildlife documentary. And she's never seen without her ruby-red lipstick.
Although these days Veronica is rarely seen by anyone because, at 85, her days are spent mostly at home, alone.
She can be found either collecting litter from the beach ('people who litter the countryside should be shot'), trying to locate her glasses ('someone must have moved them') or shouting
instructions to her assistant, Eileen ('Eileen, door!').
Veronica doesn't have family or friends nearby. Not that she knows about, anyway . . . And she has no idea where she's going to leave her considerable wealth when she dies.
But today . . . today Veronica is going to make a decision that will change all of this.
Genre: Contemporary Fiction
Publication: March 5th 2020

About the Author…
Hazel Prior is the author of ELLIE AND THE HARP MAKER and AWAY WITH THE PENGUINS (UK title)/HOW THE PENGUINS SAVED VERONICA (US title). She is also a freelance harpist. She lives in Exmoor, in England, with her husband and a huge, ginger cat.
Connect with the Author…
| Twitter | Instagram | Website
Are you looking for a Bookish environment to talk all things books? Then look no further than The Fiction Cafe – don't forget to answer the membership questions in order to join. We welcome Authors and Readers and there are lots of exciting happenings in the group! Our Book of the Month Read A Longs happen there too.