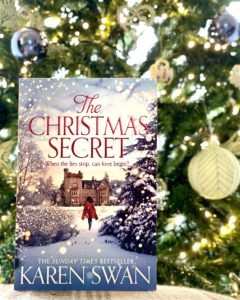 My thoughts…
Being swept away to the remote Isle of Islay was exactly what I needed this Christmas. Karen Swan is well known for her cosy contemporary fiction and this book did not disappoint. The characters are well-described and likeable, even the frustrating ones!
The chapters flow well and there are many topics covered with care and a delicate touch. The book explores war, loss, love, families, trust, betrayal and so much more. The setting is just beautiful and I was instantly transported to the snowy hills and remote locations that Karen writes about.
What I especially like about Karen's book is that they have a hint of Christmas but not too much. So they're great to read throughout the Winter months and not just around Christmas – and we do have plenty of those here in the UK!
About the Book…
They say that behind every great man, there's a great woman, and behind London's most powerful leaders, there stands only one—Alex Hyde, business coach par excellence. She's the woman they turn to for advice and strategy when the pressure gets too much.
So when Alex gets a call offering an unbelievable sum to discreetly manage a family member on the board of an esteemed Scottish whisky company, it's business as usual. She can do this in her sleep. Only, she's never met anyone like Lochlan Farqhuar before. CEO of Kentallen Distilleries, he's also the son and heir of the company's founder, and a man for whom there is no "no."
He's a maverick, and Alex needs to get inside his head before he brings the company to its knees. But as she tasks herself with finding a way in, she finds that for once, she's not the one in control. And when she stumbles across a chance discovery that changes everything, she's suddenly not so sure she should be.
Genre: Contemporary Fiction / Romance 
Publication: December 2017

About the Author…
Karen Swan began her career in fashion journalism – working at Tatler, Vogue and YOU magazines, as well as consulting to companies like Thomas Pink – before giving it all up to raise her three children and ADHD puppy, and to pursue her ambition of becoming a writer. She moved out of London in 2006 and now lives in the forest in Sussex, writing her books in a treehouse overlooking the Downs.
Buy the Book…
We are absolutely delighted to have this book in stock and signed editions no less! If you fancy purchasing a copy then just click here and you can find out more.
Connect with the Author…
Facebook | Twitter | Instagram
Are you looking for a Bookish environment to talk all things books? Then look no further than The Fiction Cafe – don't forget to answer the membership questions in order to join. We welcome Authors and Readers and there are lots of exciting happenings in the group! Our Book of the Month Read A Longs happen there too.