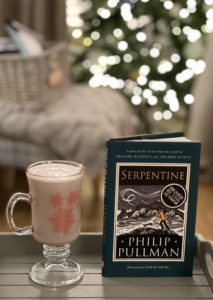 My thoughts…
This is an illustrated Novella following the events that occur after both the His Dark Materials Trilogy and the other short story that follows it, Lyra's Oxford. The focus is on the series main character, Lyra, but her daemon, Pan, also features, with other characters from the preceding books making an appearance.
It was good to have this little insight into Lyra and Pan's world again especially with the dilemma that it explored. It's a delight to have another book featuring these wonderful characters especially as this Novella was created by Philip Pullman over sixteen years ago.
I don't think that this book spoils the Trilogy in any way either. So if you're looking for a short story to get an idea of Philip Pullman's writing and the storyline then this is great. However there are lots of elements that won't make sense if you haven't read the books before so it's worth keeping that in mind too.
About the Book…
A brand new short story set in the world of His Dark Materials and The Book of Dust by master storyteller, Philip Pullman.

Serpentine is a perfect gift for every Pullman fan, new and old.
'Lyra Silvertongue, you're very welcome . . . Yes, I know your new name. Serafina Pekkala told me everything about your exploits'
Lyra and her daemon Pantalaimon have left the events of His Dark Materials far behind.
In this snapshot of their forever-changed lives they return to the North to visit an old friend, where we will learn that things are not exactly as they seem . . .
Illustrated throughout by Tom Duxbury, the perfect re-entry for fans of His Dark Materials and a wonderful companion to The Book of Dust.
Genre: Fantasy Fiction
Publication: October 15th 2020

About the Author…
Sir Philip Pullman, CBE, FRSL is an English author of high-selling books, including the fantasy trilogy His Dark Materials and a fictionalised biography of Jesus, The Good Man Jesus and the Scoundrel Christ. In 2008, The Times named Pullman one of the "50 greatest British writers since 1945".
Connect with the Author…
| Twitter | Instagram | Website
Are you looking for a Bookish environment to talk all things books? Then look no further than The Fiction Cafe – don't forget to answer the membership questions in order to join. We welcome Authors and Readers and there are lots of exciting happenings in the group! Our Book of the Month Read A Longs happen there too.