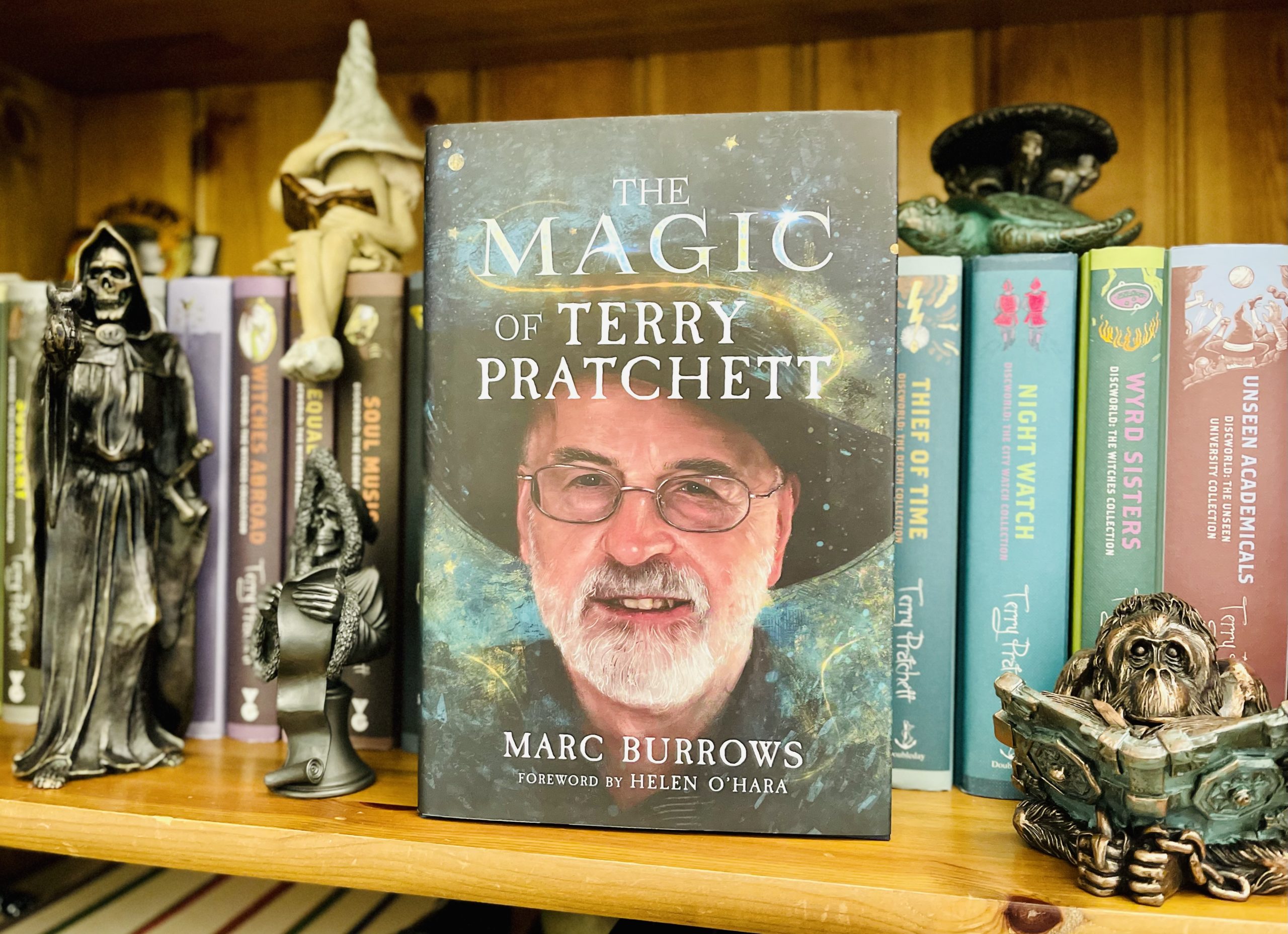 My thoughts…
I'm not really a Biography reader… In fact the last Biography (and I use the term loosely here) I read was Michael Palin's Full Circle, setting off on yet another one of his adventures to the Pacific published in 1997. Which is now over 20 years ago. So we're going back a while now and I think it's mainly because I have to have a really vested interest in the person or subject before even picking the book up.
However, there is an author that I discovered around the millennium camping in a small coastal village called Charmouth, UK, back in the days when we were still allowed to do such nefarious activity. I had borrowed a book from the Library called Eric. I'd loved the look of the cover and felt like it would be perfectly suitable for a bit of head torch reading. I couldn't put it down, what was this magical world? I got the flat earth trope, but a flat disc shaped earth on top of a turtle? That was floating towards the Big Bang? Or something worse?! I had been introduced to the Discworld by the legendary, Sir Terry Pratchett.
Since then I have read most of his Discworld novels and been witness to the evolution of his series. From Whimsical Fantasy to Satire, to Life Affirming musings. Sadly Sir Terry passed away in 2015 and I regret never getting a chance to meet him in person. So I was very pleased to receive The Magic of Terry Pratchett from M(r)s Tea Leaves & Reads. Thanks wife to be!
I loved the book, and I struggled to put it down (a theme I assure you). Getting an insight into how the man ticked. Meeting the man I had wanted to meet but through the words of Marc Burrows who is equally fanatical. You'd have to be, to write the only full Autobiography that exists of Sir Terry. It reveals what shaped his mindset, his inspirations and his desire to write. How he acquired his sharp satirical mind and how he effectively set up home in a Library. Being a firm believer of paying it forward, he would make sure that everyone got the chances he got to become better people.
It features comments and quotes from other famous authors such as Neil Gaiman and Stephen Baxter, and how he touched all of their lives positive and inspiring. Having developed a strong affinity with the writing of his books, with many of my world views shaped and solidified by his, I knew I would start to find the book a little emotional towards the end.
Marc Burrows has done Sir Terry a great service. Heavily researched and well documented. Thank you Marc for bringing another piece of Terry into my home.
There is a tradition among the operators of 'the clacks', the big semaphore towers that work as the Discworld's cutting-edge communication system. When a clacks worker dies, their colleagues believe that their soul travels among the semaphore messages, and their name is 'sent' via the system to the tower closest to their home. If they have no home, or if their name should be remembered, then a code is added: 'GNU'. 'G' means the message must be passed on, 'N' means it mustn't be recorded, and 'U' means the message should be turned around at the end of the line and sent back. Thus the soul of the clacks worker stays travelling back and forth along the system, for a person isn't dead while their name is still spoken.
GNU Terry Pratchett
About the Book…
The Magic Of Terry Pratchett is the first full biography of Sir Terry Pratchett ever written. Sir Terry was Britain's best-selling living author, and before his death in 2015 had sold more than 85 million copies of his books worldwide. Best known for the Discworld series, his work has been translated into 37 languages and performed as plays on every continent in the world, including Antarctica.
Journalist, comedian and Pratchett fan Marc Burrows delves into the back story of one of UK's most enduring and beloved authors, from his childhood in the Chiltern Hills to his time as a journalist, and the journey that would take him – via more than sixty best-selling books – to an OBE, a knighthood and national treasure status.
The Magic Of Terry Pratchett is the result of painstaking archival research alongside interviews with friends and contemporaries who knew the real man under the famous black hat, helping to piece together the full story of one of British literature's most remarkable and beloved figures for the very first time.
Genre: Biography
Publication: July 30th 2020

About the Author…
Marc Burrows is a Stand Up Comedian, musician, journalist and bequiffed nerd based in London. He works as a curator for Twitter, as well as writing freelance. He plays bass in the acclaimed Victorian-themed Punk band The Men That Will Not Be Blamed For Nothing, writes about music, culture and mental health for the Guardian, Observer, i paper, DrownedInSound, Rocksound and theQuietus and generally lives a busy life. He has a wife who deserves your sympathy, and a little black cat who probably doesn't.
Connect with the Author…
Are you looking for a Bookish environment to talk all things books? Then look no further than The Fiction Cafe – don't forget to answer the membership questions in order to join. We welcome Authors and Readers and there are lots of exciting happenings in the group! Our Book of the Month discussions happen there too.