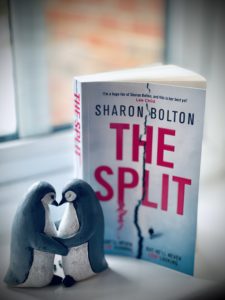 My thoughts…
Tense, gripping and with a twist you won't see coming, Sharon Bolton is back in an explosive new standalone thriller about a woman on the run in The Split.
It has been absolutely ages since I've read a Sharon Bolton book and I have been reminded of why I absolutely love her writing, style and characters.
With so many books in the world and so many fantastic Authors, it's sometimes hard to believe that a unique idea can be born. Sharon Bolton and Gillian McAllister are both masters of the unique idea and running with it in a well-written, heavily researched and brilliant way.
I read this book in a weekend, I was hooked from start to finish. We start in Antarctica and then travel back nine months to the UK – both settings are well researched and described, transporting you to the isolation of South Georgia and the streets of Cambridge and back to South Georgia for a thrilling, gripping conclusion to what has been an absolutely epic nordic-esque dark novel.
It's also not really about penguins – but they make an appearance and so I couldn't resist including them in the photograph!
About the Book…
No matter how far you run, some secrets will always catch up with you…
The remote Antarctic island of South Georgia is about to send off its last boat of the summer – which signifies safety to resident glaciologist Felicity Lloyd.
Felicity lives in fear – fear that her ex-husband Freddie will find her, even out here. She took a job on this isolated island to hide from him, but now that he's out of prison, having served a term for murder, she knows he won't give up until he finds her.
But a doctor delving into the background of Felicity and Freddie's relationship, back in Cambridge, learns that Felicity has been on the edge for a long time. Heading to South Georgia himself to try and get to her first is the only way he can think of to help her.
Genre: Psychological Thriller
Publication: 2020

About the Author…
Sharon J Bolton was born and brought up in Lancashire, the eldest of three daughters. As a child, she dreamed of becoming an actress and a dancer, studying ballet, tap and jazz from a young age and reading drama at Loughborough University.
She spent her early career in marketing and PR before returning to full-time education to study for a Masters in Business Administration (MBA) at Warwick University, where she met her husband, Andrew. They moved to London and Sharon held a number of PR posts in the City. She left the City to work freelance, to start a family and to write.
She and Andrew now live in a village in the Chiltern Hills, not far from Oxford, with their son and the latest addition to the family: Lupe, the lop-eared lurcher. Her daily life revolves around the school run, walking the dog and those ever-looming publishing deadlines
Connect with the Author…
Facebook | Twitter | Instagram
Are you looking for a Bookish environment to talk all things books? Then look no further than The Fiction Cafe – don't forget to answer the membership questions in order to join. We welcome Authors and Readers and there are lots of exciting happenings in the group! Our Book of the Month Read A Longs happen there too.