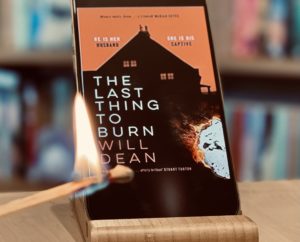 My thoughts…
This book was a quick read but by no means easy. Every single page was full of trauma, hardship, tension and despair but there were also undercurrents of hope and belief that things could get better. You will feel the claustrophobia in every paragraph… the unwavering determination to overcome it is clear but this is a real 'in the moment' book that will almost have you transported to the very moments that you're reading about.
Jane's fear, loathing and strength was written into almost every single page of this book. Every action highlighted her courage and her drive to survive and, to help others survive with her. Clear your schedules because you will be reading 'just a few more lines' well into the night to finish this in book in one sitting.
About the Book…
A woman being held captive is willing to risk everything to save herself, her unborn child, and her captor's latest victim in this claustrophobic thriller in the tradition of Misery and Room.
On an isolated farm in the United Kingdom, a woman is trapped by the monster who kidnapped her seven years ago. When she discovers she is pregnant, she resolves to protect her child no matter the cost, and starts to meticulously plan her escape. But when another woman is brought into the fold on the farm, her plans go awry. Can she save herself, her child, and this innocent woman at the same time? Or is she doomed to spend the remainder of her life captive on this farm?
Intense, dark, and utterly gripping The Last Thing to Burn is a breathtaking thriller from an author to watch.
Genre: Thriller
Publication: January 2021

About the Author…
Will Dean grew up in the East Midlands, living in nine different villages before the age of eighteen. He was a bookish, daydreaming kid who found comfort in stories and nature (and he still does). After studying Law at the LSE, and working in London, he settled in rural Sweden. He built a wooden house in a boggy clearing at the centre of a vast elk forest, and it's from this base that he compulsively reads and writes. He is the author of Dark Pines.
Connect with the Author…
Facebook | Twitter | Instagram | Website
Thanks to NetGalley and the publisher and author for a copy of this book in exchange for my honest review. Check out my blog for more book related posts and to enquire about future reviews, blog tours and cover reveals.
Are you looking for a Bookish environment to talk all things books? Then look no further than The Fiction Cafe – don't forget to answer the membership questions in order to join. We welcome Authors and Readers and there are lots of exciting happenings in the group! Our Book of the Month Read A Longs happen there too.