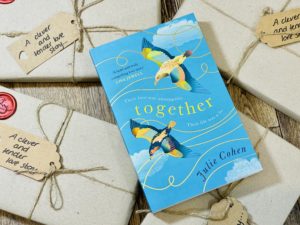 My thoughts…
Our March book of the month here at Tea Leaves & Reads promised to be a good one. This book surprised me in so many ways and I still have such mixed feelings about it. Very firmly in my mind though is how much I loved it from start to finish. The tagline for this book – Is this a love story or a story about great love – sums it up perfectly. I think it's the latter. It's not a love story, but it's a story about how powerful and emotive and heart-breaking love can be.
Without giving anything away, because it would be easy to do so, the book is a story about woven lies and secrets. Or, as Robbie put it at one stage, 'it's not a lie it's just telling the truth ahead of time.'
The backwards re-telling throughout the book was refreshingly different from anything I have read before. The story unravels from the present day, 2016, all the way back to the 1960s when Emily and Robbie's story begins. I love that there was so much to uncover, from the first pages to the very last.
"'We're the only people left alive who know it.'
'Yes,' she said. 'Yes. Just you and me.'
'Then we're free,' he said. 'Finally, you and I are free."

I really loved this quote from the book. But it made me think hard. I would carefully challenge whether Emily is free now that Robbie has done what he has done. I felt that possibly she's now trapped alone in the secrets that they created and sheltered together. I wonder, if the book continued further into the current day and beyond, whether Emily would survive much longer without Robbie by her side reminding her of why they made the decisions that they did.
I think that I wouldn't have enjoyed this book as much if it wasn't of a story being told backwards. I liked Emily and Robbie as characters throughout, but liked them more at the beginning before I learnt more about their life choices and what had led them to the present day and Robbie's decision. I suppose that's one of the clever aspects of this book – giving everything at face value to paint a perfect life and family and then unravelling everything that you as the reader thought was true. Julie Cohen's writing style and structure throughout is absolutely brilliant.
Here are the questions that I had at the end of the book – pulled together with a few of the 'suggested' questions from the back pages (don't turn to them in the book if you haven't read it yet as they do contain spoilers – mine below don't.)
The big question – how do you feel about Robbie's decision at the beginning of the book? Do you sympathise? Do you think he was wrong to do what he did?
Has Robbie just sacrificed himself but left Emily to live alone with the secrets that they created together? A problem shared is a problem solved after all… isn't it? What happens for Emily now that only she knows the internal dilemmas?
What do you think was Emily and Robbie's most difficult decision to make?
Did you enjoy the way that the story was told? We are invested in the characters and their great historic love story before we truly know the details. Would you feel differently if the story was told from the past leading to the present day?
Does the time frame of the story impact upon the decisions that Robbie and Emily made to keep their secrets? Would any of their revelations be received any better in 2021 perhaps?
About the Book…
This is not a great love story.
This is a story about great love.
On a morning that seems just like any other, Robbie wakes in his bed, his wife Emily asleep beside him, as always. He rises and dresses, makes his coffee, feeds his dogs, just as he usually does. But then he leaves Emily a letter and does something that will break her heart. As the years go back all the way to 1962, Robbie's actions become clearer as we discover the story of a couple with a terrible secret – one they will do absolutely anything to protect.
Genre: Contemporary Fiction
Publication: 2017

About the Author…
Julie Cohen studied at Brown University, earning a summa cum laude degree with honours in English. She moved to the UK to pursue a postgraduate degree in English Literature at the University of Reading and this was followed by a career teaching English at secondary level.
Her books have won or been shortlisted for the Romantic Novelists' Association's Award, the National Readers' Choice Award, and the HOLT Medallion. She now writes full-time and teaches creative writing. She lives with her husband and son in Berkshire, England.
Connect with the Author…
Facebook | Twitter | Instagram
Are you looking for a Bookish environment to talk all things books? Then look no further than The Fiction Cafe – don't forget to answer the membership questions in order to join. We welcome Authors and Readers and there are lots of exciting happenings in the group! Our Book of the Month Read A Longs happen there too.