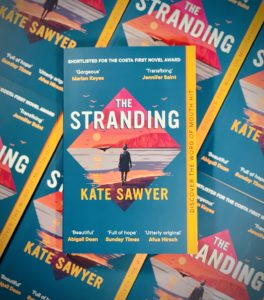 My thoughts…
This is such an original, beautiful story and it captivated my heart from the very first pages. It's hard to describe exactly how this book made me felt but it was almost… reassured. It's a dystopian debut novel and explores the depths of loss, love and life against what can only be described as a bleak and desolate post-apocalyptic world. At the same time though… it all feels oddly familiar and dreamlike instead of your worst nightmare.
The time periods – Before and After – carefully unfold alternatively throughout the book. I loved discovering Ruth's history but I was often more desperate to read her current predicament and find out what happened next.
I was absorbed by Ruth's story, her character, her flaws, her strengths and her loves. So often we read stories of survival despite the odds and barely ever do the survivors question… 'Why me…?' Ruth does, constantly, and it's refreshing to see her examine the odds in such detail. She's relatable and that's what also gives this book a unique undertone.
Never has the end of the world been portrayed in a more hopeful way.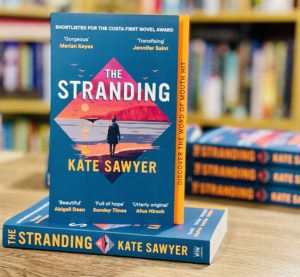 About the Book…
Ruth lives in the heart of the city. Working, drinking, falling in love: the rhythm of her vivid and complicated life there is set against a background hum of darkening news reports from which she deliberately turns away.
As a new relationship becomes increasingly claustrophobic, and the discussions of impending political crisis are harder to avoid, she starts to dream of water; of escaping entwining tentacles through deep blue seas. She sets out to the other side of the globe to find that vision of freedom, and to decide who she wants to be when she returns.
But when she arrives at her destination, she finds instead that the world, and life, she left behind no longer exists.
Starting at the end and eventually returning there, with alternate chapters set Before and After, THE STRANDING is a story of how to make a life, what it is to be a woman, and what remains when everything we know is stripped away
Genre: Dystopian
Publication: June 2021 / paperback May 2022

About the Author…
Kate was born in Bury St Edmunds, Suffolk, UK where she grew up in the countryside as the eldest of four siblings, after briefly living with her parents in Qatar and the Netherlands.
She has worked as an actor and producer on everything from film and theatre to festivals and weddings. She has previously written for theatre and short-film before turning her hand to fiction.
Having lived in South London for the best part of two decades, with brief stints in Australia and the USA, she recently returned to East Anglia to have her first child as a solo mother by choice.
Connect with the Author…
Facebook | Twitter | Instagram | Website