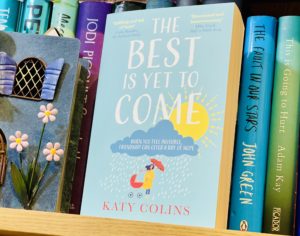 My thoughts…
This book is quite literally, a warm hug. I was actually a little bereft when there was a whole day and night that I had no time to read this book in! The characters are so well written that it feels like reading about your friends, family, neighbours or even yourself.
Katy tackles some difficult topics in a very sensitive way and basically just writes life how it is. With the subject matter covered you would expect this book to be a hard read but somehow, it's not. In fact, it's heart-warming and uplifting.
The characters are at very different stages in their lives but the underlying emotions running through their stories are similar. The contrast between new Mum Izzy and OAP Arthur's lives and the unlikely friendship that builds up between the two is just so heart-warming.
Beautiful. And the best part? Katy has five other books published that I haven't read – love it when that happens!
About the Book…
Izzy has always taken everything in her stride but motherhood is proving more difficult than she thought. She keeps telling herself it's just a phase but the dark clouds are starting to appear.
Neighbour and widower Arthur might be in the winter of his life but he's not ready to be packed off to a care home. He's determined to do things his way.
When Izzy hears about Arthur's big move, she offers to help. But Arthur isn't telling her the whole story. It takes courage to admit you need a friend and when you feel invisible, all you need is a ray of hope. After all, what if the best is yet to come?
Genre: Contemporary Fiction
Publication: March 2021

About the Author…
Author Katy Colins is published around the world and her novels have been translated into several languages.
The acclaimed travel blogger's experiences saw her labelled the 'Backpacking Bridget Jones' by the global media when Katy's own story of turning heartbreak into happiness went viral.
Nowadays, Katy has swapped backpacking for writing books and trying to tame toddlers.
Connect with the Author…
Facebook | Twitter | Instagram | Website
Are you looking for a Bookish environment to talk all things books? Then look no further than The Fiction Cafe – don't forget to answer the membership questions in order to join. We welcome Authors and Readers and there are lots of exciting happenings in the group! Our Book of the Month Read A Longs happen there too.