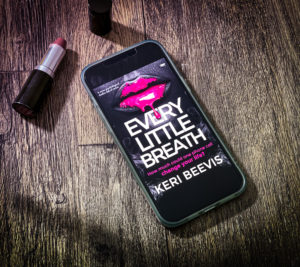 My thoughts…
Last year I read my first ever Keri Beevis book (and it was absolutely brilliant you can read my review here) so I was excited to be given the opportunity to read and review an advanced copy of her upcoming publication Every Little Breath! It's also reminded me how much I loved discovering a new Author in 2020 and how excited I was to realise there were other books she had published which I haven't read yet – they're firmly on my list to read asap!
Although this isn't my favourite of Keri's books, it was still a gripping read. I found it a slow and steady start with some quick time-frame jumps and a different writing style to Keri's usual prose which took some getting used to. However I settled into this after a while and found myself racing through the last half of the book to uncover the plot. I had guessed it a few chapters before with a couple of little clues but was pleased that I hadn't been able to figure it out before then as I like a book that proves me wrong or keeps me in suspense!
About the Book…
One phone call can change everything…

'Only you can save her. If she dies, it is your fault.'
When radio presenter, Casey Fallon, answers a call she assumes it is a prank. But then a woman's body is discovered, and she finds herself up against a cruel and calculating killer who wants her to find his victims before they take their last breath.
Fifteen years ago, Casey was a key witness in the trial of serial killer, Steve Noakes, and her evidence helped put him behind bars for the murders of five women.
Someone remembers what happened that summer. Someone who is desperate for revenge. Someone who won't stop until Casey has been punished.
'You saved a life once. Can you do it again?'

The game is just beginning…
Genre: Psychological Thriller
Publication: April 2021

About the Author…
Keri Beevis is the internationally bestselling author of Dying To Tell and Deep Dark Secrets and Trust No One. She lives in Norfolk, England, with her two naughty kitties, Ellie and Lola, and a plentiful supply of red wine (her writing fuel). She loves Hitchcock movies, exploring creepy places, and gets extremely competitive in local pub quizzes. She is also a self-confessed klutz.
Connect with the Author…
Facebook | Twitter | Instagram | Website
Thanks to the publisher and author for a copy of this book in exchange for my honest review. Check out my blog for more book related posts and to enquire about future reviews, blog tours and cover reveals.
Are you looking for a Bookish environment to talk all things books? Then look no further than The Fiction Cafe – don't forget to answer the membership questions in order to join. We welcome Authors and Readers and there are lots of exciting happenings in the group! Our Book of the Month Read A Longs happen there too.