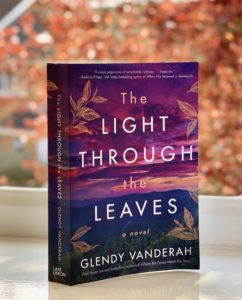 My thoughts…
I felt daunted by this book's 450 pages but very quickly forgot about that as I became immersed in the storyline. This book completely blew me away.
For a while now I'd been searching for something that was on a level with Where The Crawdads Sing and I finally found it. This is another perfect example of a book where the surroundings – in this case the Forest – become a character of its own. The threads of trauma weaving their way through the story are off-set by the beauty of nature and the freedom of the outdoors. At the same time the lonliness and desolation of nature is also highlighted. It's a careful balance of human nature and mother nature and I loved that.
A book that can make you laugh, gasp, cry and smile is a wonderful thing. Glendy Vanderah achieves all of those things throughout whilst carefully tacking some heavy topics and big societal flaws. You will want to read this book and perhaps along the way you too will heal.
About the Book…
One unbearable mistake at the edge of the forest.
In a moment of crisis, Ellis Abbey leaves her daughter, Viola, unattended—for just a few minutes. But when she returns, Viola is gone. A breaking point in an already fractured marriage, Viola's abduction causes Ellis to disappear as well—into grief, guilt, and addiction. Convinced she can only do more harm to her family, Ellis leaves her husband and young sons, burying her desperate ache for her children deeper with every step into the mountain wildernesses she treks alone.
In a remote area of Washington, a young girl named Raven keeps secrets inside, too. She must never speak to outsiders about how her mother makes miracles spring from the earth, or about her father, whose mysterious presence sometimes frightens her. Raven spends her days learning how to use her rare gifts—and more important, how to hide them. With each lesson comes a warning of what dangers lie in the world beyond her isolated haven. But despite her mother's cautions, Raven finds herself longing for something more.
As Ellis and Raven each confront their powerful longings, their journeys will converge in unexpected and hopeful ways, pulled together by the forces of nature, love, and family.
Genre: Contemporary Fiction
Publication: April 2021

About the Author…
Glendy Vanderah worked as an endangered bird specialist in Illinois before she became a writer. Originally from Chicago, she now lives in rural Florida with her husband and as many birds, butterflies, and wildflowers as she can lure to her land. Where the Forest Meets the Stars was her debut novel.

Connect with the Author…
Facebook | Instagram | Website
Are you looking for a Bookish environment to talk all things books? Then look no further than The Fiction Cafe – don't forget to answer the membership questions in order to join. We welcome Authors and Readers and there are lots of exciting happenings in the group! Our Book of the Month Read A Longs happen there too.