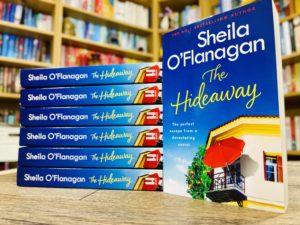 My thoughts…
Our April book of the month choice was such a fitting read. Did you miss out? Buy your signed edition here! In a month that was colder than usual and with lockdown restrictions still in place, this was the perfect escape to another sunnier climate when it was impossible to do that ourselves! Sheila O'Flanagan is a well known and loved Author – her style is crisp and concise and her books are spectacular.
There are some great twists, larger than life characters and genuine emotion captured in easy chapters. The cover is quite deceptive. It gives the impression of a romantic beach read but when you start to read the book you'll realise that it's a solo journey for the most part, of Juno finding herself following the revelation of shocking secrets.
What was particularly strong throughout this book was Juno's strengths which were highlighted from chapter to chapter. But added to that, she was realistic and her flaws and weaknesses also came through. Her whole character was captured throughout and that was really refreshing to read. Sheila's writing style is pleasant and airy, the book was easy to read and very easy to get lost in. It's not all about the frothy romance and lightness though, Juno's overwhelming grief is also clear – for a person but also for the life that wasn't what she thought.
About the Book…
What would you do if you discovered you were living a lie?
When a shocking news report shatters Juno Ryan's world, she suddenly finds herself without the man she loves – and with no way of getting the answers she so desperately needs.
A distraught Juno flees to the enchanting Villa Naranja in Spain. The blue skies and bountiful orange groves – along with Pep, the winemaker's handsome son – begin to soothe her broken heart, but only Juno herself can mend it.
Just when she begins to feel whole again another bombshell falls. Can Juno put the past behind her? And will she ever learn to trust herself again?
Genre: Contemporary Fiction
Publication: 2018

About the Author…
Sheila has always loved reading and as a child she used to write stories for her younger sisters as a bribe to make them do her share of the housework. It usually worked!
Although constantly writing, Sheila felt the idea of being a novelist was a bit of a pipe dream and pursued a career in finance. It was the complete opposite of anything she'd ever expected to do but, at least for a time, she enjoyed it.
But the dream wouldn't go away and in her thirties she decided start writing her first novel. Eventually, after a couple of false starts, 'Dreaming of A Stranger' was written and published and became an Irish bestseller.
Since then she's written more than 25 novels as well as 3 collections of short stories and 2 novels for children all of which have been bestsellers both in Ireland and overseas! They include 'The Hideaway', What Happened That Night, Isobel's Wedding and Suddenly Single and she has sold more than 9 million copies around the world.
Connect with the Author…
Facebook | Twitter | Instagram | Website
Are you looking for a Bookish environment to talk all things books? Then look no further than The Fiction Cafe – don't forget to answer the membership questions in order to join. We welcome Authors and Readers and there are lots of exciting happenings in the group! Our Book of the Month Read A Longs happen there too.