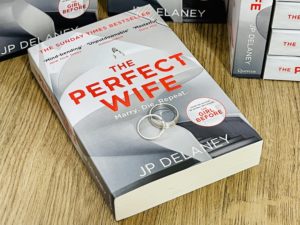 My thoughts…
Firstly, this might not be your usual genre or 'go to' book and you'll probably be thinking that in the first few pages. But… stick with it because my gosh it's absolutely brilliant!
This book is a whirlwind… opposing ideas, characters, scenarios… it has everything! It also spans genres. So there's almost something in it for everyone. It crosses into Sci-Fi, Psychological Thriller, Crime, Domestic… and at the same time it's also incredibly educational with some of the topics covered.The narration is clever too – without giving anything away…
Ground-breaking technology forms the basis of this story but it's very quickly driven into a different narrative with domestic drama and chilling undertones. Throughout, there is an element of something very sinister going on – and it's very unpredictable too.
JP utilises both personal experience and extensive research and it pays off and shows. JP injects the book with appropriate levels of humour, suspense and mystery. You will not be able to put this down until you've reached that (shocking!) conclusion.
So if you're on the fence with this book – a little thrown by the mention of the genre if it's not usually your thing – give it a go. You won't be disappointed. You HAVE to read this!
About the Book…
The perfect life. The perfect love.
Abbie awakens in a daze with no memory of who she is or how she landed in this unsettling condition. The man by her side claims to be her husband. He's a titan of the tech world, the founder of one of Silicon Valley's most innovative start-ups. He tells Abbie that she is a gifted artist, an avid surfer, a loving mother to their young son, and the perfect wife. He says she had a terrible accident five years ago and that, through a huge technological breakthrough, she has been brought back from the abyss.
She is a miracle of science.
But as Abbie pieces together memories of her marriage, she begins questioning her husband's motives–and his version of events. Can she trust him when he says he wants them to be together forever? And what really happened to Abbie half a decade ago?
Genre: Psychological Thriller
Publication: 2019

About the Box…
The Perfect Wife by JP Delaney is our Book Club pick for September and once again every single copy has been signed! Packaged up in a box with all of our usual treats, this would make the perfect gift for your shelf…or someone else… Order yours here.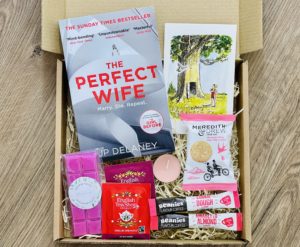 About the Author…
JP Delaney is a British writer of psychological suspense. His novel THE GIRL BEFORE was an instant New York Times and Sunday Times bestseller and sold over a million copies in 40 countries. The follow-up, BELIEVE ME, was also an international bestseller, as was his third, THE PERFECT WIFE. His fourth standalone psychological thriller.
JP Delaney has previously written bestselling fiction under other names. The Carnivia Trilogy, a series of three standalone but interlinked thrillers set in present-day Venice and written under the name Jonathan Holt, was published in more than 20 countries BBC One is adapting one of JP's books for a four-part series – which JP has written, created and executively produced, himself!
Are you looking for a Bookish environment to talk all things books? Then look no further than The Fiction Cafe – don't forget to answer the membership questions in order to join. We welcome Authors and Readers and there are lots of exciting happenings in the group! Our Book of the Month Read A Longs happen there too.