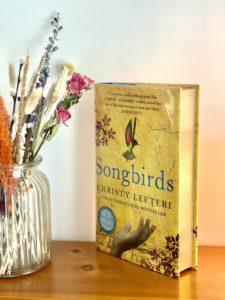 My thoughts…
Imagine saying goodbye to your loved ones, packing up a few belongings and heading to a foreign country in search of a better life. Imagine making a promise to find work that would allow you to send funds home to keep your Children alive, clothed and fed. Imagine bringing a child into the world and then parenting their whole childhood through a computer screen, snatched conversations on a cheap mobile phone, or handwritten letters that only occasionally make it to their destination. Imagine doing all of that because you want to find better, be better, give more, promote survival…and yet…finding yourself more trapped than you were before.
Imagine that the above isn't completely fiction – and it's contained within the pages of this book.
There have been some interesting online discussions about this book which have influenced how I write this review. I don't usually read others feedback on books first, but I was curious. This is a book that spans modern day issues & crimes. Firstly, the plight of domestic workers who have embarked on employment in a country that they aren't originally from… and secondly, the fate of Songbirds, subject to poaching. There has been particular focus, in discussions, on the violent demise of the Songbirds in this book. Some found it too graphic. Many are claiming that they won't read this book because of it… Yet not so much the fate of actual Human beings and how that's portrayed. Interesting.
If you don't like reading about graphic happenings against both humans and animals, then parts of this book will be difficult and I can see why you might prefer not to read it. But if you quite like immersing yourself in a crime thriller, a psychological thriller, a domestic drama that goes into the ins and outs and gory details of the bad things that peope do to one another…don't claim that you can't handle this book because it's too graphic. What's the issue? That it's based on real life perhaps? That's exactly why this book must be read. Not hidden, avoided, or tarred as too graphic.
Let's talk about the genre of this book too… It's domestic fiction really, but is based on the real-life disappearance of domestic workers in Cyprus. It's widely being coined as Historical Fiction on various book-related websites but it's really not. If you read and think this is History…think again. This is current, right now, happening.
This would make a really good book for book club discussions. As with Christy's last publication too. I urge you to read the Author's note at the end for a better understanding of Migrants & Refugees. I urge you to read the book to understand that there is more to a human being than 'Migrant, Asylum Seeker or Refugee.' Those terms describe a moment and experience in someone's life but their identities are made up of so much more.
'Migrants are often forced to leave their homes for less obvious reasons than War. But they still leave because they feel that they have no choice.' – Christy Lefteri
About the Book…
It began with a crunch of leaves and earth. So early, so cold, the branches shone with ice. I'd returned to collect the songbirds. They are worth more than their weight in gold.
Yiannis is a poacher, trapping the tiny protected songbirds that stop in Cyprus as they migrate each year from Africa to Europe and selling them on the black market. He dreams of finding a new way of life, and of marrying Nisha, who works on the island as a nanny and maid–having left her native Sri Lanka to try to earn enough to support her daughter, left behind and raised by relatives.
But Nisha has vanished; one evening, she steps out on a mysterious errand and doesn't return. The police write off her disappearance as just another runaway domestic worker, so her employer, Petra, undertakes the investigation.
Petra's unravelling of Nisha's last days in Cyprus lead her to Nisha's friends–other maids in the neighborhood–and to the darker side of a migrant's life, where impossible choices leave them vulnerable, captive, and worse.
Based on the real-life disappearance of domestic workers in Cyprus, Christy Lefteri has crafted a poignant, deeply empathetic narrative of the human stories behind the headlines. With infinite tenderness and skill, Songbirds offers a triumphant story of the fight for truth and justice, and of women reclaiming their lost voices.
Genre: Contemporary
Publication: 8th July 2021

About the Author…
Christy Lefteri was born in London in 1980 to Greek Cypriot parents who moved to London in 1974 during the Turkish invasion. She completed a degree in English and a Masters in creative writing at Brunel University. She taught English to foreign students and then became a secondary school teacher before leaving to pursue a PhD and to write. She is also studying to become a psychotherapist.
Connect with the Author…
Resources & Support…
Here's a selection of initiatives geared towards female migrants in Cyprus: