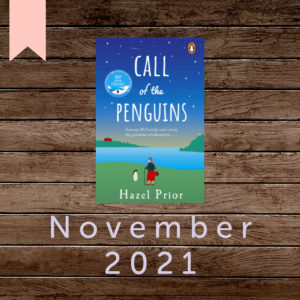 My thoughts…
If you're worried about this sequel – don't be. Trust us – it's perfect. Well, not perfect because nothing is, not even Veronica, but you know what we mean. It's Veronica. It's Penguins. It's Hazel Prior's calm, unruffled, precise way of writing. And it's exactly what we need.
You can read these books out of order but why would you? You do need to read book one for the full effect of Veronica's personality and the history. This book has some many themes woven together to eventually bring the main characters together too. The plight of the Penguins, and of nature in general, is carefully and tastefully highlighted, so that whilst it's highly educational you're not being preached to. Fact is beautifully merged into the fiction that we've come to know and love from Hazel Prior.
So in conclusion, this is a beautiful follow up to Away with the Penguins – an already brilliant story with great characters. You will enjoy going back and meeting some of them all over again, especially those Penguins…
About the Box…
We are VERY excited that Call of the Penguins will be coming to our book boxes – and signed editions no less! Huge thanks to Hazel Prior for working with us on this. We're adding some little Penguin related treats to the boxes for those who are pre-ordering too – more information here.
About the Book…
Meet the heroine everyone's talking about . . .
Fiercely resilient and impeccably dressed, Veronica McCreedy has lived an incredible 87 years. Most of them alone, in her huge house by the sea.
But Veronica has recently discovered a late-life love for family and friendship, adventure and wildlife.
More specifically, a love for penguins!
And so when she's invited to co-present a wildlife documentary, far away in the southern hemisphere, she jumps at the chance.
Even though it will put her in the spotlight, just when she thought she would soon fade into the wings.
Perhaps it's never too late to shine?
Genre: Contemporary Fiction
Publication: November 2021

About the Author…
Hazel Prior is the author of ELLIE AND THE HARP MAKER and AWAY WITH THE PENGUINS (UK title)/HOW THE PENGUINS SAVED VERONICA (US title). She is also a freelance harpist. She lives in Exmoor, in England, with her husband and a huge, ginger cat.
Connect with the Author…
| Twitter | Instagram | Website
Thanks to NetGalley and the publisher and author for a copy of this book in exchange for my honest review.
Are you looking for a Bookish environment to talk all things books? Then look no further than The Fiction Cafe – don't forget to answer the membership questions in order to join. We welcome Authors and Readers and there are lots of exciting happenings in the group! Our Book of the Month Read A Longs happen there too.