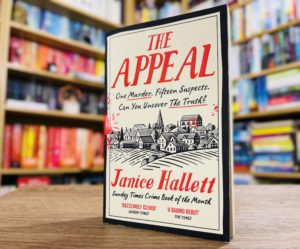 My thoughts…
This would really not have been a book that I would have chosen and I even delayed starting it because of the format. That's a personal preference though, I personally felt I needed a clear head in order to process the books epistolary format and I'm so glad that I waited until I felt I could absorb it properly. Once I started, I finished it within a few days. Spurred on by a fantastic group of people reading the book at the same time – I was gripped from the start right until the conclusion.
Many reviewers have compared this book to Richard Osman's writing and have coined Janice a modern day Agatha Christie too. I definitely don't dispute her talent but it would be unfair to liken her to anyone else when she has created a sub-genre of Murder Mystery all of its own. Whilst the format of her debut book isn't unique – there are lots of successful published books in epistolary [letter/email/message] style – it's extremely modern and current and is probably one of the best modern day Thrillers that I've read.
Grab a pen and paper and make notes as you go – see if you're able to unravel the case alongside the two legal interns working on it. As you read, consider the questions, 'Who Died, Who is in Prison and Who is the killer?' Does someone fit more than one of those labels? You might be surprised at how much you do work out – and how many twists Janice manages to fit in! One thing is certain, by the end of this book your perception of what makes a modern day crime novel will have been completely changed.
Book Club Discussion Points…
This book also churned up a lot of questions which would be particularly useful to discuss as part of a Book Club read. In fact, had we not already had our Book Club choices lined up this year, this would certainly have been one of them. Watch this space for Janice's next publication in 2022…
Have you read a book in this format (Epistolary) before? If so, what did you read and what did you think of it? How does it compare to this book?
The Appeal has been chosen as both Waterstones and Sunday Times book of the month, amongst other accolades. Do you think this book would have been as successful had it been written as a straight forward novel from varying characters perspectives?
The Appeal very much focuses on the hierarchy within a small community – highlighting social class and community standing. Do you feel that these issues are persistent within the area that you live in?
The book covers multiple issues – from medical support in third world countries to childhood illnesses and mental health problems – as well as addiction, societal flaws and domestic dramas. Did you find the book educational in its portrayal of all of these issues? What other themes emerged throughout?
The book is a Murder Mystery told entirely through evidence and interpretation. We never directly hear from the characters. With that in mind, is there anything you felt was unanswered that you'd like to ask a character? If so, what would you ask and who?
TV rights for this book have been optioned – So who would you cast in the lead roles, and why?
Which character did you like the least and which character did you like the most (if any!)?
Could you relate to a specific character or did you empathise with anyone in particular?
Do you feel that the cover and title are fitting for the storyline of The Appeal? 
And finally, who are you buying this book for next?!
About the Box…
We are very lucky to have signed editions of The Appeal in stock – thanks to Janice for kindly sending us signed book-plates. You can order your box here – and as usual the book is packaged in brown paper, tied up with string and finished with a wax seal. The box includes all of our usual treats too.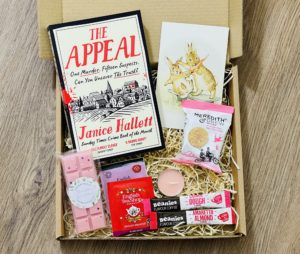 About the Book…
In a town full of secrets…
Someone was murdered.
Someone went to prison.
And everyone's a suspect.
Can you uncover the truth?
Dear Reader – enclosed are all the documents you need to solve a case. It starts with the arrival of two mysterious newcomers to the small town of Lockwood, and ends with a tragic death.
Someone has already been convicted of this brutal murder and is currently in prison, but we suspect they are innocent. What's more, we believe far darker secrets have yet to be revealed.
Throughout the Fairway Players' staging of All My Sons and the charity appeal for little Poppy Reswick's life-saving medical treatment, the murderer hid in plain sight. Yet we believe they gave themselves away. In writing. The evidence is all here, between the lines, waiting to be discovered.
Will you accept the challenge? Can you uncover the truth?
Genre: Murder Mystery
Publication: January 2021

About the Author…
A former magazine editor and award-winning journalist, Janice has written speeches and articles for, among others, the Cabinet Office, Home Office and Department for International Development. In screenwriting, Janice's first feature film RETREAT was released by Sony Pictures (co-written and directed by Carl Tibbetts) which starred Cillian Murphy, Thandie Newton and Jamie Bell. Janice's stage plays have been performed at Theatre503, The White Bear, Hen & Chickens and TheatreN16. She was also one of six female playwrights selected by All The Rage Theatre for its Seize The Stage festival at Rich Mix. Her play NETHERBARD has twice been performed by Budding Rose Productions. Janice has had television scripts in development with Slim Film & TV and with Retort (part of FreemantleMedia). Her sitcom TWO LADIES was  performed at the Museum of Comedy in June 2019.
Janice was selected for the Triforce Creative Network year-long mentoring scheme and featured on the BBC New Talent Hotlist. She won Best New Screenplay in the 2014 British Independent Film Festival.
Connect with the Author…
Are you looking for a Bookish environment to talk all things books? Then look no further than The Fiction Cafe – don't forget to answer the membership questions in order to join. We welcome Authors and Readers and there are lots of exciting happenings in the group! Our Book of the Month Read A Longs happen there too.