My thoughts…
Although this is the fourth book in the Detective Morgan Brookes series, it was the first book that I'd read and that really didn't disadvantage it at all. I will definitely be going back to read books 1 – 3 though purely because I really love Helen's writing style and the main characters many of which are reoccurring throughout the series.
I also love a Crime Thriller that keeps you guessing right up until the end and this book did exactly that. Unexpected twists and turns are the key to keeping the reader interested and there were plenty throughout. I'm already looking forward to the next publication in this addictive series. I especially like the back story coming through of Morgan's past too. It doesn't detract from the main storyline but instead compliments it well.
We are so honoured as well that the name of our bookish shop has been featured in this book – keep an eye out for Tea Leaves and Reads!
About the Box…
Of COURSE we're going to be stocking this title and it's available for pre-order now! Helen is very kindly signing copies for us too. We're popping a scented wax bar with this box from Hampshire Candles – called Hocus Pocus. The perfect treat and book box for the upcoming Autumn & Halloween seasons…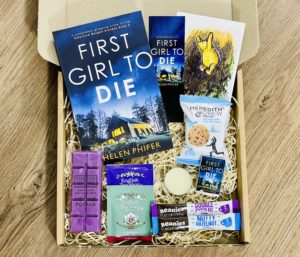 About the Book…
Morgan shudders as she leans out of the window and takes in the familiar blonde curls and clear blue eyes of the fallen girl below. She knows this woman, and she realises with sickening certainty that her friend is now gone forever…
When Detective Morgan Brookes is called to the scene of a suicide, she's devastated to recognise the young teacher sprawled out on the grass like a broken doll. She hasn't seen Brittany for years. Not since the tragic death of Morgan's high-school boyfriend ripped their friendship group apart. But when witnesses describe Brittany's erratic behaviour and jumbled speech that morning, Morgan is convinced the fearless, life-loving girl she once knew didn't jump of her own accord.
Traces of poison found in Brittany's blood prove Morgan's theory right, but no one can find the source. Then Morgan uncovers a distinctive jar in Brittany's home filled with toxic herbs, and the sight of it turns her blood to ice. She has a jar just like it, a handmade gift from her aunt. Is this a coincidence, a set-up, or could the only person she's ever trusted with her damaged past be capable of murder?
Then another woman from Morgan's past is found, close to the scene of that fatal teenage party. Has Morgan been looking at this all wrong? Are these deaths connected to that deadly night? And how could someone from her own family possibly be involved?
With her aunt's freedom and more innocent lives at stake, Morgan must dig deep into her painful memories for answers. Who else was there that night, and what exactly did they see? She must stop this twisted killer before any more of her old friends become new victims – but at what cost?
An absolutely heart-stopping and unputdownable crime thriller, perfect for fans of Angela Marsons, Lisa Regan and Rachel Abbott.
Genre: Crime Thriller
Publication: October 2021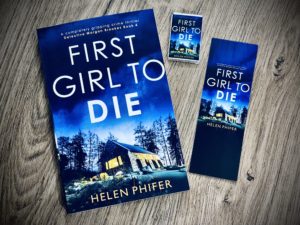 About the Author…
Helen Phifer is the #1 Bestselling crime and horror novelist of the Annie Graham, Lucy Harwin, Beth Adams and Morgan Brookes series. Helen lives in a small town in Cumbria. Surrounded by miles of coastline and only a short drive from the beautiful Lake District.
Connect with the Author…
Facebook | Twitter | Instagram | Website
Thanks to NetGalley and the publisher and author for a copy of this book in exchange for my honest review. Check out our blog for more book related posts and to enquire about future reviews, blog tours and cover reveals.
Are you looking for a Bookish environment to talk all things books? Then look no further than The Fiction Cafe – don't forget to answer the membership questions in order to join. We welcome Authors and Readers and there are lots of exciting happenings in the group! Our Book of the Month Read A Longs happen there too.