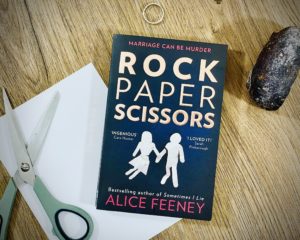 My thoughts…
One of the most gripping books that I've read… and absolutely brilliant for a Honeymoon read too! Warning – you won't be able to put it down. Your head will be spinning as everything unravels for Mr and Mrs Wright. Keep the lights on whilst you read too because Alice is going to transport you to the most desolate, isolated, wild, creepiest place you could imagine with just a few carefully written chapters and very strong descriptions.
Did you work out the twist? Did you even have an inkling? I think that I did but I still read the reveal with an open mouth and an exclamation of, 'She's done it again…' Alice Feeney is the Queen of Domestic Thrillers – she truly is! You will read this and once you get to the end you'll want to read it all over again just because of that reveal.
It's tense. The storyline builds slowly. And you will be hooked!
About the Book…
Think you know the person you married? Think again…
Things have been wrong with Mr and Mrs Wright for a long time. When Adam and Amelia win a weekend away to Scotland, it might be just what their marriage needs. Self-confessed workaholic and screenwriter Adam Wright has lived with face blindness his whole life. He can't recognize friends or family, or even his own wife.
Every anniversary the couple exchange traditional gifts – paper, cotton, pottery, tin – and each year Adam's wife writes him a letter that she never lets him read. Until now. They both know this weekend will make or break their marriage, but they didn't randomly win this trip. One of them is lying, and someone doesn't want them to live happily ever after.
Ten years of marriage. Ten years of secrets. And an anniversary they will never forget.
Rock Paper Scissors is the latest exciting domestic thriller from the queen of the killer twist, New York Times bestselling author Alice Feeney.
Genre: Domestic Thriller
Publication: September 2021

Alice Feeney is a writer and journalist. She spent fifteen years at the BBC, where she worked as a reporter, news editor, arts and entertainment producer and One O'clock News producer.
Her debut novel, Sometimes I Lie, was a New York Times and international bestseller. It has been translated into over twenty languages, and is being made into a TV series by Ellen DeGeneres and Warner Bros. starring Sarah Michelle Gellar.
Alice has lived in London and Sydney and has now settled in the Surrey countryside. She writes in her shed with her dog; a giant black Labrador who is scared of feathers. His & Hers is Alice's third novel, and will be published around the world in 2020.
Connect with the Author…
Facebook|Twitter|Instagram|Website|
Are you looking for a Bookish environment to talk all things books? Then look no further than The Fiction Cafe – don't forget to answer the membership questions in order to join. We welcome Authors and Readers and there are lots of exciting happenings in the group! Our Book of the Month Read A Longs happen there too.