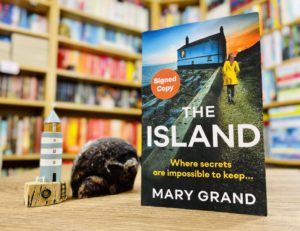 Fans of the Isle of Wight will love the references to some key (and some fictional) areas and landmarks! This signed edition was purchased in Medina Bookshop right in the heart of Cowes on the Island.
This is a gripping read and moves at quite a fast pace. There are lots of suspects and lots of clues dropped along the way as Juliet tries to unravel exactly what has happened and exactly who she can trust in her family. Juliet and the other main characters weren't particulary likeable and some of their actions were repeatedly frustrating. But writing characters that have underlying spikiness and are hard to like is a talent – and Mary Grand's ability to keep the story flowing through all of the mystery and intrigue kept me hooked on this book throughout.
Set against the backdrop of the rural side of the Isle of Wight, the landscape described lends itself to the secrets being hidden and the crimes being covered up. There are enough twists and turns in this book to keep everything moving and active – and lots of paths ventured down before revealing something in the complete opposite direction!
About the Book…
The Island – where everyone knows everyone, and secrets are impossible to keep…
'Be careful, you don't know them as well as you think. Remember – anyone can kill.'
Juliet has returned to the Isle of Wight from years abroad to visit her sick father and to be reunited with her three sisters – Cassie, a professional musician who seems to have lost her way in life, Mira, who is profoundly deaf, is married to the local vicar but their relationship is falling apart, and Rosalind, glamorous and charming but now deeply unhappy and secretive about her life.
As Juliet's father lies dying, he issues her with a warning. There is a killer on the loose, and they may be closer than she can ever imagine. He anxiously tells Juliet that he confided a family secret in son-in-law Rhys, and now regrets ever saying a word.
Days later, as the clock strikes one in the morning, a man comes out of Rhys's church, walks along the path and is run down by a car driven by an unidentified person. When the finger of suspicion points to Juliet, she realises the only way to clear her name is to uncover the secrets her family has been keeping from her for years. But with a killer on the loose, danger is getting closer all the time…
The Island is set on the Isle of Wight – insular, claustrophobic, and where secrets are hard to keep. Mary Grand's heart-stopping who-dunnits are perfect for fans of Louise Candlish. Agatha Christie and Lucy Foley.
Genre: Mystery
Publication: June 2021

About the Author…
Mary Grand is the author of five novels and writes gripping, page-turning suspense, with a dark and often murderous underside. She grew up in Wales, was for many years a teacher of deaf children and now lives on the Isle of Wight.
Connect with the Author…
Facebook | Twitter | Instagram | Website
Are you looking for a Bookish environment to talk all things books? Then look no further than The Fiction Cafe – don't forget to answer the membership questions in order to join. We welcome Authors and Readers and there are lots of exciting happenings in the group! Our Book of the Month Read A Longs happen there too.