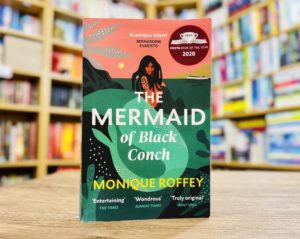 This book is so important – it's Historical Fiction yes – based on Taino Legends. However the topics covered and the issues explored are very much real. The story of the Mermaid, Aycayia, and the treatment she endures, help to explore the issues of Colonialism and the repercussions. Told partly through Diary structure, verse and 3rd person narration – the strucure of this book works really well to portray the views of the key characters and keep the reader intrigued and gripped.
It's 1976 – and as Monique herself says about the book, she '…wanted the dawn of a Western and Caribbean social revolution to be part of the book's backdrop. The Seventies in the Caribbean was a time of radical change in society, political thinking and across the arts. Cuba was communist and the Anglophone islands were no longer ruled by the British; there was self rule, black leaders, and a new era of nation building.'
With a very refined talent, the use and inspiration of famous verse and historic writings, and, her own voice, Monique does exactly what she sets out to do with this book. She creates a fictional book with enough doses of reality interwoven throughout that everyone can't help but talk about it.
About the Book…
Near the island of Black Conch, a fisherman sings to himself while waiting for a catch. But David attracts a sea-dweller that he never expected – Aycayia, an innocent young woman cursed by jealous wives to live as a mermaid.
When American tourists capture Aycayia, David rescues her and vows to win her trust. Slowly, painfully, she transforms into a woman again. Yet as their love grows, they discover that the world around them is changing – and they cannot escape the curse for ever…
Genre: Historical Fiction
Publication: 2020

About the Author…
Monique Roffey is a Trinidadian-born British writer and memoirist. Her novels have been much acclaimed, winning awards including the 2013 OCM Bocas Prize for Caribbean Literature, for Archipelago, and the Costa Book of the Year award, for The Mermaid of Black Conch in 2021.
Connect with the Author…
Are you looking for a Bookish environment to talk all things books? Then look no further than The Fiction Cafe – don't forget to answer the membership questions in order to join. We welcome Authors and Readers and there are lots of exciting happenings in the group! Our Book of the Month Read A Longs happen there too.