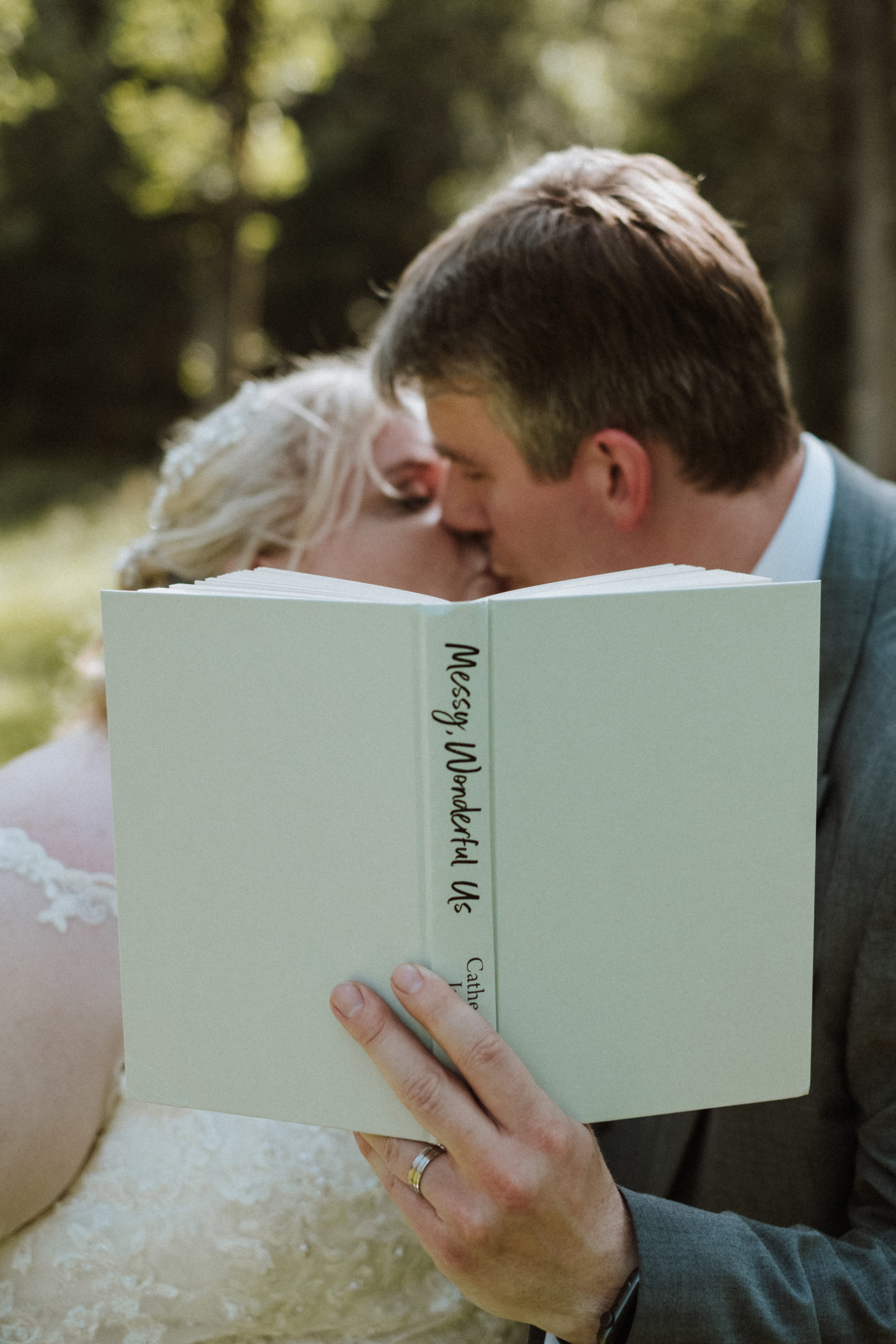 This is the hardest blog entry to write – tying together all of our Wedding plans and sharing all of the details – because there was so much! But since our big day back on the 17th July 2021 – we have had lots and lots of questions so we decided the best thing to do was write a bumper post about everything. The huge bonus is we've been able to relive the big day by going through all the photos!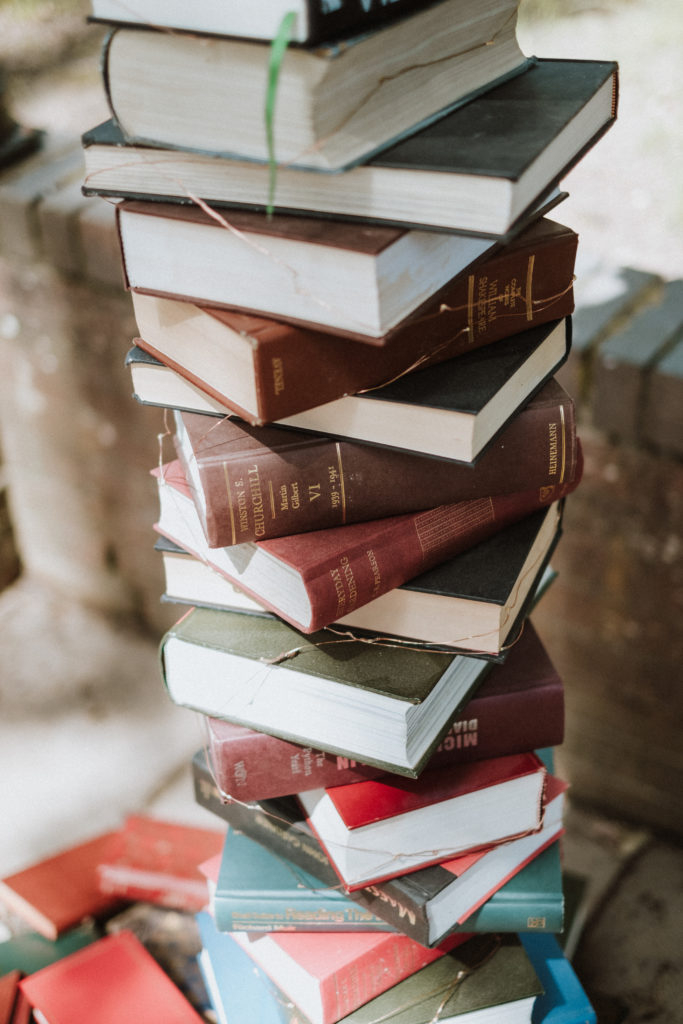 We have to say – having planned and re-planned our Wedding four times – we do consider ourselves to be just a tiny bit expert in our big day. Just a little bit. Originally we were due to get married on the 11th April 2020 and were just a few weeks away when the UK went into lockdown. We'd had our epic Hen and Stag dos (Just!) and we were almost ready… We pushed everything to October 2020 thinking this will all blow over… And then pushed on again to February 2021…and finally… the 17th July 2021 was our lucky day. Still under restrictions, still wearing masks and following certain rules – but take a look at our photos and see what you think. It was perfect. And you could hardly tell the world was limping back into something resembling normality.
We worked with some absolutely brilliant suppliers to make our visions come to life as well as having fantastic input and support from family and friends to bring everything together on the day. Finally, everything was captured by two truly brilliant photographers. Thank you to Roderick Alan Photography. Our formal photographs in this blog entry are from Rod – and there are some informal ones mixed in that we or family and friends took.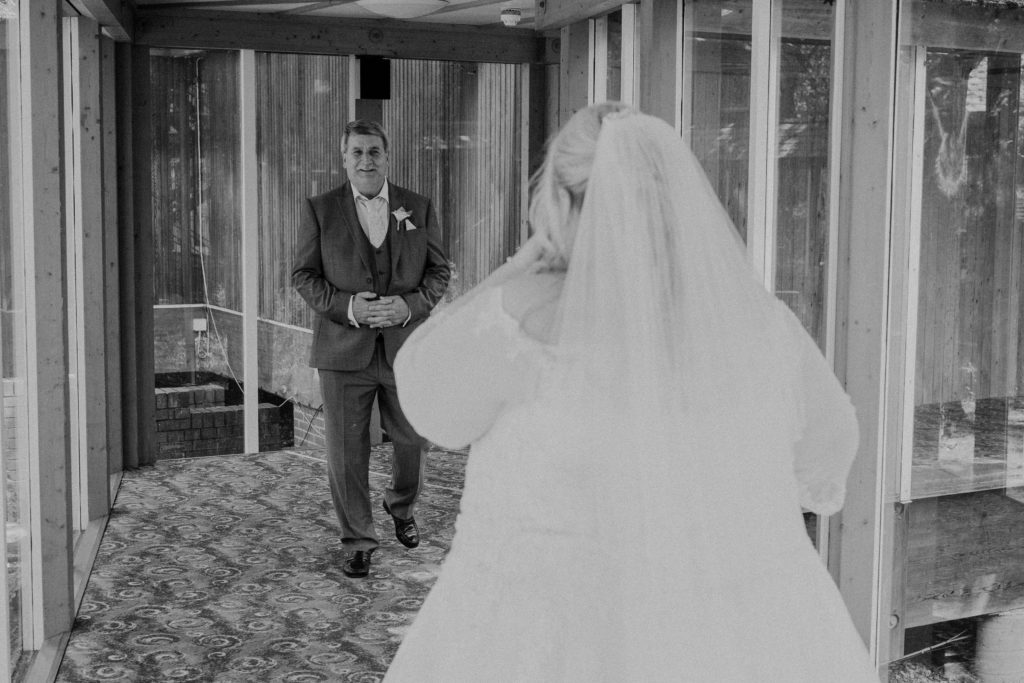 We knew that we wanted something that lasts (and we also know you can make a traditional bouquet last of course!). But we wanted it to be bookish AND last and that was a pretty difficult task for real flowers. Very early on in our Wedding planning days we found Paper Bouquets UK and fell instantly in love.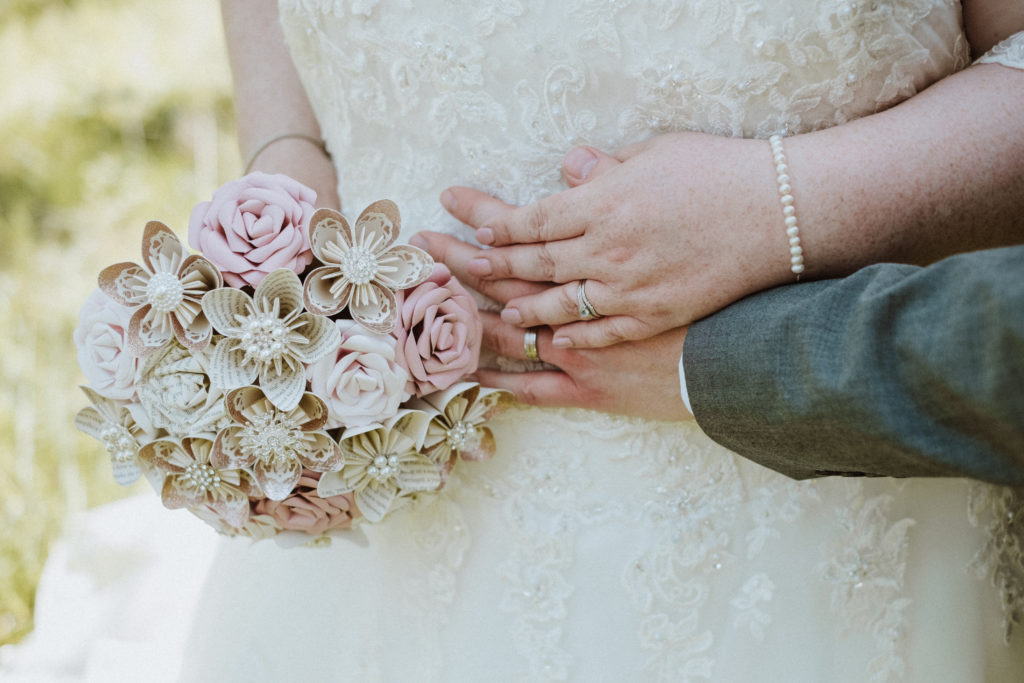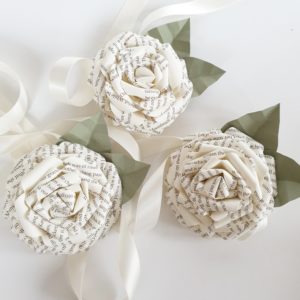 We chose the designs from Rebecca's examples, picked our flower types and sorted the colour themes. We arranged for a large bridal bouquet, smaller bridesmaids bouquets, a flower girl wand, Buttonholes, wrist corsages and a little extra for the little people in our Wedding Party.
Two lockets were added to the Bride's bouquet – each had a photograph of Mrs Tea Leaves Grandads inside – both who have sadly passed away. A bookish pin saying 'Just One More Chapter' was added too. So meanings to such a simple phrase. If only we had had just one more…

We first discovered Bespoke Chick at Mrs Tea Leaves sisters Wedding a few years ago and really liked her style. She creates pieces with your ideas, colour schemes and themes. We basically gave her the colours, hinted that it was Book themed, gave some of our favourite quotes and away she went! We still remember the day that the boards arrived on our doorstep for our first Wedding date (April 2020) – and then again Jackie worked with us to repaint and redesign when we needed to change everything around and reschedule.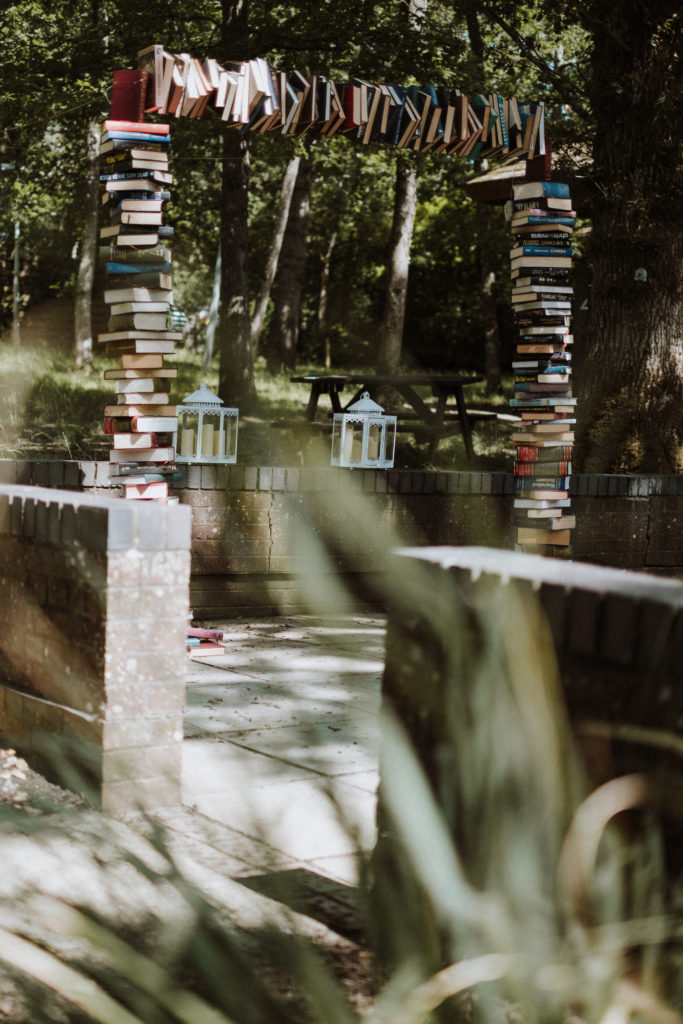 This was a labour of love that's for sure! A combined effort from Mr Tea Leaves, Mrs Tea Leaves, her Dad, and a friend. We collected the books over a period of time (strangely, there seemed to be a lot of politicians biographies that nobody wanted!) and then wondered exactly how we would achieve an Archway of books.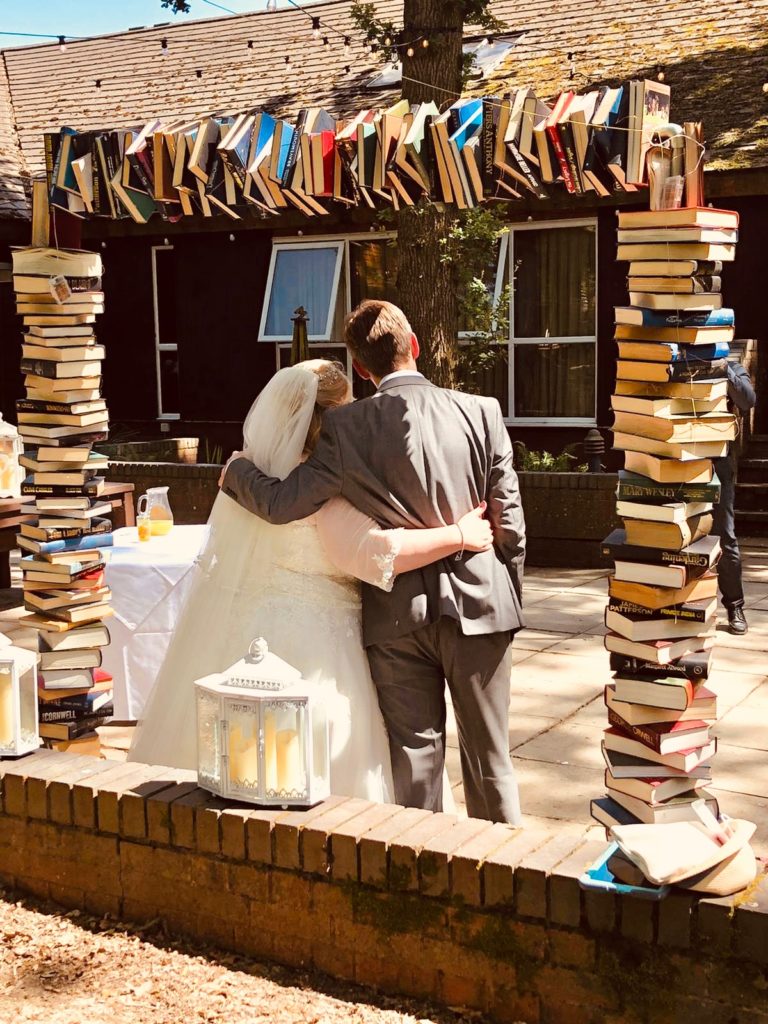 Yes, there's a guide on Pinterest and a few YouTube videos. It has been done before. But… we don't know how they managed it! Anyway, over quite a few months, maybe even over a year, the arch was worked on and worked on and worked on… It was ready (almost) for April 2020 but needed finishing touches. Then it sat bereft for over a year and we went back to it with fresh eyes to finish it just before the Wedding. How do you make an Archway of books? Galvanised steel, weighted feet, drills, patience and trial and error.
One of Mr Tea Leaves sisters took on the task of decorating the archway with fairy lights the night before… and it really finished everything off and make such a perfect image! It was a totally different feature by day and night and we absolutely loved that. Our book arch is available to hire if you fancied it… contact Choices Hire Services!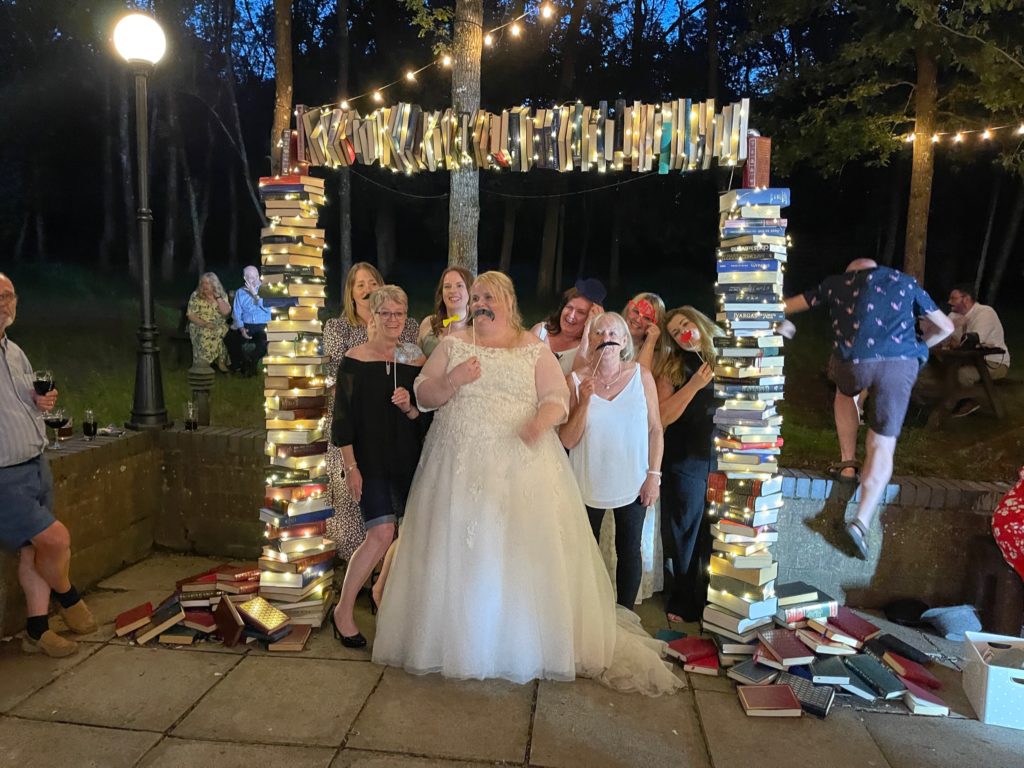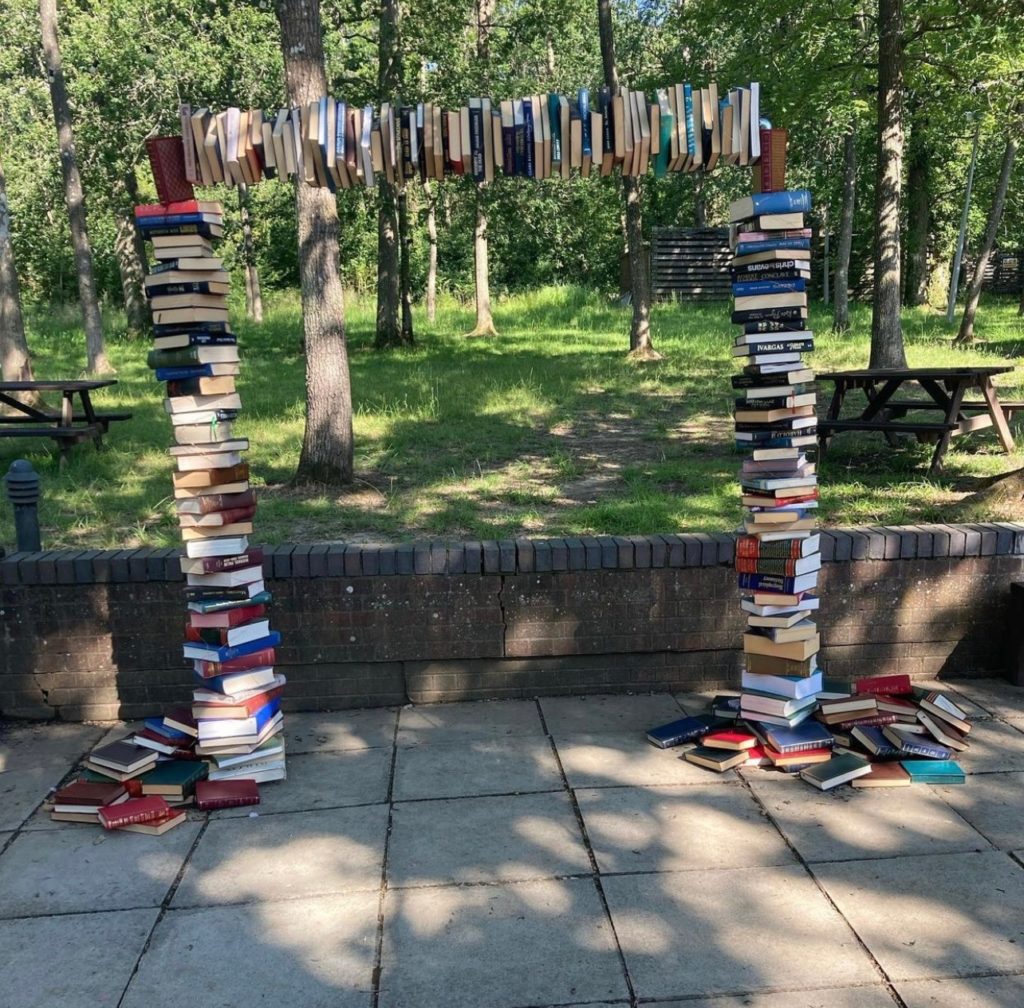 You may have seen our Cake reveal video – if you haven't it's here! Do check it out because our cake…gosh… you can't describe it to fully give it justice unless you see it captured in real life or the video. We found the idea on Pinterest (again!). Mr Tea Leaves has a severe nut allergy and so we have to be very careful about where we get cakes from. In fact, it's rare that he can have something as there are so many warnings.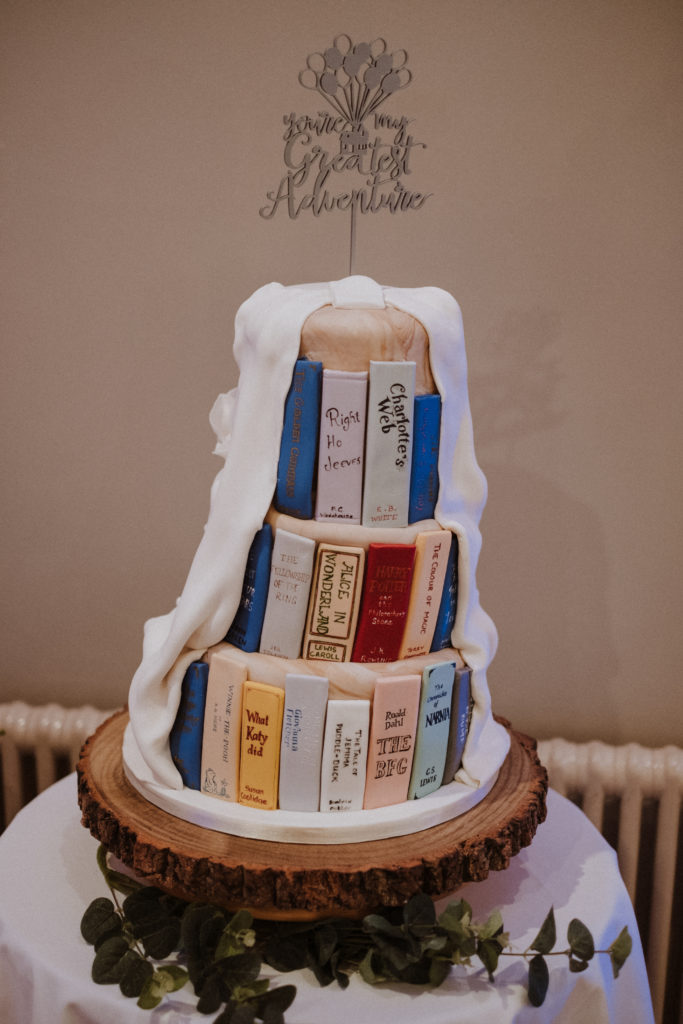 But we are so lucky that all of our celebratory cakes are made by Kate who owns and runs a local pub with her husband. She is extremely talented and brings to life any creation. She also makes sure that they are completely safe for William so that he can partake in cake!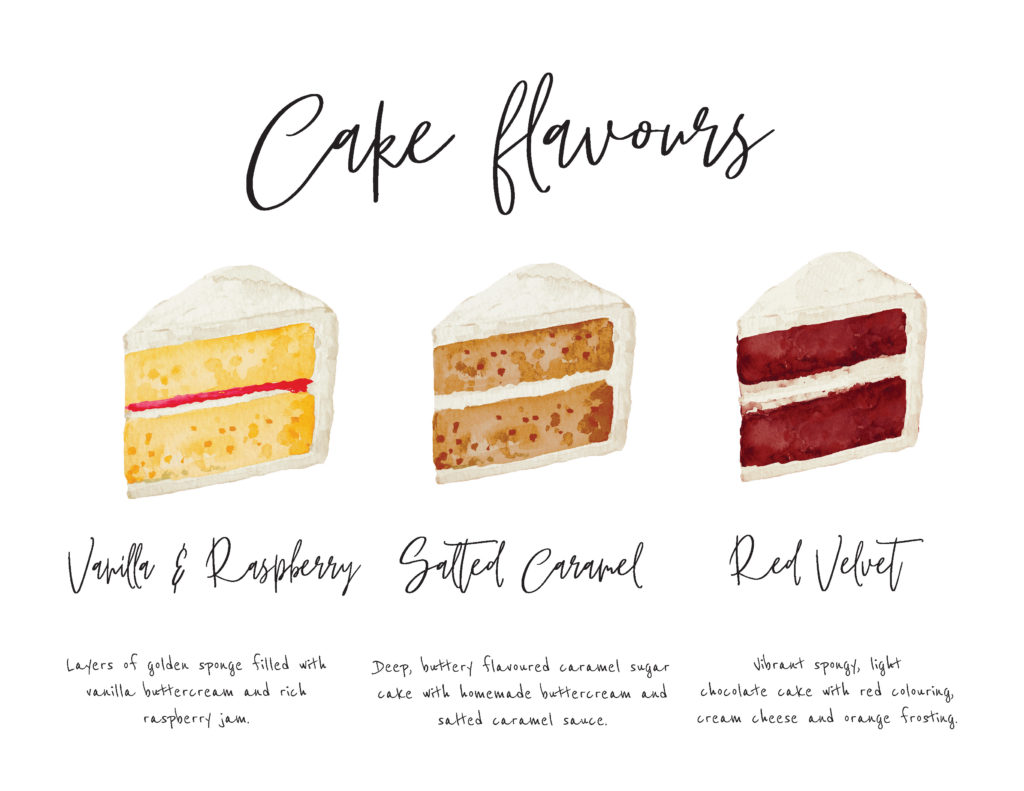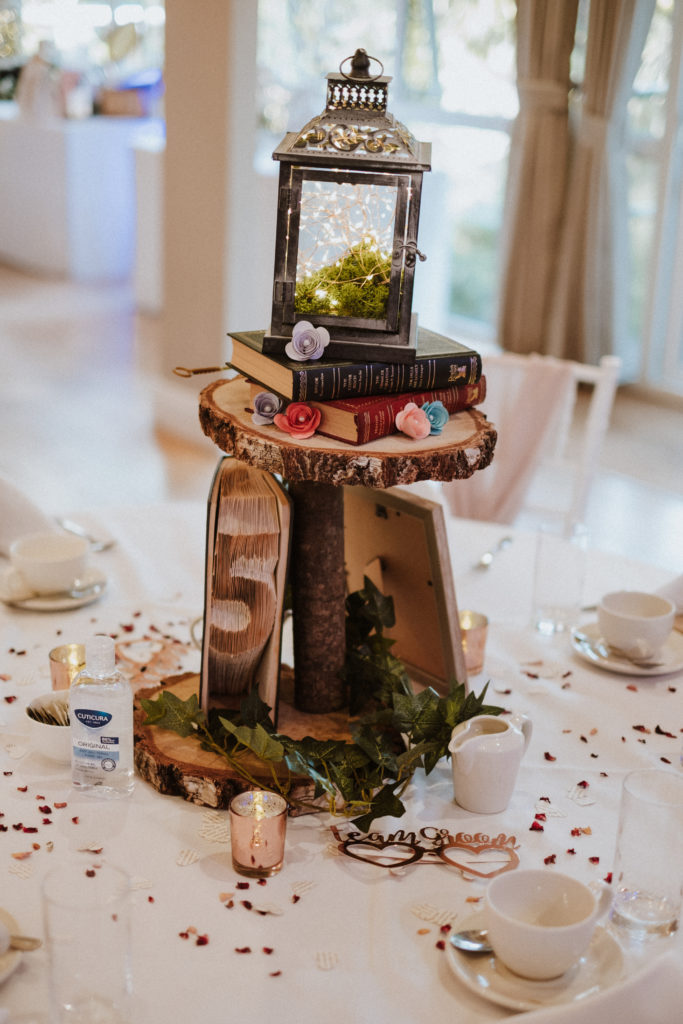 We are extremely lucky that within the Tea Leaves and Reads family there lies a business that is absolutely perfect for event planning! Choices Hire Services provide equipment, décor and all the important finishing touches for your event. We even got our LOVE letters from them! We were given free reign of their Aladdin's Cave – a treasure trove of ideas! We spent a long time setting up our table centre pieces, consulting Pinterest, setting up again, re-setting up…and finally… deciding on what we wanted.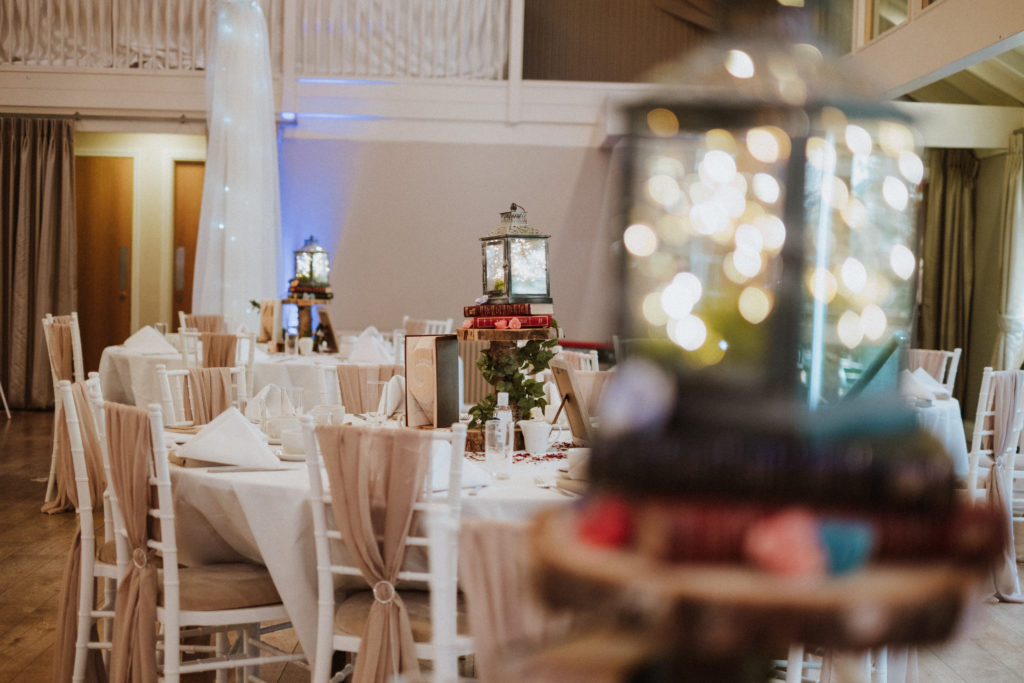 The framed quotes were provided by Miss Bohemia – it was one of the first Wedding purchases that we made! We bought the prints and stashed them away safely and one the big day a couple were put on each table to finish the whole look off. We absolutely love them and can't wait to repurpose them in our house.
The Wooden Tiered Stands that everything stood on were made (blood sweat and tears we hear!) by a good friend who works for Choices Hire Services. Some of the wood for our table centre pieces/top table is from the water meadow – where we spend most of our evenings walking the dog!
The lanterns had moss inside and microdot lights – you can never have too many fairy lights! Paper flowers were made in different pastel colours to compliment the display and stacks of old books were used to finish it off.
One of Mrs Tea Leaves bridesmaids spent a good few hours with her making the bookish table confetti out of Harry Potter and Terry Pratchett books – we sprinkled rose scented dried leaves as well to add a bit of colour and scent.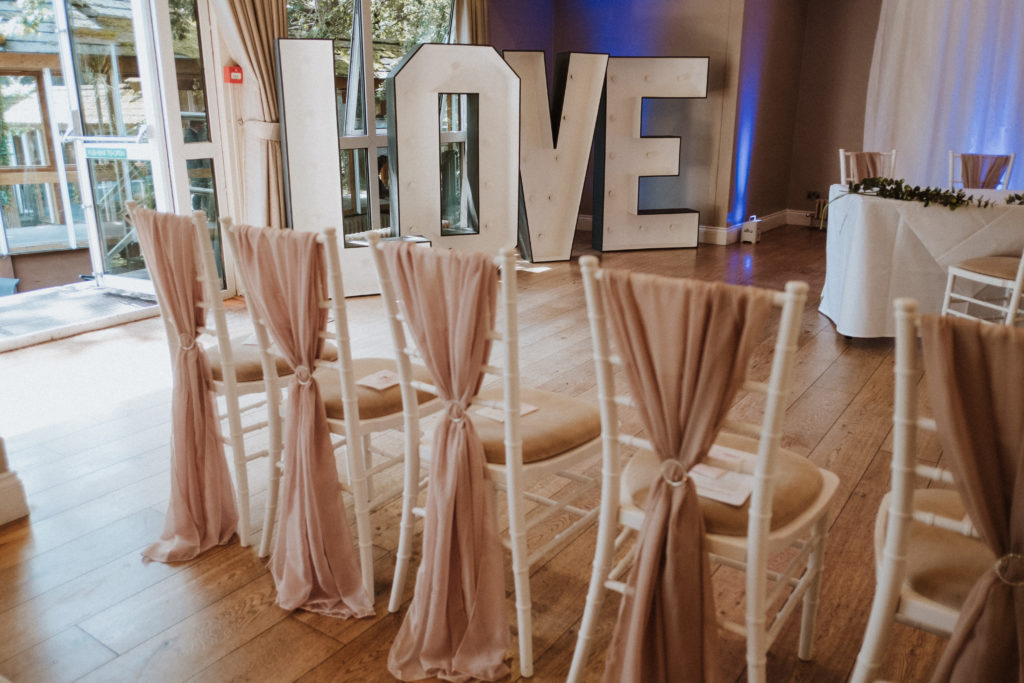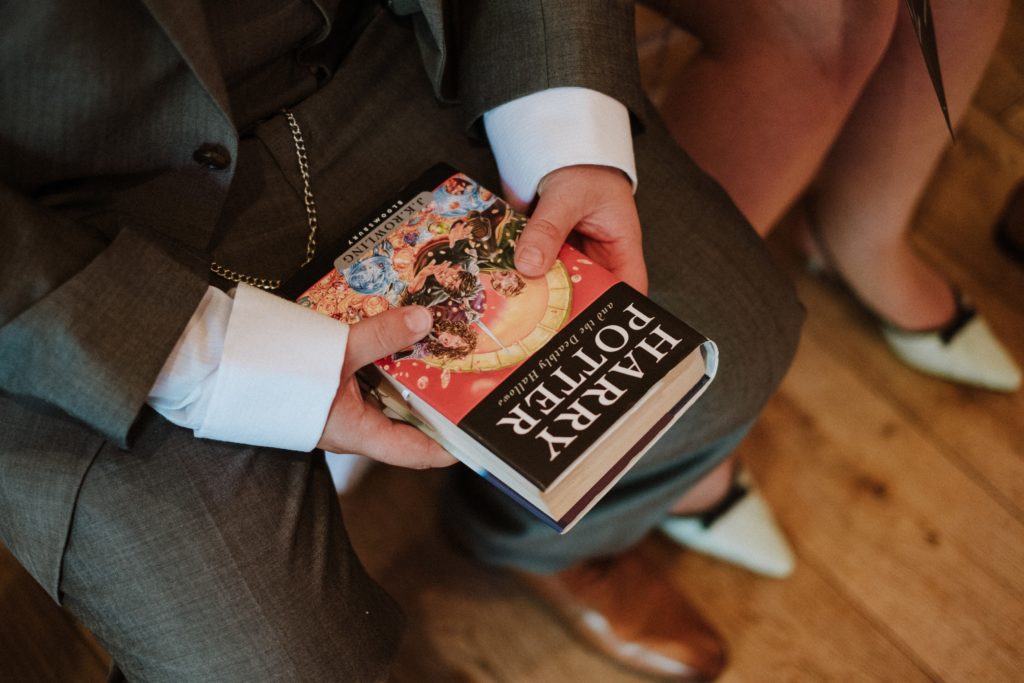 It had to be Harry Potter – and it had to be The Wedding chapter – didn't it?! Our Wedding rings (simply chosen from H M Samuel) were tied inside on a ribbon and the book was carried by one of our Groomsmen. A few weeks earlier and having someone else other than the Bride and Groom do this was forbidden!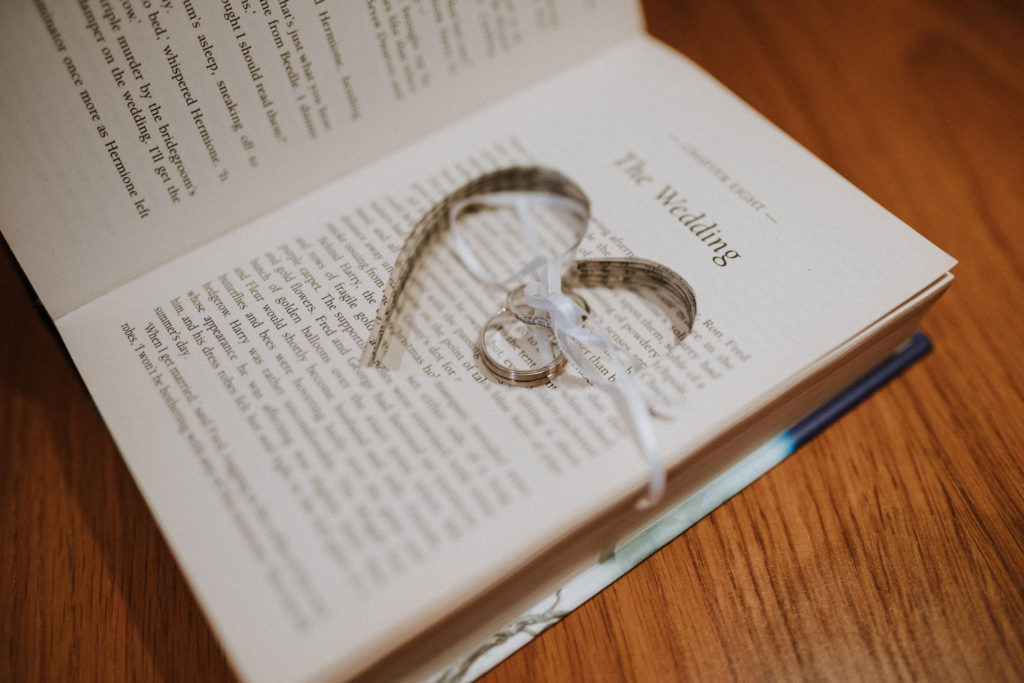 We chose a book for every single guest who attended the Wedding! We decided we wanted the favours to be a personal choice. Each book was either something we knew and loved, or something that we knew the person receiving it would love.
We were also really lucky to be able to get a few sets of Chris Carters book signed for a couple of very good friends (and for the Bride too, she couldn't miss out on that!)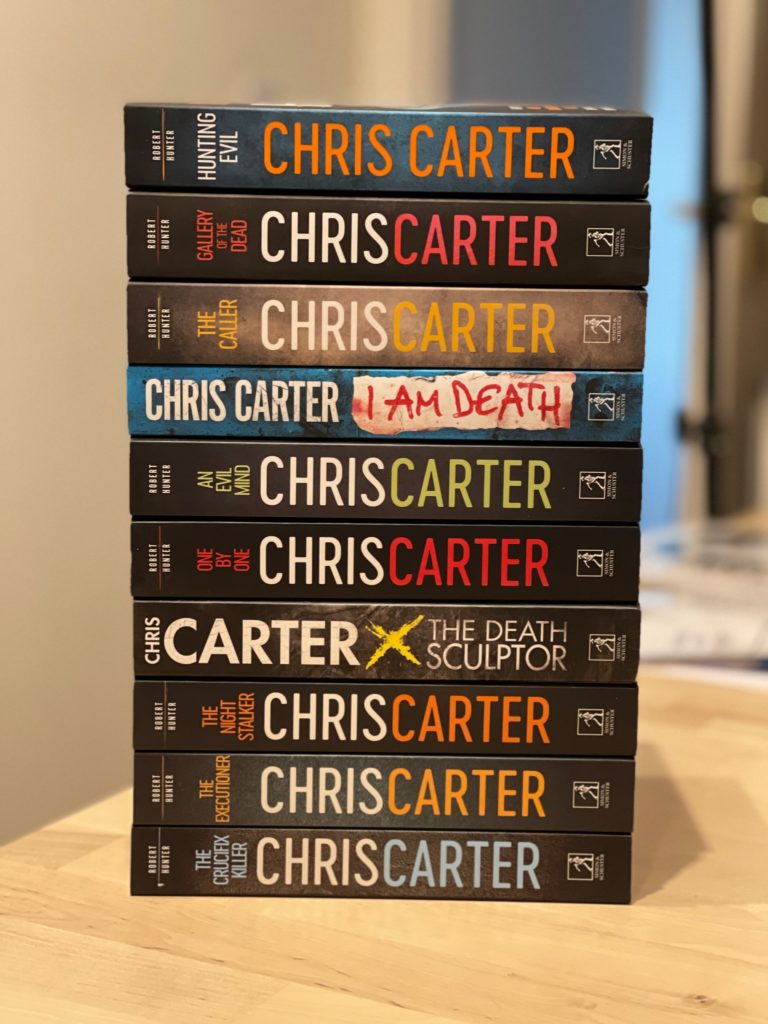 Each book was wrapped up in brown paper and finished with a wax seal… yes… our Tea Leaves and Reads packaging was happening before our business was even born! We rewrapped for the July date because we had a postcard inside every book with the date inside. We just added the new date underneath!

We opted for some bookish gifts for each other amongst a few other things! Great ideas of course include books – but we wanted to find something a little different too. Mrs Tea Leaves gift for Mr Tea Leaves was this bookish sculpture from Artful Soul Designs.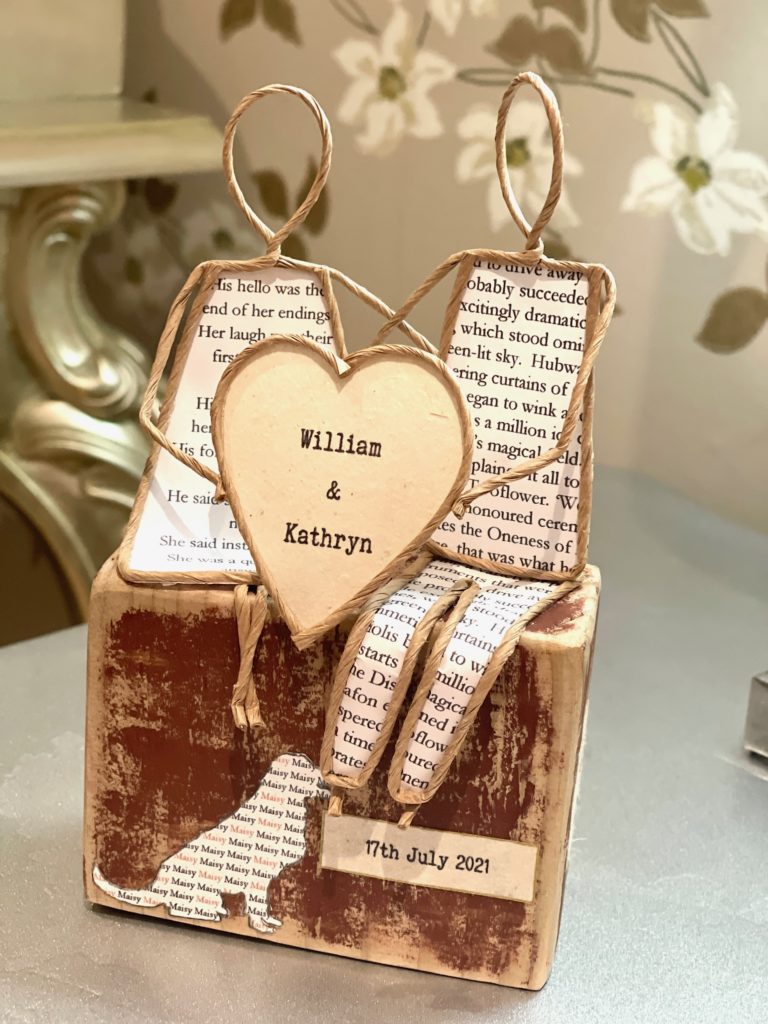 Keri is absolutely patient and wonderful and will help with ideas or take on board your own to create very unique sculptures from wood, paper and wire. She created this beautiful piece. Including our favourite quote, book pages, Maisy the dog and our Wedding date. Mr Tea Leaves also found the Always Pandora Charm – bookish and perfect!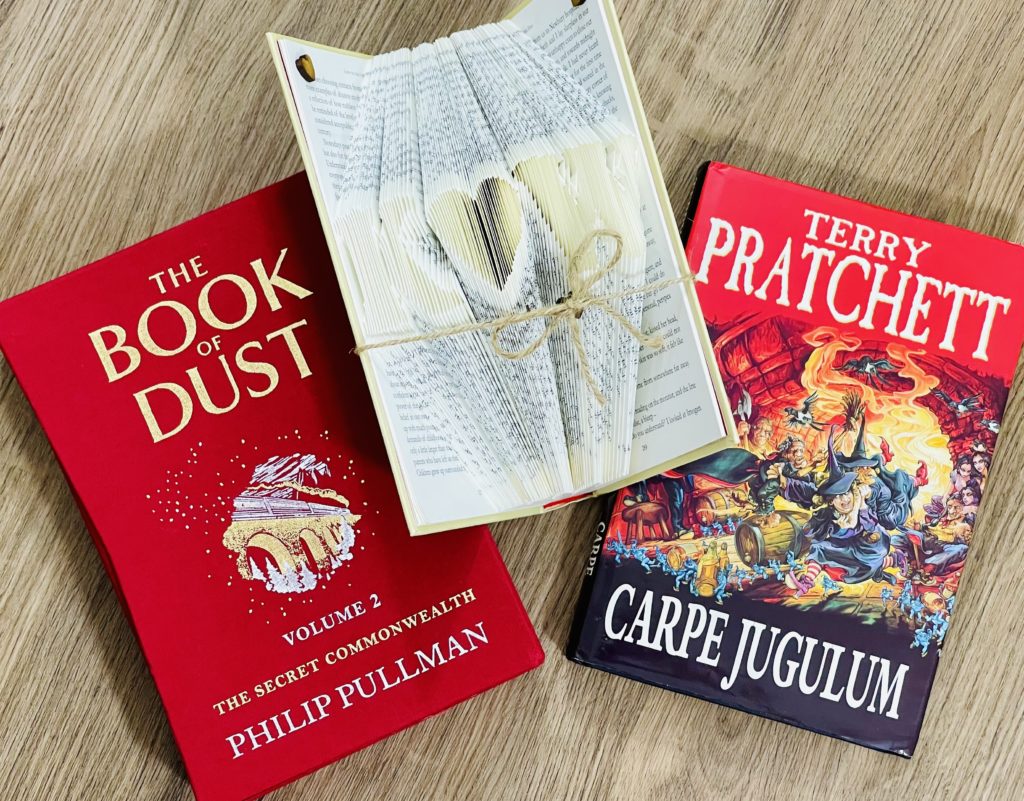 Mrs Tea Leaves and Reads spent many hours in bidding wars on eBay to try and win a signed Terry Pratchett book for Mr Tea Leaves. He is the ultimate fan of Sir Terry! At the same time we were also collecting very used books from eBay to make some of our folded book projects. Books that no longer were readable but could be re-purposed as decoration. Mrs Tea Leaves successfully won a pricey signed Pratchett book (Carpe Jugulum) as her Wedding gift for Mr Tea Leaves so imagine her surprise when one of the bruised and battered books also turned up in great condition – with a signature inside! Moral is – check your books before you sell them for 99p! The original win though is a beautiful edition – and Sir Terry wrote inside 'Go for the Throat!'
Mr Tea Leaves had bought (many moons ago!) and hidden away a hefty Philip Pullman tome – a special edition of The Book of Dust Volume 2. This was extremely special and is number 4306 of only 5000 editions published. To top it all off – it's been signed by Philip himself.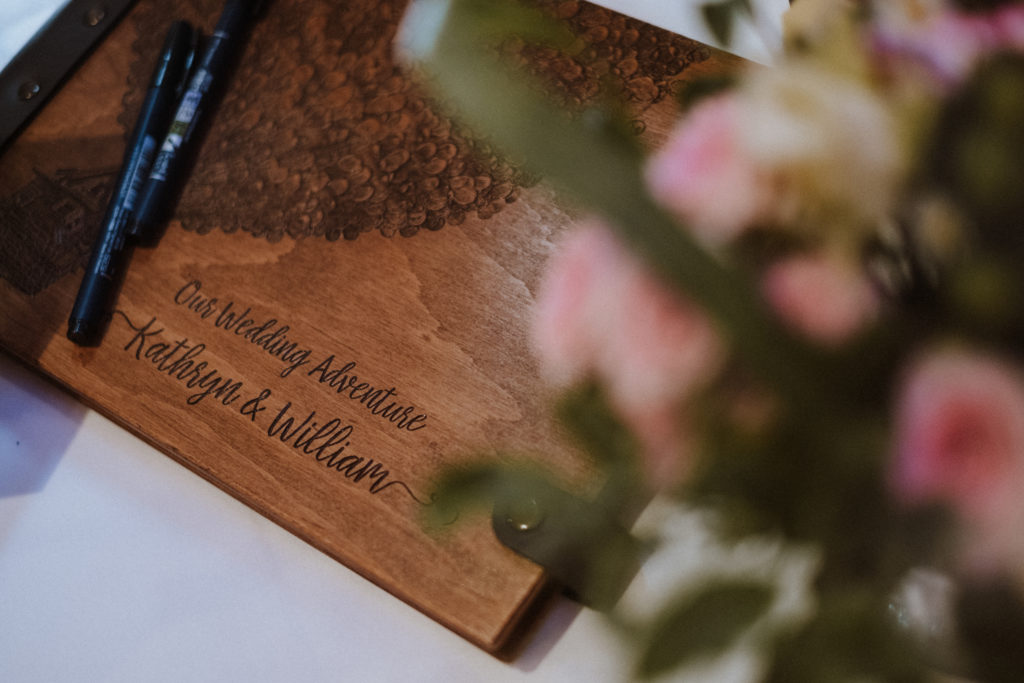 Our Guestbook was designed by Woodlack on Etsy. Vladimir is based in Ukraine and is insanely talented! We told him exactly what we wanted and he created it. We love the film 'Up' and so that's what features on the front. Inside is a favourite quote from Harry Potter which seems fitting for us given we waited ten years to get married!
'Even After All this Time?'

'Always.'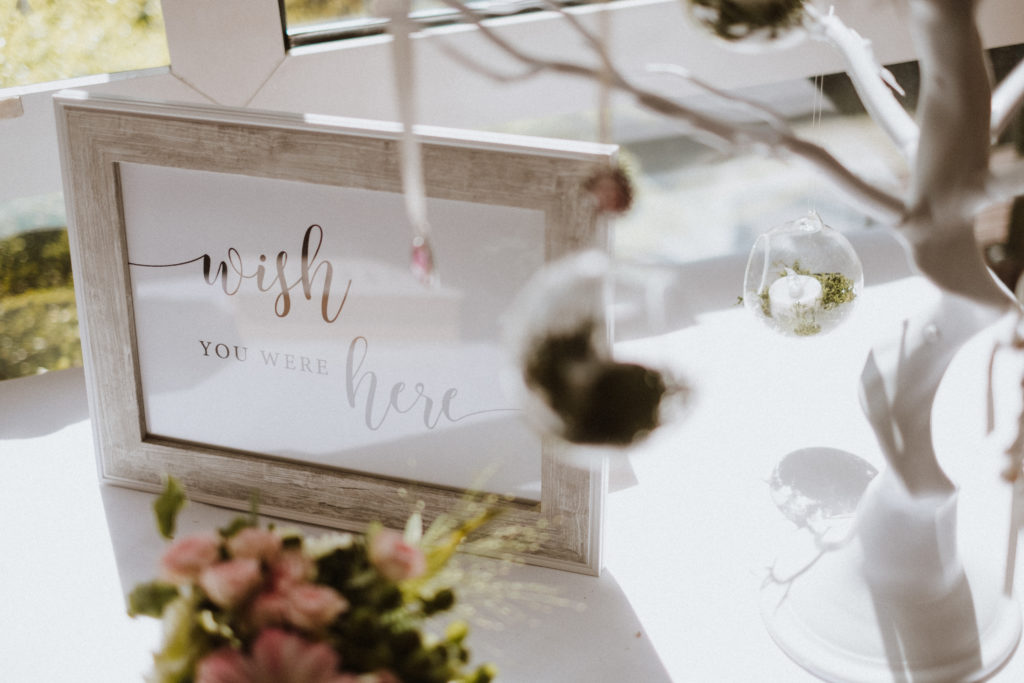 We wanted a way of sharing photos of our loved ones who could no longer be with us – but without having lots of frames. Then came the idea of a memory tree. Choices Hire Services provided us with the white faux tree and tealight holders – we popped in some battery operated tealights and Paper Bouquets made photos of our loved ones into miniature lockets to hang from the tree. We found a simple print idea and wrote 'Wish You Were Here' and framed it to go nearby.

Mrs Tea Leaves Mum hunted for the perfect quote to appear as if it was coming out of the typewriter – we printed it on brown antique look paper and wrapped faux ivy around the display to add some greenery.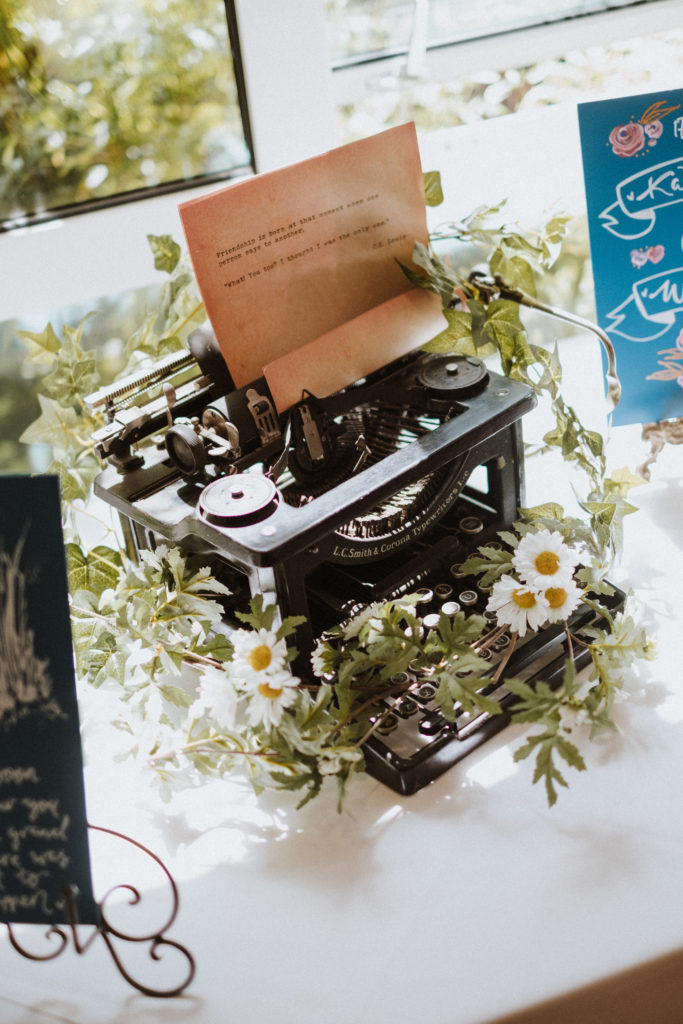 Friendship is born at that moment when one person says to another,
"What! You Too? I thought I was the only one."

– CS. Lewis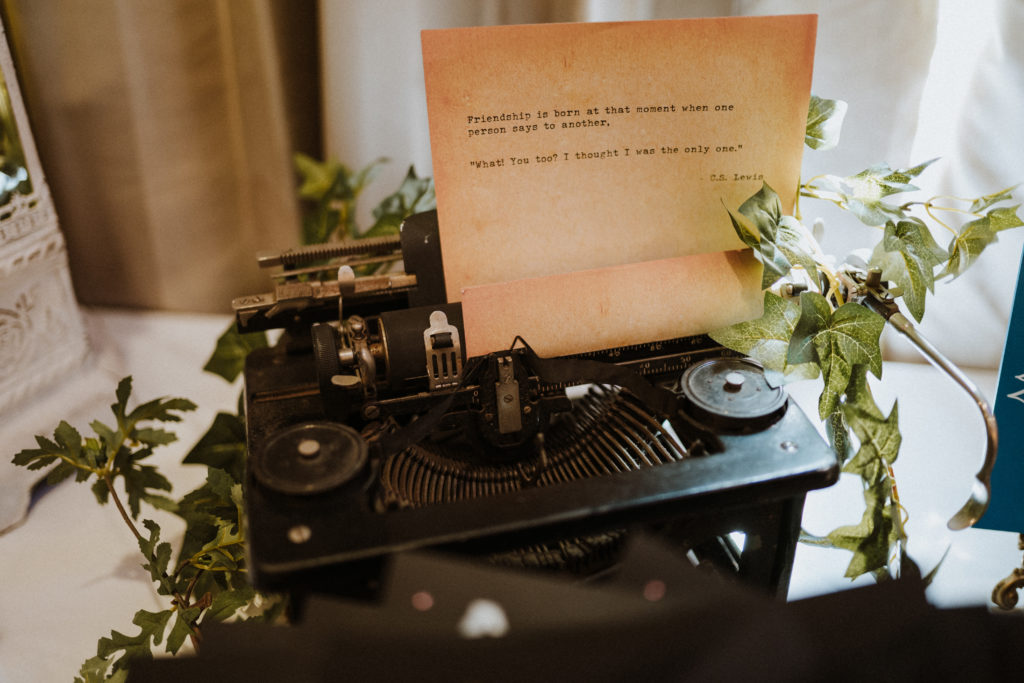 Mrs Tea Leaves and her Mum spent a few evenings making folded books to finish the look for the tables. We made Chapter numbers to number the guest tables and 'Love' and 'Mr and Mrs' for the top tables. You can find the folding guides on Etsy or eBay – you need a big thick book (Harry Potter!) for the Mr & Mrs. We found books that were damaged (the spines break easily on those books) to use for this project.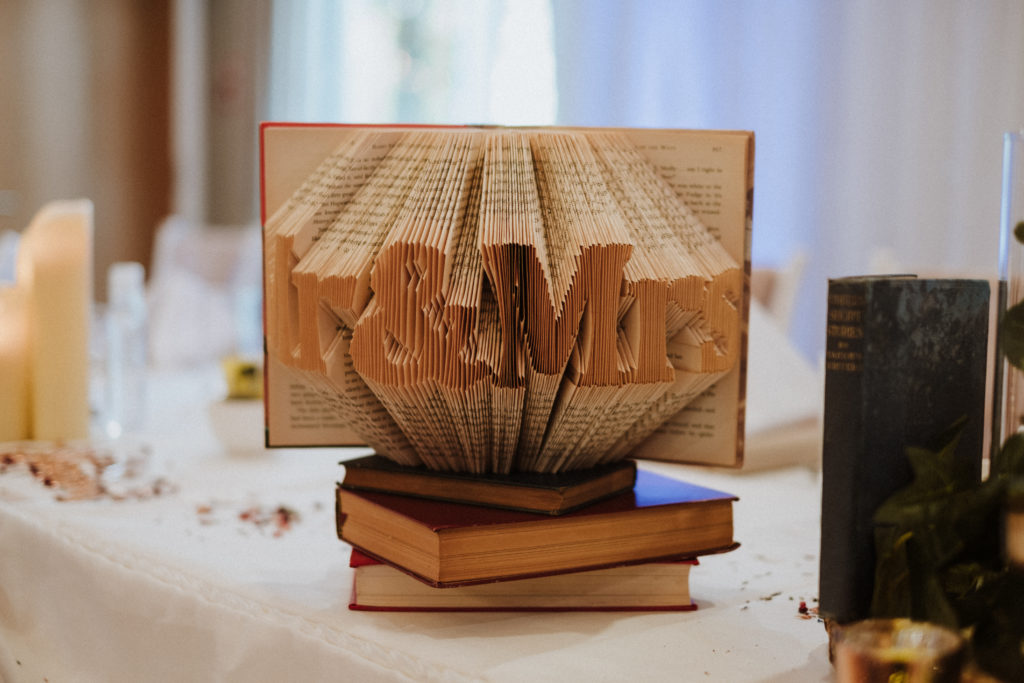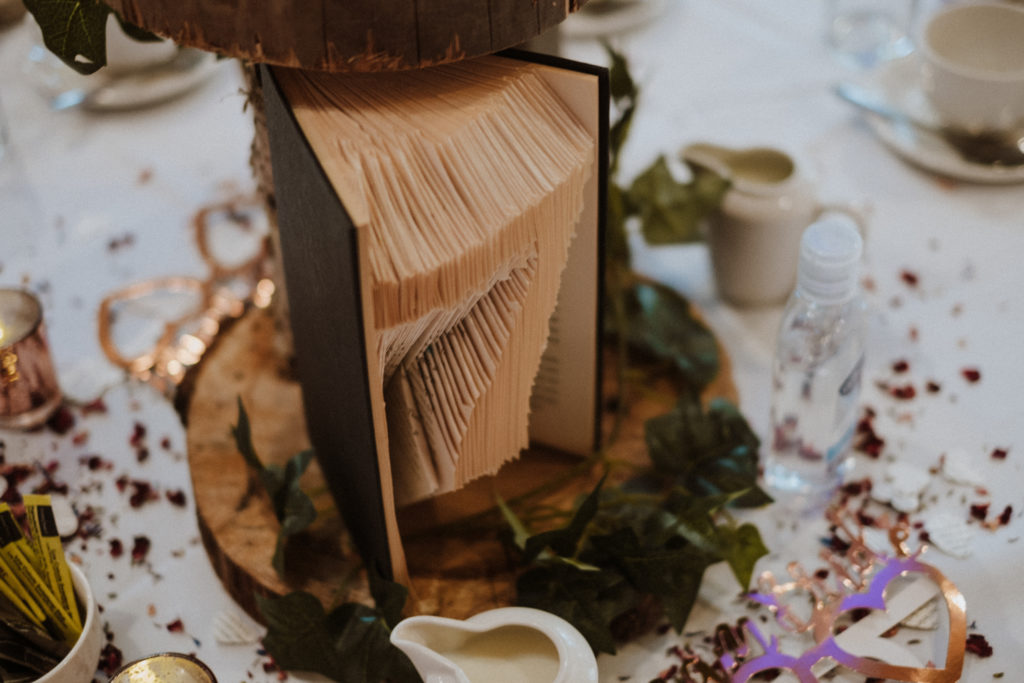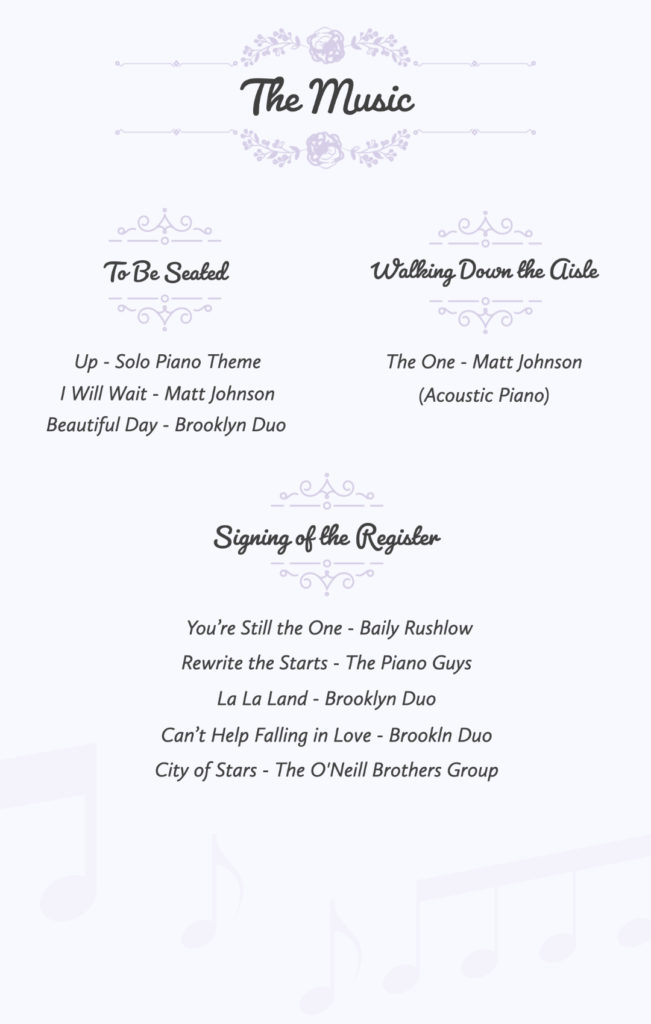 Our evening entertainment was provided by The Nashville Heat. There were SO many compliments about their music and talent and we think a few Wedding guests have booked them for events next year too! We had a couple of hours dancing outside on the patio (because it was against the law to dance inside…). The Father Daughter dance piece was chosen by the Father of the Bride – The Circle of Life. A surprise choice for the Bride but completely perfect. Our First Dance as husband and wife was to – Can't Fight This Feeling by Bastille.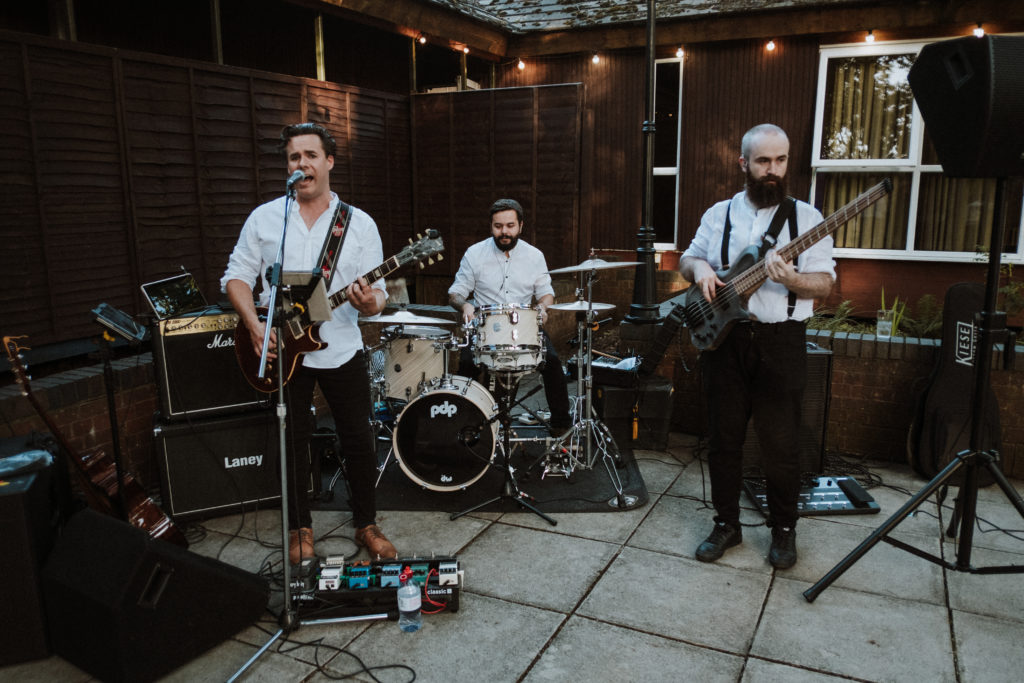 We can't even remember how we discovered Lewis Bolland – Pianist – but we just know that we loved listening to him play the Piano from the very first time we heard him! Lewis is the resident Pianist at The Four Seasons in Hampshire – and we were very lucky to have him for our big day. Lewis played a couple of hours during the Wedding Breakfast.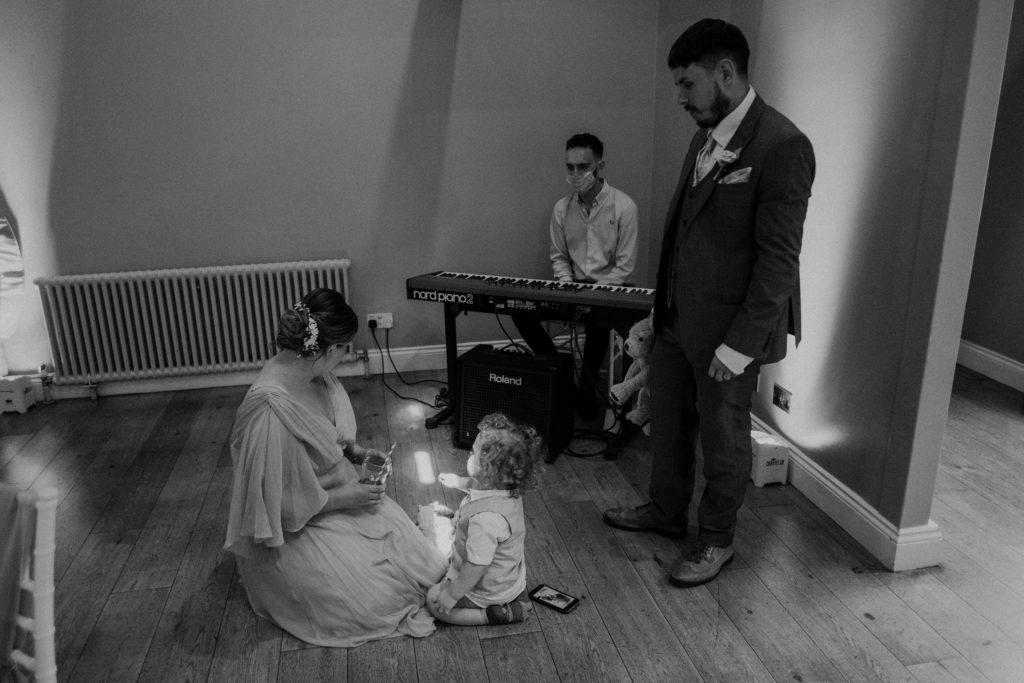 When we first saw our Wedding Venue – it was captured in photographs fully dressed by Luminique Events. We knew that we wanted the dreamy airy look that they provided. Luminique provided all of the backdrops, Wedding Drapes, Fairy Lights, Chairs & sashes and festoon lights outside.
We chose our venue because of the light and airy feeling in the room. We thought it would work well for a Spring Wedding – in amongst the Forest slowly coming to life after Winter! The rooms are off of corridors built on stilts and so the feeling of walking through a forest was real! When our Wedding switched to October we thought – Autumn… perfect! Then it was February and we grew to love the idea of a late Winter Wedding. But in the end it was the height of Summer – perhaps one of our only heatwave weeks! Everything was green and beautiful and the lighting was perfect.
Everything was brought together in the beautiful setting of Marwell Hotel in Twyford. The bridal party hair was done by the very talented Hair by Kayleigh & her colleague – the makeup by Elsker Beauty. We had canapes and Pimm's straight after the ceremony & an afternoon tea for the Wedding Breakfast. Later on we had a hog roast with all the trimmings – and there was of course cake and a popcorn bar. Mrs Tea Leaves dress was from Brides of Southampton – a very relaxing and calming bridal shop that is highly recommended!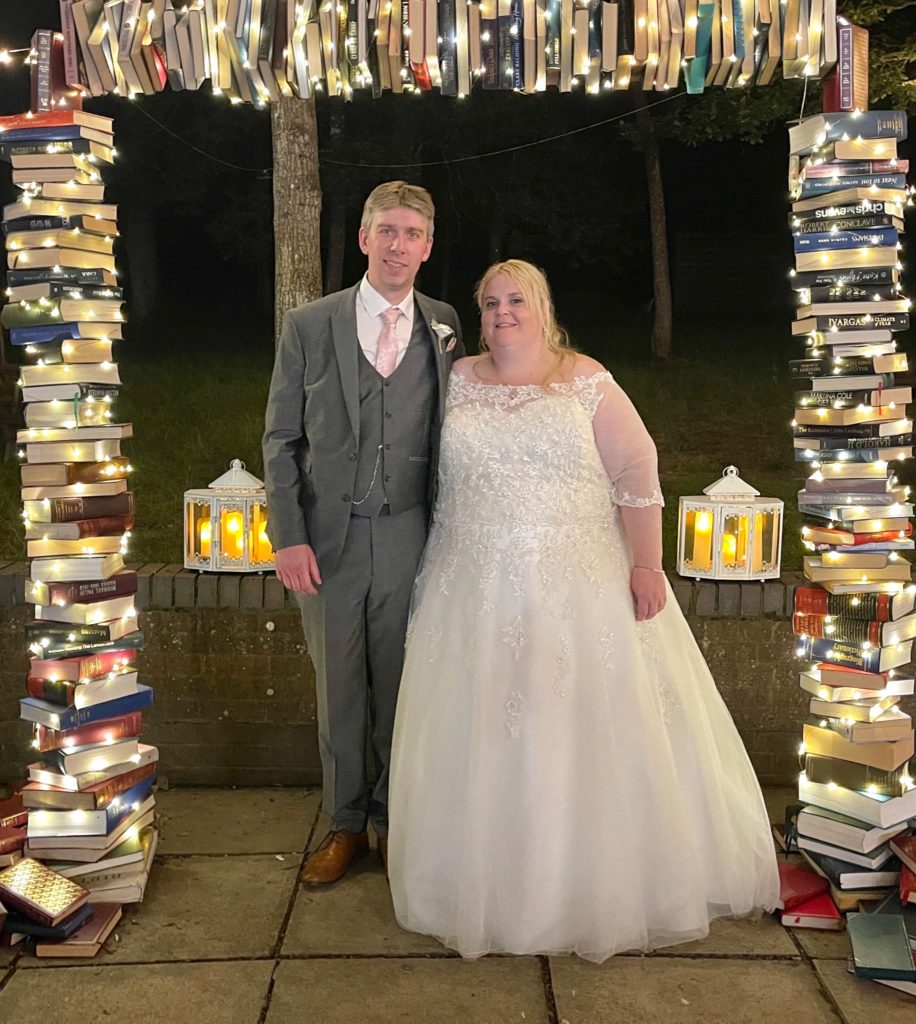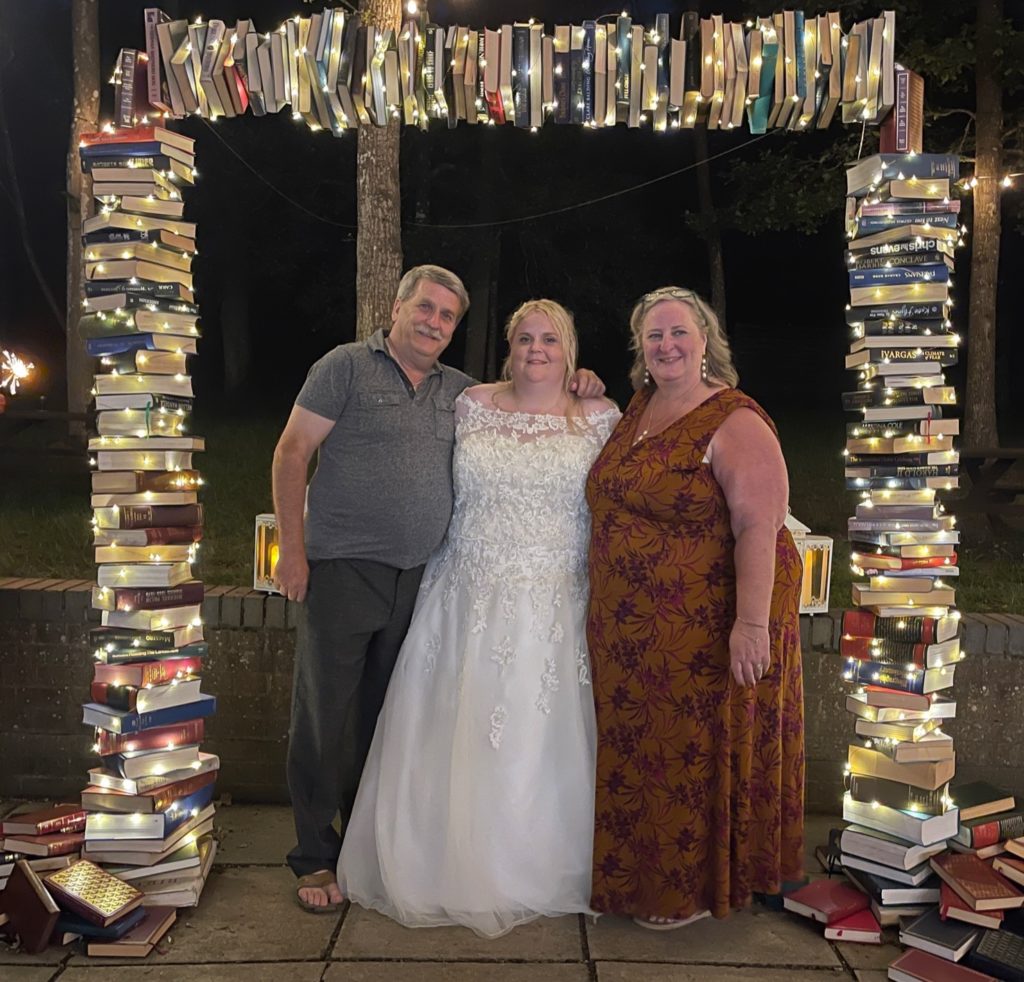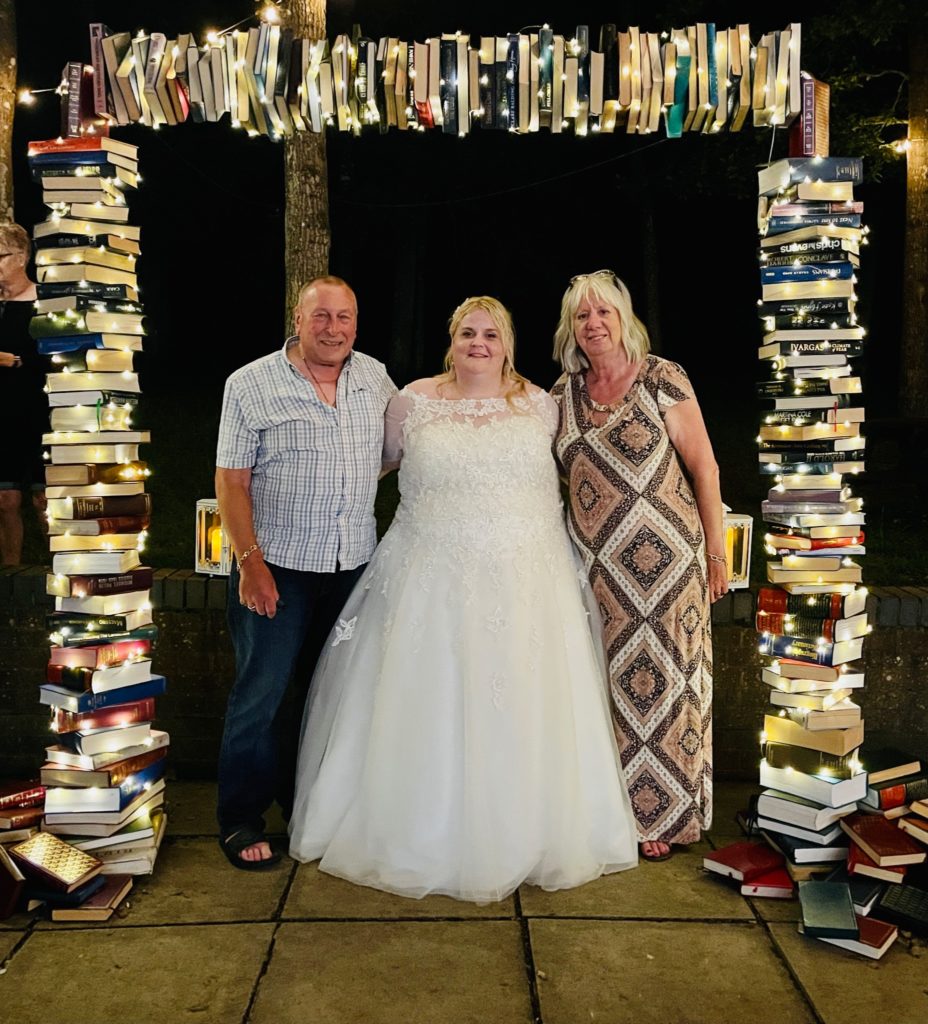 We had an army of support on the day and leading up to it too – a team of Bridesmaids and Groomsmen, many who were married to each other! We had siblings, parents, and friends who helped with decorating and, the hardest part, taking it all down afterwards! We were lucky to have the day captured on Video by a good friend – and we highly recommend doing that if you can! We were also well supported and organised by Mrs Toastmaster – Alanna Betambeau. The Marwell food and beverage team turned our Wedding room round so many times and each time it fit the vision we had asked them to create. So whilst this blog is to share our bookish themed ideas and provide some inspiration – we can't begin to even say enough thank you's to everyone who made it all possible.