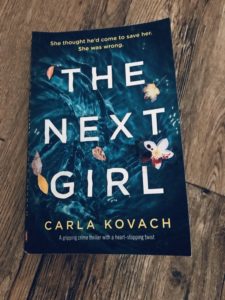 My thoughts…
I was given the first five books in the Detective Gina Harte Series for my Birthday back in April and only just got around to reading book one! I know why subconsciously I held off though, because I knew they'd be good and now I just want to spend my days reading the rest! So little time so many books…
Anyway, I read this fairly quickly because I was gripped from the start and wanted to find out exactly what had happened. The blurb gave enough of a clue to make me want to find out too. A woman disappears and a baby turns up four years later sharing her DNA?! This book promised to be incredible and it truly was. I can only imagine how the series progresses and cannot wait to read more…
About the book…
She thought he'd come to save her. She was wrong.
Deborah Jenkins pulls her coat around her as she sets out on her short walk home in the pouring rain. But she never makes it home that night. And she is never seen again …
Four years later, an abandoned baby girl is found wrapped in dirty rags on a doorstep. An anonymous phone call urges the police to run a DNA test on the baby. But nobody is prepared for the results.
The newborn belongs to Deborah. She's still alive.
Genre: Psychological Thriller/Police Procedural
Publication: 2018

About the author…
Carla Kovach was born in Birmingham, UK and now resides in Redditch, Worcestershire. Author of supernatural drama 'Flame,' psychological thriller 'To Let,' crime thriller 'Whispers Beneath the Pines, and romantic comedy 'Meet Me at Marmaris Castle.' Since 2018 Carla has become well known for the Gina Harte series… Carla also writes stage and screen plays, some of which have been produced in the Worcestershire area.
You can find links to our reviews of the other books in the series by clicking the titles below:
Her Last Mistake
Their Silent Graves
The Broken Ones
Connect with the Author…
Facebook | Instagram | Website