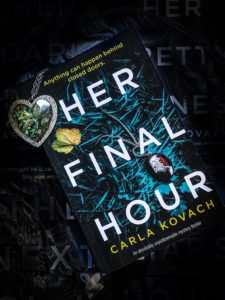 My thoughts…
This is Book two in the Detective Gina Harte Series and I really feel that Carla Kovach gets better and better! Her first book was brilliant and so twisted – and this is also no exception. There is so much packed into this book with a really fast-paced storyline coupled with a little more of Gina's history which I'm really dying to know more about.
Again, it's not a predictable book, and will have you second guessing as you read. The twists and reveals are brilliantly executed and it's hard to believe that Carla can top this with her next book…but we shall see!
About the book…
Melissa Sanderson is the perfect wife and mother. She dotes on her daughter, and lives in her dream home in a quiet cul-de-sac in the suburbs.
But looks can be deceiving.
Something is amiss in that house – all the neighbours think so. Some say Melissa is having an affair. Others say she's been drinking too much.
Then one night, sirens wake up the whole neighbourhood.
Melissa Sanderson is dead.
Genre: Psychological Thriller/Police Procedural
Publication: 2018

About the author…
Carla Kovach was born in Birmingham, UK and now resides in Redditch, Worcestershire. Author of supernatural drama 'Flame,' psychological thriller 'To Let,' crime thriller 'Whispers Beneath the Pines, and romantic comedy 'Meet Me at Marmaris Castle.' Since 2018 Carla has become well known for the Gina Harte series… Carla also writes stage and screen plays, some of which have been produced in the Worcestershire area.
You can find links to our reviews of the other books in the series by clicking the titles below:
Her Last Mistake
Their Silent Graves
The Broken Ones
Connect with the Author…
Facebook | Instagram | Website