Our thoughts…
This is a beautifully written dual timeline book written across two characters points of views thousands of miles apart, in both Ireland and New York.
Aside from this being a really emotive and heart-warming storyline, it's a book full of accuracy and careful research. Carmel visited New York just before the global pandemic started, to ensure that accuracy was portrayed in her books. It pays off. Whether you're immersed in the Irish Community described in Kilmore or the one described further from home, in New York, you are really and truly there.
Immigration is at the heart of the story – whether that's exploring the emotions behind the often hard but sometimes easy decision to move, or whether it's that early morning phone-call from thousands of miles away with bad news… distance is conveyed in this book and the emotions attached are raw. 
Warning – you will be powerfully & emotionally charged by this book. You won't want to put it down and you'll also need to dive straight into a good Psychological Thriller once you've finished just for a change of pace – before curling up with another of Carmel's books which we definitely plan to do.
About the Box…
We are once again delighted to stock a title that we have loved reading. Carmel has also supplied us with signed book-plates which we have fixed into each book so that you have your very own signed edition. You can order your box here.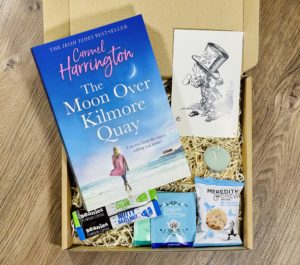 Please note that the dimensions of this publication are trade paperback size – 15.3 x 3.3 x 23.4 cm.
About the Book…
When your heart belongs in two places, can you ever truly find home?
Brooklyn, New York,
Bea has grown up in the heart of the Irish community, always hearing stories of home. When she discovers a letter from her younger self, written years before, it sends her deep into her own family history.
Kilmore Quay, Ireland.
Years earlier, Lucy Mernagh leaves her much-loved home and family in search of the New York dream. The Big Apple is a world away from the quiet village she grew up in, and the longing for home aches within her.
When Bea uncovers a shocking secret, it takes her back across the water to Kilmore Quay, where – finally – long-buried truths will come to light. But fate has one last twist in store…
Genre: Contemporary Fiction
Publication: May 2021

About the Author…
USA Today and Irish Times bestseller Carmel Harrington lives in Wexford with her family & rescue dog. Her ninth novel, The Moon Over Kilmore Quay is on sale now. Other bestselling novels include My Pear-Shaped Life, A Thousand Roads Home, The Woman at 72 Derry Lane and the ITV commissioned novel, Cold Feet The Lost Years.
Carmel's trademark is to write warm, uplifting stories with humour, heart and hope. She loves to write about family, friendships, love and life within complex, twisting plots. Carmel's novels have been shortlisted twice for an Irish Book Award and her debut won Kindle Book of the Year and Romantic eBook of the Year in 2013. Carmel is also a regular on Irish TV screens, as a panellist on Virgin Media's Elaine show and is co-founder of The Inspiration Project, a coaching and writing retreat.
Connect with the Author…
Facebook | Twitter | Instagram |
Are you looking for a Bookish environment to talk all things books? Then look no further than The Fiction Cafe – don't forget to answer the membership questions in order to join. We welcome Authors and Readers and there are lots of exciting happenings in the group! Our Book of the Month Read A Longs happen there too.