My thoughts…
It's not fiction because it's based upon someone's real life – but it's also not fiction because it's based upon many many people's lives. This is not a storyline to shock you into thinking that it is an impossible dilemma. The dilemma is one that parents and carers face, all of the time. These aren't characters – they are real life human beings. This is humanity and it's life – the most eye-opening part of this book for so many, is that it's based on a true story.
Smashing through stigma, ethical dilemmas and cultural norms, Louise Beech writes with compassion, firmly intent on bringing human nature to the forefront of your mind. Beautiful writing is often seen and experienced – but rarely felt. You will feel all of it within these pages though. Trust me.
I think that this book will challenge everyone – especially to consider what would you do, if you can even picture yourselves in any of the main characters positions. You'll want to read this in one sitting because Louise's story-telling style is beautiful as she gently brings hope to the most desperate situations. There's a lot of realism in this book and no time for pity or sympathy. Instead you will grow to empathise, to nod when those decisions are made, to wonder exactly what you would decide. For this book is exactly how we are human.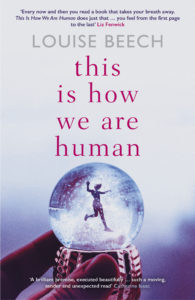 About the Book…
Sebastian James Murphy is twenty years, six months and two days old. He loves swimming, fried eggs and Billy Ocean. Sebastian is autistic. And lonely.
Veronica wants her son Sebastian to be happy … she wants the world to accept him for who he is. She is also thinking about paying a professional to give him what he desperately wants.
Violetta is a high-class escort, who steps out into the night thinking only of money. Of her nursing degree. Paying for her dad's care. Getting through the dark.
When these three lives collide – intertwine in unexpected ways – everything changes. For everyone.
A topical and moving drama about a mother's love for her son, about getting it wrong when we think we know what's best, about the lengths we go to care for family … to survive … This Is How We Are Human is a searching, rich and thought-provoking novel with an emotional core that will warm and break your heart.
Genre: Contemporary Fiction
Publication: April 2021

About the Author…
Louise's debut novel, How to be Brave, was a Guardian Readers' pick in 2015 and a top ten bestseller on Amazon. The Mountain in my Shoe longlisted for the Guardian's Not The Booker Prize 2016. The Sunday Mirror called Maria in the Moon 'quirky, darkly comic, original and heartfelt'. It was also a Must Read in the Sunday Express and a Book of the Year at LoveReadingUK.
The Lion Tamer Who Lost was described as 'engrossing and captivating' by the Daily Express. It also shortlisted for the RNA's Romantic Novel of the Year and longlisted for the Polari Prize 2019. Call Me Star Girl hit number one on Kobo. It also longlisted for the Not The Booker Prize and won the Best magazine Big Book Award 2019. I Am Dust was a Top Six pick in Crime Monthly and a LoveReadingUK Monthly Pick. This Is How We Are Human is out now.
Connect with the Author…
| Twitter | Instagram | Website
Are you looking for a Bookish environment to talk all things books? Then look no further than The Fiction Cafe – don't forget to answer the membership questions in order to join. We welcome Authors and Readers and there are lots of exciting happenings in the group! Our Book of the Month Read A Longs happen there too.