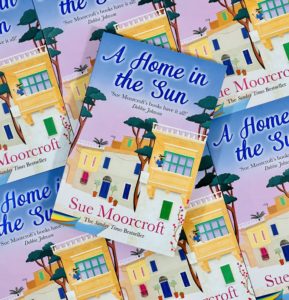 Our thoughts…
This is Sue Moorcroft's very first publication – re-published with a brilliant title and cover makeover – and it's such a treat to go right back to the very start of Sue's writing career and still find her familiar, comforting style and characterisation. Key themes of the book explore love, loss, hope, hardship and so much more. Sue's vivid and bright descriptions, carefully researched and experienced locations and sunny settings – finish this off to be an absolutely brilliant book.
Sue crafts her characters to be incredibly realistic. So much so that you can find yourself loving and hating them in equal measures for all their positives and their drawbacks! Georgio, Judith and the others that make up the bones of this book are well written and described. In fact, you'll be thinking about them long after you've finished the book! A great book, perfect for Summer and for escaping when it might not be possible to nip abroad just yet.
About the Box…
We are delighted once again to have signed editions in stock! Your box will include all of our usual treats as well as a brand new signed copy of the book.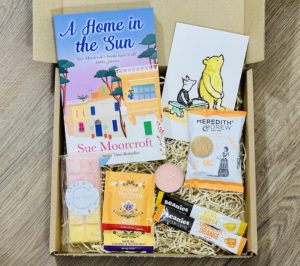 About the Book…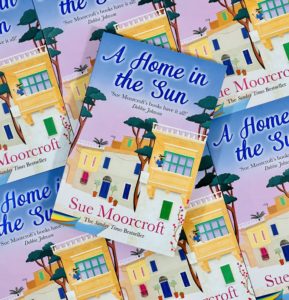 Home is where the heart is…but what if your heart is broken?
When Judith loses her partner, she loses her life in Malta too – including the beautiful view from her sun-warmed balcony of the sparkling blue waters of Sliema Creek.
Back in England, Judith finds a spare room in her sister's house where she grew up – but with it comes a whole host of family dramas. Nursing a broken heart, Judith knows she must find happiness again – and rebuild her life on her own terms.
Could an island in the sun be the answer she is looking for?
A wonderfully escapist summer read, perfect for fans of Katie Fforde and Carole Matthews.
Genre: Women's Fiction
Publication: August 2021 (first published under a different title in 2005).

About the Author…
Connect with the Author…
Facebook | Twitter | Instagram
Thanks to NetGalley and the publisher and author for a copy of this book in exchange for our honest review. Check out our blog for more book related posts and to enquire about future reviews, blog tours and cover reveals.
Are you looking for a Bookish environment to talk all things books? Then look no further than The Fiction Cafe – don't forget to answer the membership questions in order to join. We welcome Authors and Readers and there are lots of exciting happenings in the group! Our Book of the Month Read A Longs happen there too.