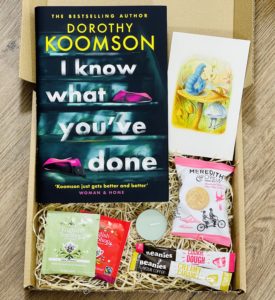 My thoughts…
Dorothy's books never disappoint! This was such a great book with lots of excellent characterisation, twists, turns and theories. The launch party for this book was also extra special – an online mystery event! It really set the scene for the book and was great to see.
A nosy neighbourhood, thrilling twists and turns, and lots and lots of secrets. Perfect! There's lots of drama, likeable (and not so!) characters and a fluid writing style building up the tension to those big reveals. Dorothy winds and winds the pace of the book into a ball of secrets before tugging the thread that unravels them all at the end. Absolutely brilliant!
About the Box…
We have hardback editions in stock with all of our usual treats! Check them out in the shop here.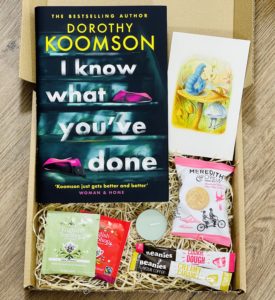 About the Book…
Do you have any idea what the people you know are capable of? Bestselling author of All My Lies Are True, Dorothy Koomson, asks how well you can really know your neighbours. Fans of Lisa Jewell and Louise Candlish will rip through the pages of this addictive new thriller.
What if all your neighbours' secrets landed in a diary on your doorstep?
What if the woman who gave it to you was murdered by one of the people in the diary?
What if the police asked if you knew anything?
Would you hand over the book of secrets?
Or … would you try to find out what everyone had done?

Genre: Thriller
Publication: July 2021

About the Author…
Dorothy Koomson is the award-winning author of over 15 novels and has been making up stories since she was 13 when she used to share her stories with her convent school friends. Her published titles include: Tell Me Your Secret, The Brighton Mermaid, The Friend, When I Was Invisible, That Girl From Nowhere, The Flavours of Love, The Woman He Loved Before, Goodnight, Beautiful and The Chocolate Run.
Dorothy's first novel, The Cupid Effect, was published in 2003 (when she was quite a bit older than 13). Her third book, My Best Friend's Girl, was selected for the Richard & Judy Summer Reads of 2006 and went on to sell over 500,000 copies. While her fourth novel, Marshmallows For Breakfast, has sold in excess of 250,000 copies. Dorothy's books, The Ice Cream Girls and The Rose Petal Beach were both shortlisted for the popular fiction category of the British Book Awards in 2010 and 2013, respectively.
Dorothy's novels have been translated into over 30 languages, and a TV adaptation loosely based on The Ice Cream Girls was shown on ITV1 in 2013. After briefly living in Australia, Dorothy now lives in Brighton.
Connect with the Author…
Facebook | Twitter | Instagram |
Are you looking for a Bookish environment to talk all things books? Then look no further than The Fiction Cafe – don't forget to answer the membership questions in order to join. We welcome Authors and Readers and there are lots of exciting happenings in the group! Our Book of the Month Read A Longs happen there too.