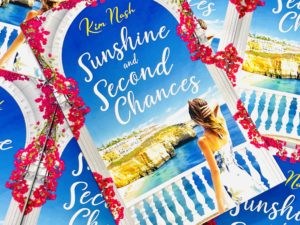 Our thoughts…
This was a brilliant read – great to read during a heatwave and imagine yourself somewhere with quick access to a pool! Even more fantastic when escaping abroad isn't quite possible right now. The characters were fantastic and their history and dilemmas unravelled carefully in the summer sun against a stunning backdrop. There were little snippets of romance, family drama, life changes and secrets – all of which were unveiled in a beautiful setting. This is a beautifully warm and uplifting book with sunshine pouring from every chapter.
About the book…
Debs chokes on the dust as she looks forlornly at her ancient vacuum-packed summer clothes. It seems doubly cruel that losing a husband has meant gaining two dress sizes, but ever since Dishonest Dave ran off with Perfect Penny from three doors down, Debs feels like she's been hiding away from life. But perhaps the upcoming reunion on Portugal's scorching coast is just what she needs to restart her life?
The date has been in the diary for years and as soon as the group unite under the radiant sunshine, it's cocktails round the pool and non-stop laughter. Now if only Debs could feel more comfortable in a swimsuit.
When Debs realises that the grin on the gorgeous landscape gardener Eduardo's face means he's understood every word of their chat about sex lives post-40, she's mortified. Until she realises that Eduardo might be particularly interested in hearing more tales about Debs' past, present, and… future?
After all, this week was supposed to be a chance to let off some steam. Can Debs get over her hang-ups long enough to do more than stammer at Eduardo's brawny chest? And if she does, how could her life possibly be the same ever again?
A heart-warming, feel-good summer read about friendship, love and second chances. Perfect for fans of Carole Matthews, Sarah Morgan and My Mamma Mia Summer.
Genre: Women's Fiction
Publication: June 2020
Your box will include…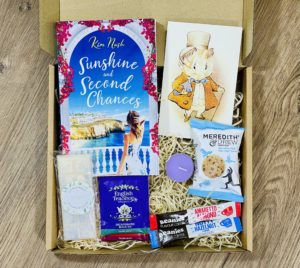 A brand new paperback copy of – Sunshine and Second Chances Signed by Kim Nash dispatched from 1st July. 
Four delicious beverages – A mixture of tea and coffee.
A Tasty Treat – Meredith & Drew Biscuits (dietary requirements? Let us know at checkout).
A Bookish Postcard – perfect for framing or displaying in your home!
A scented wax bar from Spitchwick Candle Co.
A hand poured wax seal to finish it all off – great for keeping and putting in a journal or scrapbook as decoration!
Order yours here!
About the author…
Kim Nash is an author of uplifting, funny, heartwarming, feel-good, romantic fiction.
She lives in Staffordshire with son Ollie and English Setter Roni, is Head of Publicity for Bookouture and is a book blogger at www.kimthebookworm.co.uk.
Kim won the Romantic Novelists Association's Media Star of the Year in 2016, which she still can't quite believe. She is now quite delighted to be a member of the RNA.
When she's not working or writing, Kim can be found walking her dog, reading, standing on the sidelines of a football pitch cheering on Ollie and binge watching box sets on the TV. She's also quite partial to a spa day and a gin and tonic (not at the same time!) Kim also runs a book club in Cannock, Staffs.
Connect with the Author…
Facebook| Twitter| Instagram| Website