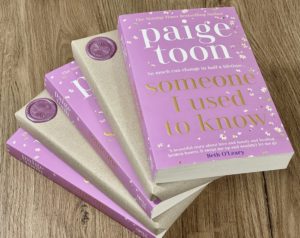 Our thoughts…
Choosing to stock this Paige Toon book was a true impulse buy. We've been reading Paige Toon since forever – since Lucy in the Sky in fact – fourteen years ago. Paige is one of those Authors that we read before reading and reviewing was even a 'thing' – back in the early days of Carole Matthews, Jill Mansell and so many others. But we couldn't resist Someone I Used to Know – the blurb, the cover, and just the fact that it's Paige of course.
Whether you're a die hard Paige Toon fan or whether you're brand new to her books – this one is going to sweep you off of your feet. As the book progressed the thoughts of, 'Everyone needs a George and Theo in their lives' were strong but towards the end it was adjusted to, 'Everyone needs a Leah too.' And every Foster Child needs a Foster parent like the strong supportive ones written about in this book. There's so much to learn within these 400 pages – so much research and careful consideration of emotions and feelings has gone into this book. And yes, so many interesting facts about Alpacas too!
You will want to read and read and read until you reach the very last pages and that final epilogue as we reach somewhere in between now and then. It's a stunning book, a beautifully unique storyline addressing so many aspects of society today and a wonderful underlying romance and mystery. It's everything you need in a Paige Toon book.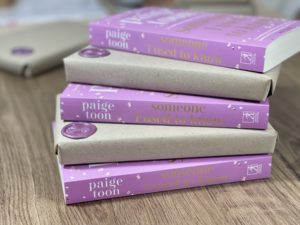 About the Box…
We've paired a beautifully scented wax melt bar from Spitchwick Candle Co with Paige's book. The scent is Parma Violet and it's a stunning nostalgic transportation back to childhood and sweet memories. Paige has signed each book personally for our customers and your box will also include all of our usual treats – Biscuits, Tea, Coffee, Bookish Postcard and Tealight Candle. Order here or click the image below!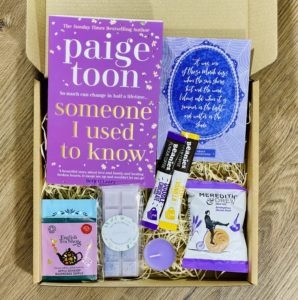 About the Book…
So much can change in half a lifetime…
Then
At fifteen, George is the foster brother Leah never asked for. As the angry, troubled boy struggles to come to terms with his circumstances, Leah finds herself getting drawn closer to him.
Theo's wealthy family have mysteriously pulled him out of boarding school and he's now enrolled at the local state school with Leah and George. When their worlds collide that summer, the three teenagers form a bond they believe will be unbreakable. But life doesn't always go to plan…
Now
Shocking news brings Leah back to Yorkshire, baby daughter in tow. But Emilie's father Theo isn't with them, and George has unexpectedly returned. After half a lifetime, have they healed the scars of their pasts? Will coming back home set their hearts in a different direction?
Genre: Contemporary Fiction
Publication: 24th June 2021

About the Author…
Paige Toon grew up between England, Australia and America and has been writing books set in sun-drenched locations around the world since 2007. She has written fourteen women's fiction novels, a three-part spin-off series for young adults and a collection of short stories. Her books have sold over 1.5 million copies across the world.

Connect with the Author…
Facebook | Twitter | Instagram | Website
Are you looking for a Bookish environment to talk all things books? Then look no further than The Fiction Cafe – don't forget to answer the membership questions in order to join. We welcome Authors and Readers and there are lots of exciting happenings in the group! Our Book of the Month Read A Longs happen there too.