Our thoughts…
Read in a day and absolutely gripping! This pretty much sums up Sue Watson's books. Each and everyone is a gripping thriller that will have you hooked from start to finish. Sue creates characters that are realistic and human. Her thrillers are always tipped into being 'believeable' and that's what makes them extra special and well written. Sue doesn't write unrealistic twists and storylines – and so here's your warning that you'll be double checking the doors are locked and the window shut at night when you start reading this!
Sue has also captured the beauty of Cornwall as well as the desolate aspects of some of the more remote areas. Throw in those compelling characters and a twisted and dark storyline and you have all the ingredients for a perfect book. You can absolutely know that if you choose a Sue Watson Thriller you are not going to be disappointed!
About the Book…
You thought you'd always be safe there…you were wrong.
Carly had thought they'd always live there. The beautiful Cornish cliffside house they'd taken on as a wreck, that Mark had obsessively redesigned and renovated – a project that had made him famous. It was where they'd raised their children, where they'd sat cozily on the sofa, watching storms raging over the sea below. It was where they'd promised to keep each other's secrets….
Until now. Because Mark has fallen in love. With someone he definitely shouldn't have. Someone who isn't Carly. And suddenly their family home doesn't feel like so much of a safe haven.
Carly thinks forever should mean forever, though: It's her home, and she'll stay there. Even the dark family secrets it contains feel like they belong to her. But someone disagrees. And, as threats start to arrive at her front door, it becomes clear, someone will stop at nothing. Because someone wants to demolish every last thing that makes Carly feel safe. Forever.
A utterly psychological thriller about what lies are hidden in the most beautiful homes. Perfect for fans of Date Night, Gone Girl, and The Woman in the Window.
Genre: Psychological Thriller
Publication: June 2021

About the Box…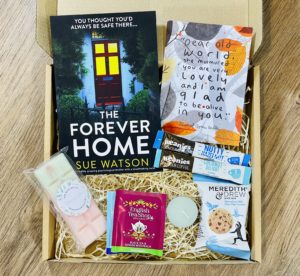 Sue is our Author of the Month for July which means we have the exciting news that we are stocking signed editions of her book AND having a bookish discussion whilst reading it! You can order your box here and it will be dispatched at the end of June 2021. It'll include all of our usual goodies plus the signed paperback AND and Strawberry and Pear scented wax bar. This fragrance releases a fresh and vibrant fruity cocktail of forest berries opening with top notes of fresh summer strawberry jam, juicy pear and sweet blackcurrant. The perfect pairing for The Forever Home on a warm Summers evening in Cornwall!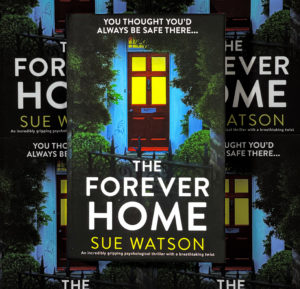 About the Author…
Sue Watson was a TV Producer at the BBC until she wrote her first book and was hooked.
Now a USA Today bestselling author, Sue has written seventeen novels, and many have been translated into several languages. Sue is now exploring the darker side of life with her latest thrillers OUR LITTLE LIES, THE WOMAN NEXT DOOR, THE EMPTY NEST, THE SISTER-IN-LAW and FIRST DATE.
Originally from Manchester, Sue now lives with her family in Worcestershire where much of her day is spent writing – okay, procrastinating, eating too much confectionery, and watching 'My 600lb Life,' on the sofa.
Connect with the Author…
Thanks to NetGalley and the publisher and author for a copy of this book in exchange for our honest review. Check out our blog for more book related posts and to enquire about future reviews, blog tours and cover reveals.
Are you looking for a Bookish environment to talk all things books? Then look no further than The Fiction Cafe – don't forget to answer the membership questions in order to join. We welcome Authors and Readers and there are lots of exciting happenings in the group! Our Book of the Month Read A Longs happen there too.