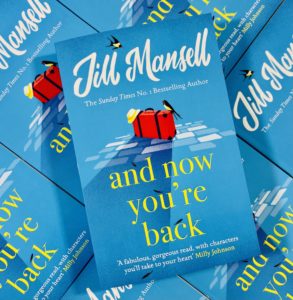 Our thoughts…
A sweet and compelling second chance love story – beautiful settings, enjoyable characters, this is a brilliant book! Jill Mansell never fails to deliver a book that has a bit of everything – drama, love, history and second chances. This is THE book to see you through a Summer of reading this year and will help you escape even if you have to stay put.
If you're already a fan of Jill Mansell's writing then you won't be disappointed. If you've yet to read any of Jill's books then do pick up and start with this one – you will fall in love and want to read all of her publications! This is the feel-good book of 2021 that will have you full of emotions from despair to smiling and everything in between.
About the Book…
One magical night in Venice, Didi fell in love. But it ended – and he left without even saying goodbye.
Now, thirteen years on, Shay Mason is back.
The old spark is still there, but Didi's determined to ignore it. As manager of a stunning Cotswolds hotel, she's happy at last, and soon to be married. Anyway, Shay isn't staying. He's made a promise to his father. He's going to keep it. And then he'll be gone.
But Shay's return stirs up long-forgotten emotions, and the scandal that led him to leave raises its head once again. It's time for buried secrets to come to light. And it seems that this was someone's intention all along . . .
Genre: Contemporary Fiction/Romance
Publication: June 2021

About the Box…
We're delighted to be stocking this brilliant publication – which has personally been signed by Jill Mansell herself – even with a sparkly pen! We've paired the stunning book cover with a beautiful scented wax melt bar of Blueberry and Vanilla. Delicious for Summer! You can order your box here.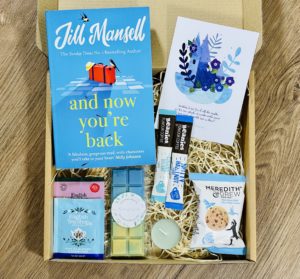 About the Author…
ill Mansell is the author of over twenty Sunday Times bestsellers including THIS COULD CHANGE EVERYTHING, MEET ME AT BEACHCOMBER BAY, YOU AND ME, ALWAYS, THE ONE YOUR REALLY WANT, THREE AMAZING THINGS ABOUT YOU and MAYBE THIS TIME. TAKE A CHANCE ON ME won the Romantic Novelists' Association's Romantic Comedy Prize, and in 2015 the RNA presented Jill with an outstanding achievement award.
Jill's personal favourite amongst her novels is THREE AMAZING THINGS ABOUT YOU, which is about cystic fibrosis and organ donation; to her great delight, many people have joined the organ donor register as a direct result of reading this novel.
Jill started writing fiction while working in the field of Clinical Neurophysiology in the NHS, but now writes full time. She is one of the few who still write their books by hand, 'like a leftover from the dark ages'. She lives in Bristol with her family.
Connect with the Author…
Facebook | Twitter | Instagram | Website
Are you looking for a Bookish environment to talk all things books? Then look no further than The Fiction Cafe – don't forget to answer the membership questions in order to join. We welcome Authors and Readers and there are lots of exciting happenings in the group! Our Book of the Month Read A Longs happen there too.