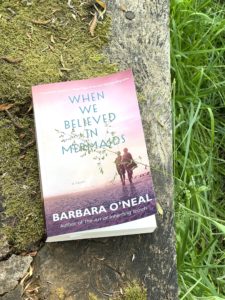 Our thoughts…
Hauntingly beautiful. Those are the two words that sum this book up perfectly. There's a beautiful nod to care-free days and childhood but equally a more sinister haunting undertone and storyline. Both of these elements furiously collide to create an absolutely stunning novel. There are characters that you'll fall in love with and despair at, emotions that you'll feel just like the aftershocks following the Earthquakes written about – and scenery that you will want to be part of. The devestation and the beauty of both human and mother nature are carefully explored and told through the pages of this book. And you won't want to miss Barbara O'Neal's Story-Telling.
About the Book…
From the author of The Art of Inheriting Secrets comes an emotional new tale of two sisters, an ocean of lies, and a search for the truth.
Her sister has been dead for fifteen years when she sees her on the TV news…
Josie Bianci was killed years ago on a train during a terrorist attack. Gone forever. It's what her sister, Kit, an ER doctor in Santa Cruz, has always believed. Yet all it takes is a few heart-wrenching seconds to upend Kit's world. Live coverage of a club fire in Auckland has captured the image of a woman stumbling through the smoke and debris. Her resemblance to Josie is unbelievable. And unmistakable. With it comes a flood of emotions—grief, loss, and anger—that Kit finally has a chance to put to rest: by finding the sister who's been living a lie.
After arriving in New Zealand, Kit begins her journey with the memories of the past: of days spent on the beach with Josie. Of a lost teenage boy who'd become part of their family. And of a trauma that has haunted Kit and Josie their entire lives.
Now, if two sisters are to reunite, it can only be by unearthing long-buried secrets and facing a devastating truth that has kept them apart far too long. To regain their relationship, they may have to lose everything.
Genre: Contemporary Fiction
Publication: July 2019

About the Author…
Barbara O'Neal is the Wall Street Journal, Washington Post, and #1 Amazon Charts bestselling writer of women's fiction. She lives in Colorado with her partner, a British endurance athlete.
Connect with the Author…
Facebook | Twitter | Instagram | Website
Are you looking for a Bookish environment to talk all things books? Then look no further than The Fiction Cafe – don't forget to answer the membership questions in order to join. We welcome Authors and Readers and there are lots of exciting happenings in the group! Our Book of the Month Read A Longs happen there too.