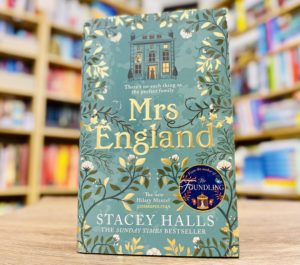 Our thoughts…
Our first Stacey Halls book and it certainly won't be the last! The underlying story in this book is both sad and fascinating all at the same time. Don't look it up though because it IS a spoiler but do read the Authors note at the end. You may have already heard about it too… This was a complete impulse buy sold to us purely on the photograph below from @katefranceswrites on Instagram.  Kate matched her nails to that stunning book cover and… look!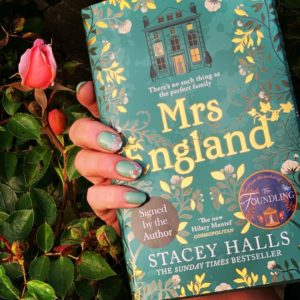 So we're also trying hard to read our impulse buys as soon as we get them rather than adding to the To Be Read mountain. It's sort of working. Mrs England was read and finished in a day – Ms Tea Leaves and Reads could NOT put it down. Stacey's books are a treat – not least because of the time, effort and thought that goes into ensuring an accurate portrayal of the time that she is writing about. Stacey is a fantastic researcher and that makes this book so much more of a treat. There are brilliant little details and elements that make it the five star read that it is.
About the Book…
Simmering with a slow-burning menace, Mrs England is a portrait of an Edwardian Marriage, weaving an enthralling story of men and women, power and control, courage and truth and the very darkest deception.
West Yorkshire, 1904. When newly graduated nurse Ruby May takes a position looking after the children of Charles and Lilian England, a wealthy couple from a powerful dynasty of mill owners, she hopes it will be the fresh start she needs. But as she adapts to life at the isolated Hardcastle House, it becomes clear there's something not quite right about the beautiful, mysterious Mrs England.
Ostracised by the servants and feeling increasingly uneasy, Ruby is forced to confront her own demons in order to prevent history from repeating itself. After all, there's no such thing as the perfect family – and she should know.
Genre: Historical Fiction
Publication: June 2021

About the Author…
Stacey Halls was born in 1989 and grew up in Rossendale, Lancashire. She studied journalism at the University of Central Lancashire and has written for publications including the Guardian, Stylist, Psychologies, The Independent, The Sun and Fabulous.
Her first book The Familiars was the bestselling debut novel of 2019. The Foundling is her second novel with Mrs England being her third and most recent publication.
Connect with the Author…
| Twitter | Instagram | Website
Are you looking for a Bookish environment to talk all things books? Then look no further than The Fiction Cafe – don't forget to answer the membership questions in order to join. We welcome Authors and Readers and there are lots of exciting happenings in the group! Our Book of the Month Read A Longs happen there too.