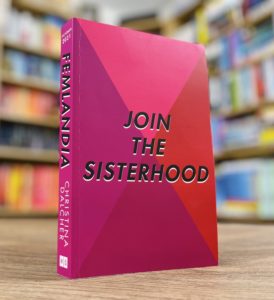 Our thoughts…
Christina's previous publication, Vox, marked a new wave of female centric dystopian fiction according to HQ Publishing. Femlandia continues that wave and adds something else to it too – a chilling feeling that although Dystopian Fiction this could one day be a reality. The novel is thought-provoking and totally gripping. Another 'read in a day' situation. So clear the decks for this one because you won't be able to stop until you reach the last pages.
This is a heavy book – there are lot of topics and themes covered. For some it can be a difficult read and after you've finished it you'll likely need time to explore your response and thoughts. There are no perfect characters. They aren't predictable and they are flawed. The writing is honest and raw. It's bleak and isn't designed to be pleasant – it shows a terrifying future without rose tinted glasses and strongly through a 'What If' lens. 
About the Book…
A chilling look into an alternate near future where a woman and her daughter seek refuge in a women-only colony, only to find that the safe haven they were hoping for is the most dangerous place they could be.

Miranda Reynolds always thought she would rather die than live in Femlandia. But that was before the country sank into total economic collapse and her husband walked out in the harshest, most permanent way, leaving her and her sixteen-year-old daughter with nothing. The streets are full of looting, robbing, and killing, and Miranda and Emma no longer have much choice—either starve and risk getting murdered, or find safety. And so they set off to Femlandia, the women-only colony Miranda's mother, Win Somers, established decades ago.

Although Win is no longer in the spotlight, her protégé Jen Jones has taken Femlandia to new heights: The off-grid colonies are secluded, self-sufficient, and thriving—and Emma is instantly enchanted by this idea of a safe haven. But something is not right. There are no men allowed in the colony, but babies are being born—and they're all girls. Miranda discovers just how the all-women community is capable of enduring, and it leads her to question how far her mother went to create this perfect, thriving, horrifying society.
Genre: Dystopian
Publication: October 2021

About the Author…
Christina Dalcher is a Linguist, Teacher, and writer, based in Northfolk, Virginia. She earned her doctorate in theoretical linguistics from Georgetown University. Her short stories and flash fiction have been published in numerous journals. Her debut novel, Vox, was published in August 2018.
Connect with the Author…
Thanks to Harper Collins and the Author for a copy of this book in exchange for our honest review.
Are you looking for a Bookish environment to talk all things books? Then look no further than The Fiction Cafe – don't forget to answer the membership questions in order to join. We welcome Authors and Readers and there are lots of exciting happenings in the group! Our Book of the Month Read A Longs happen there too.