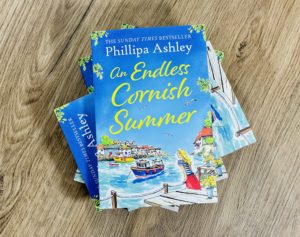 Our thoughts…
Escape to the seaside with this gorgeous new series from the Sunday Times bestselling author – perfect for fans of Trisha Ashley and Heidi Swain.
We've always known that Phillipa Ashley is a brilliant Author – and have read her books for years – long before we wrote reviews. But this is the first signed edition that we've held and read and reviewed and it was SUCH an escape. Rose's story is absolutely beautiful – as is the story of those around her. As things unravel during the book and revelations are made, the characterisation and the settings described are all wonderful and really make this a firm five star read.
Phillipa uses her own knowledge of Cornwall to create the perfect setting in all of her books – almost making the location a character of its own. The cover of the book is fitting and uplifting – perfectly matching the story contained inside it. There's also a wealth of knowledge within the subjects explored – boat building, Archaeology, sailing and medicine. You won't regret adding this book to your Summer reading list!
About the Book…
Rose Vernon is headed to a quiet Cornish village – to find the man who saved her life. 
For Rose, every day is a gift. She narrowly survived a life-threatening illness and owes everything to her anonymous donor. Determined to thank him, Rose follows a trail of clues that lead her to the little Cornish fishing village of Falford.
But things become complicated when Rose is drawn into local life, becoming involved in the legendary Falford Regatta and meeting the handsome Morvah brothers – one of whom might just be the man she's looking for. But which one?
Can Rose find the answer she's searching for, or will she lose her heart before the summer is over?
Genre: Contemporary Fiction / Womens Fiction
Publication: June 2021

About the Book Box…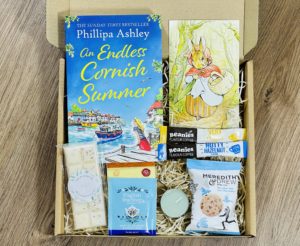 Spitchwick's Coconut Wax Melts have been specially formulated to evoke the familiar scent associated with this large oval brown seed of a tropical palm. The oil and milk from the coconut are blended synthetically into their fragrance oil and this immediately exudes a strong and prominent smell associated with green mandarin, ginger and white rum. This initial aroma is the most pronounced as your wax starts to burn, filling up your room with a scent that is then enhanced by light undertones of hibiscus, sugar cane, coconut, fruit punch, frangipani and milk. Incorporated into the formulation for this distinctive fragrance is a delightful trace aftertaste of musk from Tonkin, vanilla and sandalwood.
The box has all of our other usual treats included and you can order your signed edition book box here. (Whilst stocks last).
About the Author…
Phillipa Ashley is a Sunday Times best selling author of heart-warming romantic fiction. After studying English at Oxford University, she worked as a copywriter and journalist before writing her debut novel, Decent Exposure.
It won the Romantic Novelists Association New Writers Award and was filmed as a Lifetime TV movie starring Kristin Chenoweth and Josh Hopkins.
Her novels have sold almost a million copies and been translated into many languages. She is also an Audible number 1 best-seller.
Phillipa lives in an English village with her husband, has a grown-up daughter and loves nothing better than walking the Lakeland hills and swimming in Cornish coves.
Connect with the Author…
Facebook | Twitter | Instagram |
Are you looking for a Bookish environment to talk all things books? Then look no further than The Fiction Cafe – don't forget to answer the membership questions in order to join. We welcome Authors and Readers and there are lots of exciting happenings in the group! Our Book of the Month Read A Longs happen there too.