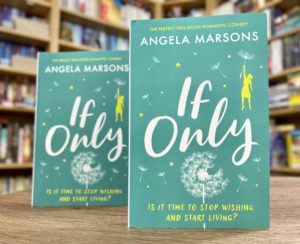 Our thoughts…
This is a stand-along novel from Angela Marsons, usually well known for her Crime Fiction! This was a careful balance of humour, ordinary life and poignant moments finish this book off to be a wonderful read and a great introduction to Angela Marsons step into another genre!
The story unfolds through the third person narration of three main characters, Deb, Sarah and Cher. The dilemmas that they face are unravelled as the story progresses. The characters are constructed well – so well in fact, that you won't like them all! There is a real mix of personalities and behaviours – and the characters grow on the reader as the book progresses.
About the Book…
Find love. Have a baby. Ditch the mother-in-law from hell. Three best friends, each wishing for the one thing they want the most. But what if they're searching for happiness in all the wrong places?
Cher is head over heels for her new boss. He's gorgeous, smart and funny but he barely even notices her except to ask for a coffee refill. How can she get him to see that she's the perfect girl for him?
Sarah is longing for a baby with the man she loves. The only trouble is David is already married. Will he finally leave his wife so they can be together?
Deb should be looking forward to her wedding with lovely fiancé Mark but with her mother-in-law from hell Margie taking control of everything, will her dream day turn into her worst nightmare?
So, when one summer evening, over several glasses of wine, Cher, Sarah and Deb stumble across an old book on Sarah's shelf and drunkenly decide to cast a wishing spell, they don't think for one minute that it will come true. It's just three best friends having a laugh and throwing some herbs around the garden. Or is it?
Genre: Contemporary Fiction
Publication: 6th July 2021

About the Author…
Angela is the author of the Kim Stone Crime series. She discovered a love of writing at Primary School when a short piece on the rocks and the sea gained her the only merit point she ever got. Angela wrote the stories that burned inside and then stored them safely in a desk drawer. After much urging from her partner she began to enter short story competitions in Writer's News resulting in a win and three short listed entries. She used the Amazon KDP program to publish two of her earlier works before concentrating on her true passion – Crime.
Connect with the Author…
Facebook | Twitter | Instagram | Website
Thanks to NetGalley and the publisher and author for a copy of this book in exchange for our honest review.
Are you looking for a Bookish environment to talk all things books? Then look no further than The Fiction Cafe – don't forget to answer the membership questions in order to join. We welcome Authors and Readers and there are lots of exciting happenings in the group! Our Book of the Month Read A Longs happen there too.