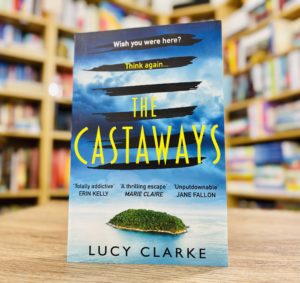 Our thoughts…
This is a book that you will constantly think about, even when you aren't reading it. From the moment you start to the moment you finish, this book will consume you. From the mysterious beginnings right up until the emotive and powerful conclusion…you will be gripped. You will want to immerse yourself on Erin's journey to find out what happened to her sister two years before.
Lucy Clarke always tells a story with so much depth to it. Whether it's the research that she's undertaken for the settings she has written about, or whether it's the feeling that she has immersed herself in her characters lives completely. She consumes herself in her writing which in turn, will then bring you in. There is never anything to be disappointed about with her books – the characters are flawed and imperfect, the setting beautiful and desolate, the storyline twisted and fast-paced. Nothing is predictable – except perhaps that this will be another five star read.
About the Box…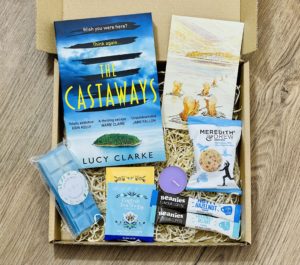 We are extremely lucky to have a limited number of signed paperback editions in stock thanks to Lucy. Your box will contain all of our usual goodies plus a scented wax melt bar. We've paired Lucy's book with the scent 'Sea Breeze' from the Spitchwick Candle Company. The fragrance releases an extremely fresh and ozonic marine accord with mossy top notes leading to a floral heart with hints of aldehydes, rose and orchid. All resting on a base of fresh herbs and amber. Order your box here.
About the Book…
You wake on a beautiful, remote island.
Sparkling blue seas, golden sunsets, barely a footprint in the sand.
Yet this is no ordinary escape.
Next to the wreck of a plane, a stranger paces. Another sharpens a knife, scoring a list of the dead onto a palm tree. Others watch from the shadows of a campfire – all with untold stories, and closely-guarded secrets…
This is no ordinary holiday.
This is no ordinary island.
This is no ordinary beach read.
Genre: Thriller
Publication: Paperback 8th July 2021

About the Author…
Lucy Clarke is the bestselling author of six psychological thrillers – THE SEA SISTERS, A SINGLE BREATH, THE BLUE/NO ESCAPE, LAST SEEN, YOU LET ME IN and THE CASTAWAYS. Her debut novel was a Richard and Judy Book Club pick, and her books have been sold in over 20 territories.
Lucy is a passionate traveller, beach hut dweller, and fresh air enthusiast. She's married to a professional windsurfer and, together with their two young children, they spend their winters travelling and their summers at home on the south coast of England. Lucy writes from a beach hut, using the inspiration from the wild south coast to craft her stories.
Connect with the Author…
Facebook | Instagram | Website
Are you looking for a Bookish environment to talk all things books? Then look no further than The Fiction Cafe – don't forget to answer the membership questions in order to join. We welcome Authors and Readers and there are lots of exciting happenings in the group! Our Book of the Month Read A Longs happen there too.