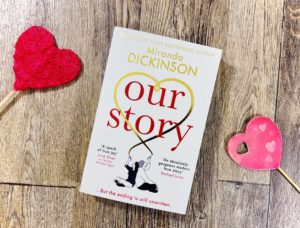 Our thoughts…
An epic and modern love story for our times, we will all see ourselves reflected in Otty and Joe. We are our own biggest barriers and this novel explores what happens when we get out of our own way. And it is glorious.
"We are two people who write words for a living. So why can neither of us find the right ones now?"
You will fall in love with Otty and Joe – there's no doubt about it. Miranda Dickinson just has this talent for investing the reader fully into her characters and capturing attention from the first pages to the very last. This was a fascinating read additionally because of the backdrop of TV script writing and the challenges within that very competitive world with the love story running alongside. A stressful environment, the need to prove ones self and attraction thrown into the mix as well make this a gripping contemporary read that you won't want to put down.
About the Book…
Otty has just landed her dream job. She's about to join the writing team of one of the most respected showrunners in TV. And then the night before her first day, she's evicted from her flat.
Joe has been working with Russell for years. He's the best writer on his team, but lately something has been off. He's trying to get his mojo back, but when his flatmate moves out without warning he has other things to worry about.
Otty moving into Joe's house seems like the most obvious solution to both their problems, but neither is prepared for what happens next. Paired together in the writing room, their obvious chemistry sparks from the page and they are the writing duo to beat. But their relationship off the page is an entirely different story, and neither of them can figure out why.
And suddenly the question isn't, will they, or won't they? It's why won't they?
Genre: Contemporary Fiction
Publication: September 2020

About the Author…
Miranda Dickinson is a Sunday Times Bestselling novelist. Her first novel, Fairytale of New York was discovered on Authonomy.com and went on to sell over 108,000 copies, become a bestseller in Germany and Turkey and was nominated for the RNA Novel of the Year award 2010.
Connect with the Author…
Facebook | Twitter | Instagram
Are you looking for a Bookish environment to talk all things books? Then look no further than The Fiction Cafe – don't forget to answer the membership questions in order to join. We welcome Authors and Readers and there are lots of exciting happenings in the group! Our Book of the Month Read A Longs happen there too.