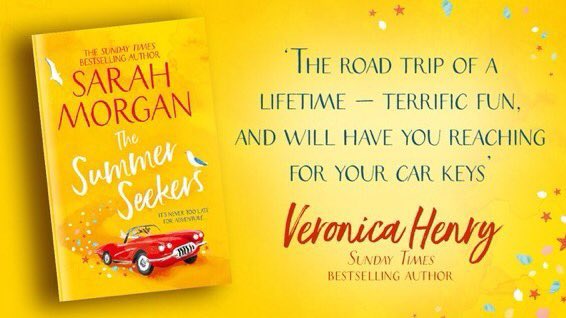 Our thoughts…
Get swept into a summer of sunshine, soul-searching and shameless matchmaking with this delightfully bighearted road-trip adventure by USA TODAY bestselling author Sarah Morgan!
You know it's going to be a good reading Summer when there's a new Sarah Morgan book out! You won't be disappointed with this latest Summer escape. Beautiful settings (Cornwall and Route 66) and heart-warming characters (Liza, Kathleen & Martha to name a few) make up this wonderful read that will have you craving the sound of the sea, the warmth of the sun and great company. This isn't a predictable book and that's always refreshing and there are healthy doses of humour and emotion.
About the Book…
Kathleen is eighty years old. After she has a run-in with an intruder, her daughter wants her to move into a residential home. But she's not having any of it. What she craves—what she needs—is adventure.
Liza is drowning in the daily stress of family life. The last thing she needs is her mother jetting off on a wild holiday, making Liza long for a solo summer of her own.
Martha is having a quarter-life crisis. Unemployed, unloved and uninspired, she just can't get her life together. But she knows something has to change.
When Martha sees Kathleen's advertisement for a driver and companion to share an epic road trip across America with, she decides this job might be the answer to her prayers. She's not the world's best driver, but anything has to be better than living with her parents. And traveling with a stranger? No problem. Anyway, how much trouble can one eighty-year-old woman be?
As these women embark on the journey of a lifetime, they all discover it's never too late to start over…
Genre: Contemporary Fiction
Publication: May 27th

About the author…
USA Today and Sunday Times bestselling author Sarah Morgan writes romance and contemporary women's fiction and her trademark humour and warmth have gained her fans across the globe. Sarah lives near London, England, and when she isn't reading or writing she loves being outdoors.
Connect with the Author…
Facebook | Twitter | Instagram | Website
Thanks to NetGalley and the publisher and author for a copy of this book in exchange for my honest review. Check out my blog for more book related posts and to enquire about future reviews, blog tours and cover reveals.
Are you looking for a Bookish environment to talk all things books? Then look no further than The Fiction Cafe – don't forget to answer the membership questions in order to join. We welcome Authors and Readers and there are lots of exciting happenings in the group! Our Book of the Month Read A Longs happen there too.