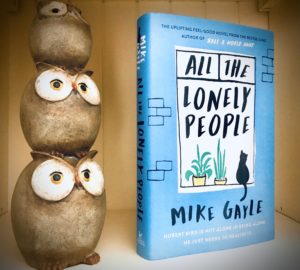 My thoughts…
From bestselling author Mike Gayle, All the Lonely People is by turns a funny and moving meditation on love, race, old age and friendship that will not only charm and uplift, but also remind you of the power of ordinary people to make an extraordinary difference.
Mike Gayle has a talent for good-natured comedy whilst addressing issues that are often overlooked or not thought about. In All The Lonely People he highlights the bitter journey of grief through colourful and loveable characters. There's a bit of something relateable for everyone in this book and that's what makes it all the more special and thought provoking. This novel highlights the journey many people have been on and the positive changes that have been made – but at the same time sheds light on the gaps and where we could and should do more.
About the Book…
Hubert Bird is not alone in being alone.
He just needs to realise it.
In weekly phone calls to his daughter in Australia, widower Hubert Bird paints a picture of the perfect retirement, packed with fun, friendship and fulfilment.
But Hubert Bird is lying.
The truth is day after day drags by without him seeing a single soul.
Until, that is, he receives some good news – good news that in one way turns out to be the worst news ever, news that will force him out again, into a world he has long since turned his back on.
Now Hubert faces a seemingly impossible task: to make his real life resemble his fake life before the truth comes out. Along the way Hubert stumbles across a second chance at love, renews a cherished friendship and finds himself roped into an audacious community scheme that seeks to end loneliness once and for all . . .
Life is certainly beginning to happen to Hubert Bird. But with the origin of his earlier isolation always lurking in the shadows will he ever get to live the life he's pretended to have for so long?

Genre: Contemporary Fiction
Publication: July 2020

About the Author…
Mike Gayle was born and raised in Birmingham. After graduating from Salford University with a degree in Sociology Mike moved to London with ambitions of becoming a music journalist. … To date Mike is the author of twelve novels including Mr Commitment, Turning Thirty and Wish You Were Here.
Connect with the Author…
Facebook | Twitter | Instagram |
Are you looking for a Bookish environment to talk all things books? Then look no further than The Fiction Cafe – don't forget to answer the membership questions in order to join. We welcome Authors and Readers and there are lots of exciting happenings in the group! Our Book of the Month Read A Longs happen there too.