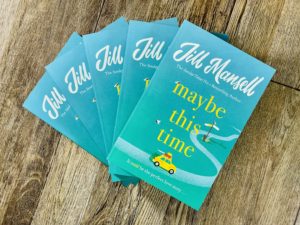 Our thoughts…
Our Book of the Month for August 2021 came at just the right time – needing an escape from the real world and into someone else's drama and happenings, this was the book for that! This book is the perfect blend of light, fluffy, heart-warming moments coupled with devestating ones that come out of nowhere. Jill knows just how to give a light touch of drama and intrigue to a book – as well as the funny, uplifting moments.
The settings explored in the book were also wonderful – alternating between Goosebrook, Puerto Pollensa and London. Jill wrote the locations well, transporting the reader to them each time the characters visited a new location. Oh and those characters… what a beautiful bunch of people! They jump out of the pages right into the real world because of Jill's vivid descriptions and characterisation.
A brilliant book – one of Jill's best! You don't want to miss out on this one.
About the Book…
Jill's heartwarming, romantic and funny new novel will delight her fans, as Mimi discovers that love doesn't always wait till the timing is right …
Mimi isn't looking for love when she spends a weekend in Goosebrook, the Cotswolds village her dad has moved to. And her first encounter with Cal, who lives there too, is nothing like a scene in a romantic movie – although she can't help noticing how charismatic he is. But Cal's in no position to be any more than a friend, and Mimi heads back to her busy London life.
When they meet again four years later, it's still not to be. Cal is focusing on his family, and Mimi on her career. Then Cal dives into a potentially perfect new romance whilst Mimi's busy fixing other people's relationships.
It seems as if something, or someone else, always gets in their way. Will it ever be the right time for both of them?
Genre: Contemporary Fiction/Romance
Publication: 2019

About the Box…
We have limited stock available of our August Book Box! We've paired the stunning book cover with Beautiful Day (whilst stocks last) – a delicious scent for saying goodbye to Summer and Hello to Autumn. You can order your box here.  Jill has signed every single copy with her sparkly pen!

About the Author…
ill Mansell is the author of over twenty Sunday Times bestsellers including THIS COULD CHANGE EVERYTHING, MEET ME AT BEACHCOMBER BAY, YOU AND ME, ALWAYS, THE ONE YOUR REALLY WANT, THREE AMAZING THINGS ABOUT YOU and MAYBE THIS TIME. TAKE A CHANCE ON ME won the Romantic Novelists' Association's Romantic Comedy Prize, and in 2015 the RNA presented Jill with an outstanding achievement award.
Jill's personal favourite amongst her novels is THREE AMAZING THINGS ABOUT YOU, which is about cystic fibrosis and organ donation; to her great delight, many people have joined the organ donor register as a direct result of reading this novel.
Jill started writing fiction while working in the field of Clinical Neurophysiology in the NHS, but now writes full time. She is one of the few who still write their books by hand, 'like a leftover from the dark ages'. She lives in Bristol with her family.
Connect with the Author…
Facebook | Twitter | Instagram | Website
Are you looking for a Bookish environment to talk all things books? Then look no further than The Fiction Cafe – don't forget to answer the membership questions in order to join. We welcome Authors and Readers and there are lots of exciting happenings in the group! Our Book of the Month Read A Longs happen there too.