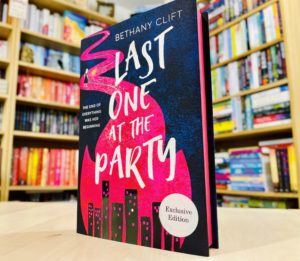 Our thoughts…
Once upon a time these books were firmly in the realm of 'Hah yeah right' and now… well… If you feel that you can't stomach a pandemic related book right now, I get it. I felt the same. But this is post-apocalyptic and yes there are references to the times that we're existing in right now across the world but it's more than survival and rules and regulations. It's what happens when none of that works – and what's left behind afterwards.
It's also not about a perfect person creating a perfect life in a not-so-perfect world. She's flawed and real, raw and unapologetic. She does the sorts of things real people would do, instead of the predictable things that a book heroine should do. This is an honest and refreshing read – and ultimately challenges you to think about what you would do.
About the Book…
THE END OF EVERYTHING WAS HER BEGINNING
It's November 2023. The human race has been wiped out by the 6DM virus (Six Days Maximum – the longest you've got before your body destroys itself). The end of the world as we know it.
Yet someone is still alive. Alone in a new world of burning cities, rotting corpses and ravenous rats, one woman has survived. A woman who has spent her whole life compromising what she wants and hiding how she feels to meet other people's expectations. From her career to her relationships, to what she wears and where she lives, she's made a lifetime of decisions to fit what other people want her to be.
But with no one else left, who will she become now that she's completely alone?
Genre: Sci-Fi Dystopia
Publication: February 2021

About the Author…
Bethany Clift is a graduate of the Northern Film School, the producer of low-budget British horror film Heretic, and the Director of her own production company, Saber Productions. Last One At The Party is her debut novel.
Connect with the Author…
Are you looking for a Bookish environment to talk all things books? Then look no further than The Fiction Cafe – don't forget to answer the membership questions in order to join. We welcome Authors and Readers and there are lots of exciting happenings in the group! Our Book of the Month Read A Longs happen there too.