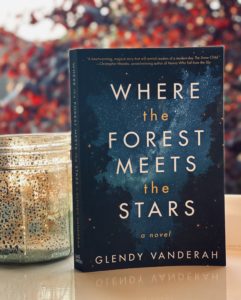 Our thoughts…
Reading Glendy's second novel was a real treat because realising you have the debut still to read is a fantastic feeling! Where the Forest Meets the Stars is Glendy Vanderah's first publication – and what a journey it is. As is becoming apparent with Glendy's books, all is never as it seems. Her writing spans genres from start to finish – from the arrival of Ursa and her quest for five miracles to the warming conclusion and the domestic drama undertones.
Glendy's books are hugely educational but entertaining at the same time. Her previous work as an Avian Biologist is put to great use as in her second book, as we learn so much from that world that we wouldn't ordinarily learn from contemporary fiction. The characters are beautiful – flawed yes – but beautiful. Glendy's writing style can only be described as 'with ease' – it's gentle, unhurried and yet extremely immersive.
This is a story you won't forget in a hurry and it may even weave it's way into your top reads of the year. The book is a journey, a treat and a lesson all rolled into one – and through the pages magic, and perhaps five miracles, will emerge.
About the Box…
It's a real treat being able to read wonderful books and then source and stock them in our book boxes. So we're really happy that one of our latest additions to the shop is Where the Forest Meets the Stars by Glendy Vanderah. Your book will come in a box with all of our usual treats and a scented wax melt bar from Spitchwick Candle Co. You can order your box here.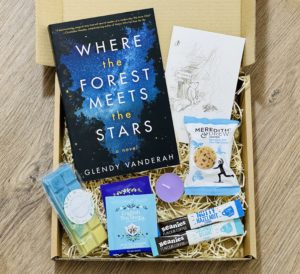 About the Book…
After the loss of her mother and her own battle with breast cancer, Joanna Teale returns to her graduate research on nesting birds in rural Illinois, determined to prove that her recent hardships have not broken her. She throws herself into her work from dusk to dawn, until her solitary routine is disrupted by the appearance of a mysterious child who shows up at her cabin barefoot and covered in bruises.
The girl calls herself Ursa, and she claims to have been sent from the stars to witness five miracles. With concerns about the child's home situation, Jo reluctantly agrees to let her stay—just until she learns more about Ursa's past.
Jo enlists the help of her reclusive neighbor, Gabriel Nash, to solve the mystery of the charming child. But the more time they spend together, the more questions they have. How does a young girl not only read but understand Shakespeare? Why do good things keep happening in her presence? And why aren't Jo and Gabe checking the missing children's website anymore?
Though the three have formed an incredible bond, they know difficult choices must be made. As the summer nears an end and Ursa gets closer to her fifth miracle, her dangerous past closes in. When it finally catches up to them, all of their painful secrets will be forced into the open, and their fates will be left to the stars.
Genre: Contemporary Fiction
Publication: 2019

About the Author…
Glendy Vanderah worked as an endangered bird specialist in Illinois before she became a writer. Originally from Chicago, she now lives in rural Florida with her husband and as many birds, butterflies, and wildflowers as she can lure to her land. Where the Forest Meets the Stars was her debut novel.
Connect with the Author…
Facebook | Instagram | Website
Are you looking for a Bookish environment to talk all things books? Then look no further than The Fiction Cafe – don't forget to answer the membership questions in order to join. We welcome Authors and Readers and there are lots of exciting happenings in the group! Our Book of the Month Read A Longs happen there too.