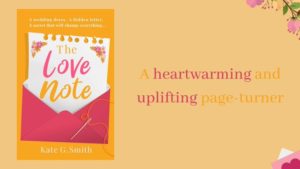 My thoughts…
From the Author of You've Got Mail comes a new heart-warming and uplifting novel. Kate will have you feeling sad, nostalgic and happy in equal measures as she takes you on a journey with her main characters. Who by the way, are so friendly and warm you can't help but become emotionally invested in their lives! For a romantic comedy it was oddly gripping too – underlying mystery that just held enough of the readers attention to be a good focus throughout. You can't go wrong by picking up this book, grabbing a cuppa and diving right in.
About the Book…
A wedding dress. A love letter. A secret that will change everything…
When Maggie Burnett discovers her mother's beautiful wedding dress just days after she passes away, she wonders why she'd been told it was missing…
Pinned to the waistband is a note that reads: 'E, je t'aime. LS x' . 'E' must be Elizabeth, her mother, but who is 'LS'? Could he be the father she's never known?
As Maggie's seemingly happy life in London unravels, she decides it's time to go home to Norfolk and figure out the truth once and for all. Even if it means running into Nick Forster, her secret childhood crush. What if this journey to the past is the key to a new beginning?
Genre: Romantic Comedy
Publication:July 2021
Connect with the Author…
| Twitter |
Thanks to NetGalley and the publisher and author for a copy of this book in exchange for my honest review.
Are you looking for a Bookish environment to talk all things books? Then look no further than The Fiction Cafe – don't forget to answer the membership questions in order to join. We welcome Authors and Readers and there are lots of exciting happenings in the group! Our Book of the Month Read A Longs happen there too.